DeBarras will play host to the incredible energy that is Xylouris White as part of this year's Clonakilty Guitar Festival in September. This duo, a collaboration between Cretan lute player Georgios Xylouris and Australian drummer Jim White, play Greek folk music with fearless and joyous abandon, experimenting with a range of sounds in a mix of original and traditional compositions. Consistently challenging musical expectations, the duo's approach has been described as unpredictable and ever-shifting.
Ahead of their gig in Clonakilty, Georgios Xylouris chats to Mary O'Brien, sharing that fans can expect to see an entirely different side to Xylouris White in their new record due out next year. "It's entirely different to our previous records…a very particular record." He won't give anything else away but whatever is coming is sure to be inventive.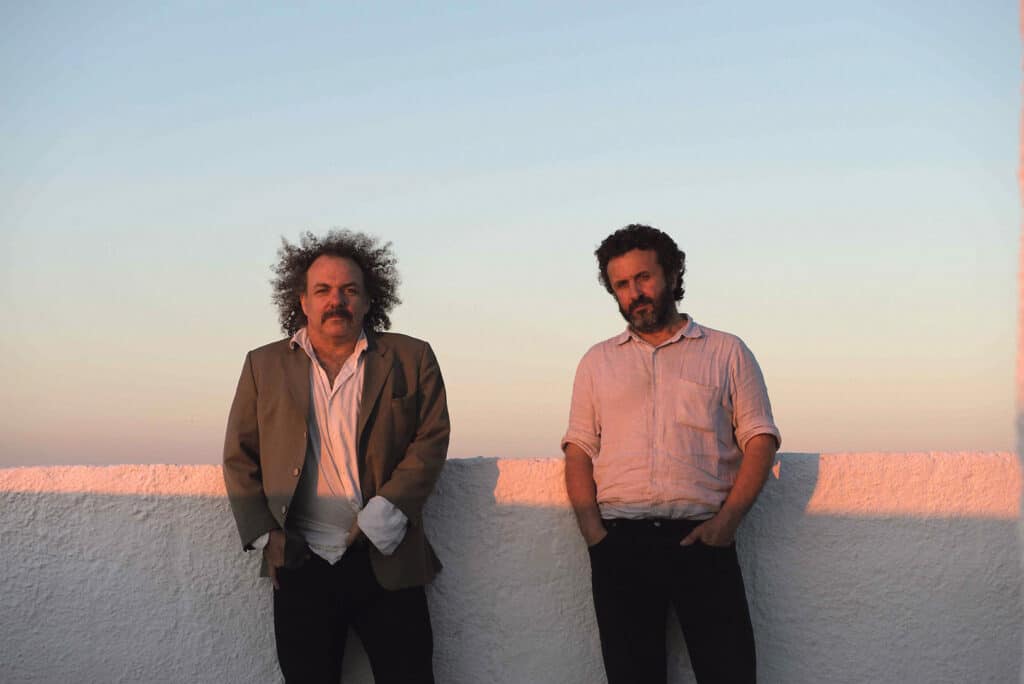 Georgios grew up in a village in Crete surrounded by music. His father is legendary singer and lyra player Antonis Xylouris, who Georgios says he followed and played with from a young age at festivals in Crete. He describes the rhythm of the Xylouris White sound as "goatish" a nod to his Cretan roots.
Anyone who loves the soulful 'Tree Song' from 'The Sisypheans' album will know its origins lie in Crete. "I first heard it in a village from an old man singing," says Georgios "I liked the lyrics about someone looking for a place to stay who was unwelcome everywhere and was offered shade by a tree."
Out of all their songs, the somewhat off-the-wall 'Pulling The Bricks' from their 'Goats' album is a favourite with Georgios. No less conventional, 'Chicken Song', 'Hey, Musicians' and 'Forging' are also mentioned.
Georgios and Jim first met through common friends and heard each other play in Melbourne, Australia in the 90s. Best known as the drummer of the instrumental Dirty Three, Jim invited Georgios to play with the band as a special guest. "That happened a few times, I recorded with them as well," shares Georgios.
Years later, in 2013, Jim visited Georgios in Crete. "We went to a studio and recorded some music, and that was the start of our first record 'Goats'."
Their journey together has been continuing all over the world ever since. "Every time we play, it's a unique experience for us because we love to play music together," says Georgios. "The resonance of various instruments is what fills my mind with sounds. The thoughts I have from moments and memories throughout my life are a constant inspiration to me. At times I think of people that I have encountered throughout my life."
For the last four years these two men have been performing as Xylouris White, the culmination of 25 years of friendship.
The ever-changing nature of their intense sound is a result of a relationship built on communication, enthusiasm and good humour. "Nothing is static, it's always pliable or malleable," shares Georgios. "I like playing with Jim because he is there in body and spirit every time we play."
Each performance by Xylouris White brings an element of surprise with it…for the musicians as well the audience. "It's not that we have everything ready to play, the outcome is influenced by the audience, the venue, the situation, the moment," says Georgios, who is looking forward to returning to Ireland and their upcoming gig at DeBarras in Clonakilty.
Xylouris White play DeBarras on September 10. www.clonguitarfest.com.