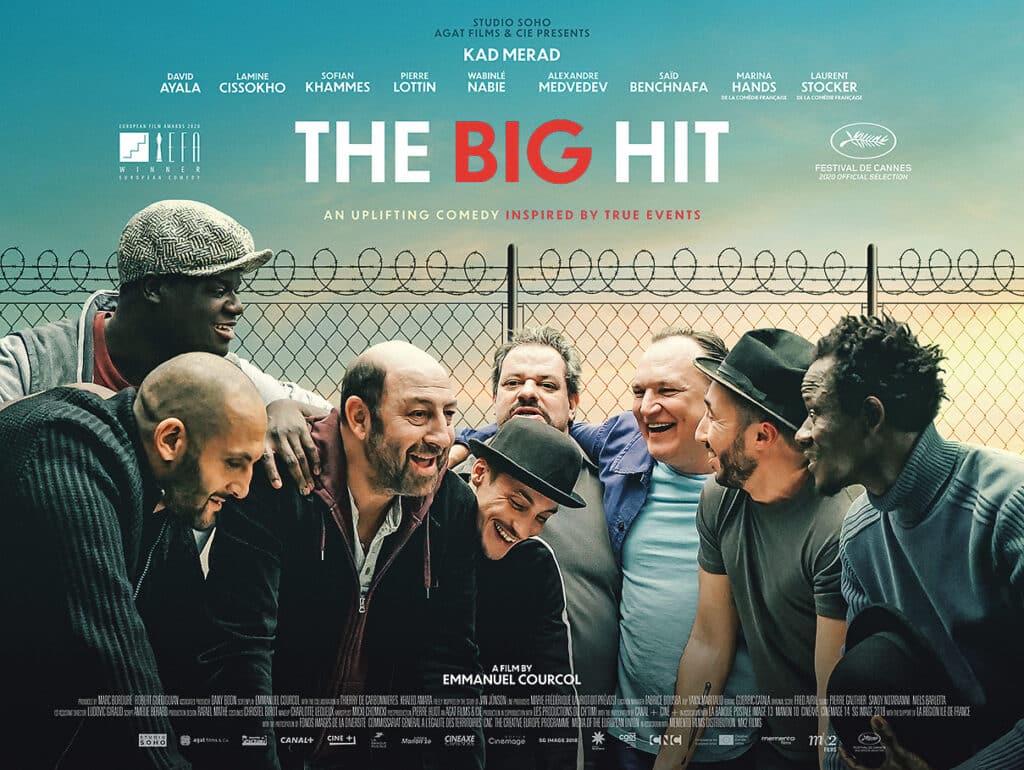 After a summer of near wall-to-wall sunshine, Clonakilty Film Club marks a return to cosy nights indoors with a superb selection from the best that world cinema has to offer. Over the autumn season the club will show six films fortnightly on Tuesdays to keep you entertained until Christmas. 
As always, a committee member will share further insights in a brief introduction before each film but overall the committee has designed a programme of humourous films mixed with others that will leave you deeply moved.
First up on September 27 is The Big Hit, directed by Emmanuel Courcol. When struggling actor Etienne (Kad Merad) accepts a job directing theatre workshops in a prison, he is surprised to discover a wealth of acting talent among the initially resistant inmates. Seeing an opportunity for success, Etienne convinces the prison warden (Marina Hands) to allow the group to present Samuel Beckett's Waiting for Godot outside of the prison, with a tour of performances for the general public.
Based on true events, which happened in Sweden in 1985, writer-director Courcol has relocated the action to France, and employed a superb ensemble cast, to deliver a crowd-pleasing film that earned the Best European Comedy prize at the 2020 European Film Awards.
Other films in the programme are:
A Chiara, October 11: Award-winning filmmaker Jonas Carpignano explores the true meaning of family in a gritty neorealist drama set in Italy that tells the coming-of-age story of a teenage girl grappling with the sins of her father. In an astonishing central performance, Swamy Rotolo plays Chiara, the 15-year-old daughter of an affluent family whose ties to the local mafia underworld start to become clear after a shocking revelation.
Bergman Island, October 25: Married filmmakers Chris (Vicky Krieps) and Tony (Tim Roth) travel to the Swedish island of Fårö, where Ingmar Bergman lived and filmed several iconic films. The beautiful island inspires Chris to start writing a screenplay. Her film follows former lovers Amy and Joseph, who are reunited at a wedding on Fårö after many years apart. But that story might reflect some of the cracks forming in Chris and Tony's own relationship. Also stars Mia Wasikowska and Anders Danielsen Lie.
Small Body, November 8: In an isolated island community at the beginning of the 20th century, Agate gives birth to a little girl; sleeping. Terrified that her child will forever drift in spiritual limbo, she flees husband and family, with her baby's body, embarking on a desperate, dangerous journey to the mountains, where there may be someone somewhere who can perform a miracle. With its thoughtful tone, dark and enchanting atmosphere, and skilful pacing this feels like a Gothic fairy tale. At times breathtakingly beautiful, making great use of its Friuli Venezia settings, this is a captivating, remarkably assured debut.
Between Two Worlds, November 22: Marianne Winckler (Juliette Binoche), a successful author, relocates to the city of Caen to write an exposé on low paying working conditions. Concealing her true identity, she finds punishing work as a cleaner on a hectic ferry route. As genuine friendships blossom with co-workers, inevitably, Marianne must answer for her duplicity. Is lying justifiable when the aims are considered laudable? Winner of the Audience Award for Best European Film, San Sebastián International Film Festival, 2021.
Hit The Road, December 6: A short-tempered father with a broken leg; a boisterous young boy and his older silent brother; a sick dog; and a mother trying to keep the peace. This is a family on a road trip somewhere in Iran. But where are they going and why? As they get closer to their destination, it slowly emerges that this is no normal journey… This debut from Panah Panahi, son of renowned Iranian director Jafar Panahi, shows a remarkable maturity for a first feature. Gentle humour and vibrant music are deftly used to capture the dynamics, chaos and emotions of these ultimately loving relatives. The result is a rich portrait of one family for whom this road-trip will change their lives forever.
Films start at 8.30pm. Doors open from 8.20pm. €10. Follow Clonakilty Film Club on Facebook for updates.