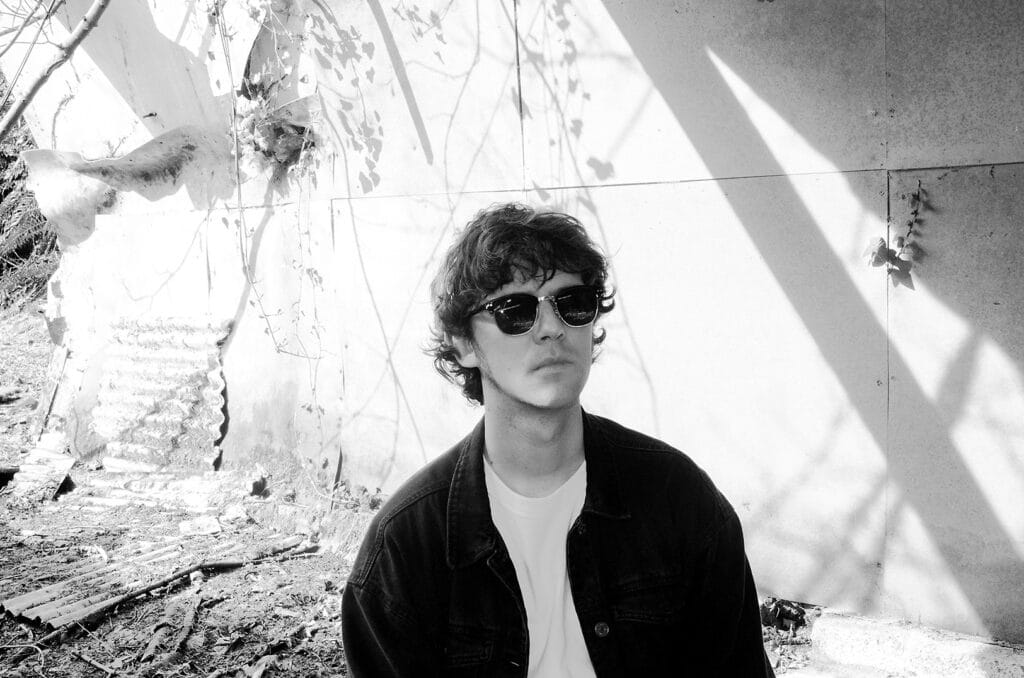 A familiar fixture on the Cork music scene, indie-folk musician and event facilitator Caoilian Sherlock, returns to DeBarra's Folk Club in Clonakilty on June 25. With a debut album, 'Teenage Jesus' set for release on May 26 and an upcoming tour that will see him perform across the country with some UK dates to boot, Lauren Guillery meets with Caoilian to find out more about the album.
Having played in bands since the tender age of fifteen, Caoilian Sherlock is a self-taught musician and the front man in Cork alternative rock outfit The Shaker Hymn, who he has been playing with for years. Sherlock also plays covers with The Tan Jackets, performing takes on 60s psychedelia with songs by the likes of MC5, Van Morrison's original band Them, and The Sonics. For his solo project, Caoilian's compositions are a lot more introspective and folky, and despite being accompanied by a full band he explains how different an experience it is to work as a solo artist. "With previous bands, I edit a lot because I want to impress the people I'm in the band with, as if I'm writing music for them and I want them to be happy with what they're playing. Whereas with a solo thing, I think about it a little bit less, I edit a bit less. So it comes out a little bit more emotional and sometimes a little bit more clumsy as well, which I think is kind of cool."
In 2017, he released his debut EP 'The Faraway' under the moniker Saint Caoilian. But what started as a pure folk approach to songwriting in his early recordings morphed over the following years into a blend of indie and folk music, with lo-fi pop tracks and catchy choruses thrown into the mix, and a more experimental approach. With influences as varied as Nick Lowe, Stereolab, and John Prine, Sherlock cites the lyrics and storytelling in country music and hip hop as well as electronic music as having an impact on his songwriting. "I'd like to get as weird as it can get," he confesses.
Caoilian has always been involved in music one way or another. He currently works with The Good Room, an events company that puts on shows in Cork city in venues such as St Luke's and the Opera House. He also runs Quarter Block Party, a DIY arts and music festival which, after a Covid hiatus, will be coming back with a bang this summer. The collective has put on many events around the city this last decade, including plays, art exhibitions, dance and music performances, and art and craft markets. Sherlock explains he loves to get involved in whatever takes place in the city and county, especially artistic projects. "I love meeting people, and the best thing about art and music is that you get to trade perspectives with each other. And if you want to be an artist, you need to fully lean into other people's perspectives."
Talking about his upcoming album 'Teenage Jesus', he explains that all the love songs were collected over a decade of writing, and the reflective elements are about becoming more experienced as a person, learning more about the world, and trying to view that in a healthier way. The recording started in 2019 with Brendan Fennessy of O Emperor, and by March 2020 when the first Covid lockdown hit, 80 percent of the album was done. "Some of the songs might not have been finished, but they had drums and bass and all the instruments on them." With the pandemic putting a stop to the project, Sherlock saw that time as a way of experimenting with production, and he set up a little studio in his spare room. He started playing around with keyboards, synthesisers and a drum machine and sent his home recordings to various musician friends so they could record better versions than he could ever do. "There's a lot of different musicians on the album that I've never played live with. I just knew they had recording facilities and they're really good players."
The song 'Teenage Jesus' was written during the very first few weeks of lockdown, and he immediately knew that the album should be called the same name. He explains that the song weirdly tied the whole thing together sonically and thematically, as if it put a full stop to the rest of the songs. The inspiration for the name 'Teenage Jesus' came from watching Friday Night Lights, a TV show about American teenagers who play for the local sports team. 'They were all kind of heralded as heroes of their town. I thought about that in reflection of all of us being locked in our house, that we were all sort of heroes of our own story."
But Covid lockdown also proved a positive experience for Caoilian, who started studying for a Master's Degree in Music Technology at the School of Music in Cork. During these uncertain times, a lot of musicians had a moment where they could kind of opt-in or opt-out of being a musician for the rest of their lives. "It's not like you're making tonnes of money all the time, you've got to do it for the love of it, so there was definitely an opportunity, and for a brief moment I started looking around at different universities, different courses that I could do, maybe that could be a change of career, but in the end I ended up coming back to music and it probably focused my mind and convinced me more than ever, that this is what I love doing."
In 2021, he released his second EP 'Big Child' with four songs that were part of the same recording sessions as the album. Lockdown boredom, and a sense that these songs had a different atmosphere to the rest of the recordings encouraged him to release them as their own separate entity. He explains that the choice for the title 'Big Child' was about not wanting to grow up – the Peter Pan Syndrome and the idea that musicians never want to get a 'real' job. 'For the launch of the EP, I called the band The Big Children, which I don't know if they liked immediately," he laughs.
The album will be released on vinyl with a cover art illustration by Annie Forrester. "I just gave all the bands their test pressings last night," he says excitedly. "It feels much more real when you have it in your hands than when it's on digital. I play records at home all the time, and it felt so tangible to have it sound just the same as anyone else's album."
Caoilian has played around Ireland with just an acoustic guitar and sometimes a drum machine, but for the upcoming tour he will be joined with Paul Leonard on drums, Ruairi Dale on bass, Peter O'Sullivan on keyboard, and Leah Hearne on backing vocals, flute and percussions. It will be their first full live band show since the last EP launch. He explains that before the pandemic they were really hitting a stride as a band and that everyone was really excited about where they were about to go. "The very last gig we had before lockdown was in the Green Room of the Cork Opera House for the Right Here Right Now festival. We had some festivals lined up and it all fell apart. We're getting back to that place right now, so I'm looking forward to our first show."
With eight dates booked for the tour, starting in the lovely Prim's Bookshop in Kinsale and ending at the Green Room in Cork, Sherlock admits he loves to perform live and that there's something quite special about meeting people first hand. "These days you're not just up against the band that's playing down the road, you're also up against Netflix and PlayStation and TikTok, and I'm personally on a one-man mission to get everybody out of their houses. And you might come and see me, but really I just wanted you to come and hang out'.
Caoilian Sherlock, with support from Andy Wilson, plays DeBarra's Folk Club on June