A Bray native now living in Berlin, you may know Caoimhe Barry (aka Caoi de Barra) as one of the three ladies behind alternative-pop act Wyvern Lingo. The trio's soulful RnB song 'I love you, Sadie' received significant radio play on the Irish airwaves and their 2018 self-titled debut album was shortlisted as Irish Album of the Year for the RTÉ Choice Music Prize.
Caoi is set to tour Ireland on a trusty 125cc yellow Royal Alloy scooter this summer, gallivanting on the back roads that will take her from one music venue to the next, with many stops for meeting friends and sightseeing along the way. With a tiny guitar, an amp, and a loop pedal in her backpack, she has fourteen dates confirmed so far including three dates in Co. Cork in July and August.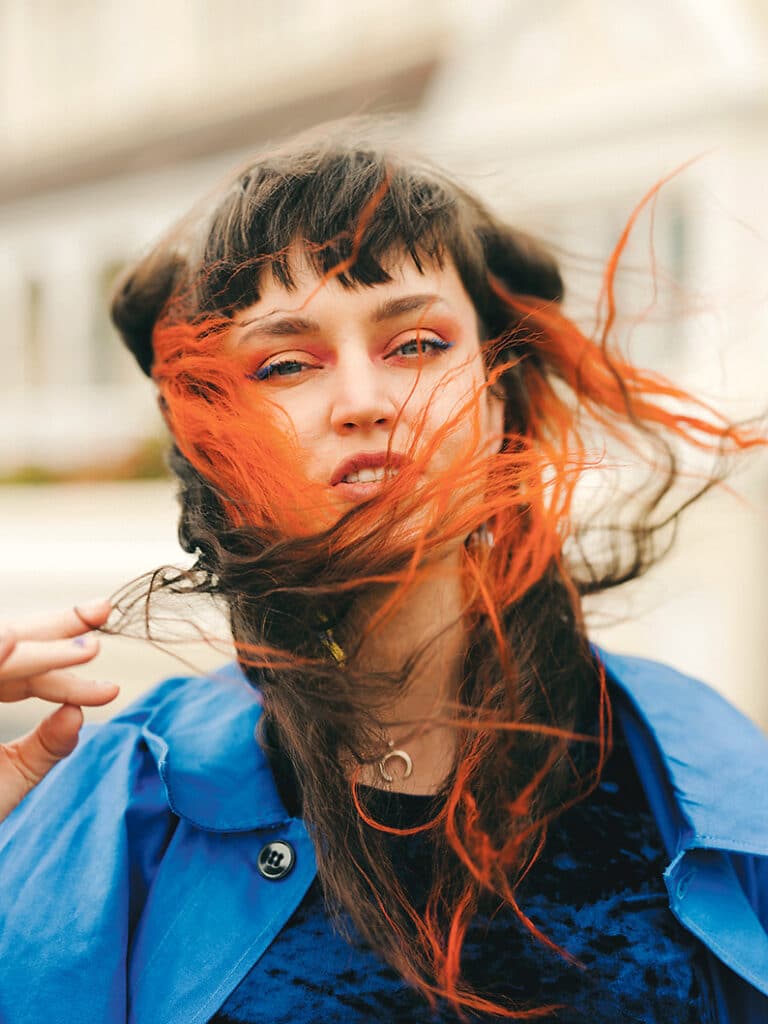 Having toured extensively with Wyvern Lingo, initially as a support act and backing singers for Hozier and then James Vincent McMorrow, Caoi and her bandmates are now on a hiatus. The three moved to Berlin after falling in love with the creative environment there while recording their second album 'Awake You Lie'. But the pandemic started just as they were settling into their new chosen city and saw the girls needing to be close to family and friends at home in Ireland. Caoi wasn't quite finished with Berlin which she views as a vibrant and fun city. "I've met great people and it's such a nurturing city for artists and a really good base", she explains. "In some ways, I'd love to be having the same experience in Ireland or in Dublin, but that it's just not feasible at the moment."
As well as her own solo career, De Barra now plays drums with Berlin-based Wexford singer-songwriter Wallis Bird, and she is currently on a European tour drumming for Canadian musician and activist Allison Russell, which will see her perform at Glastonbury's acoustic stage, and supporting Hozier once again. "It's so funny because I have been a backing singer for Hozier," she laughs. "When I first got the gig with Allison and then found out we were supporting Hozier, I thought to myself 'You can't get rid of me!'"
Caoi released her debut EP 'Thicket' in August last year, an EP which was co-produced by Joe McGrath of Hellfire Studios. She started writing her own songs in 2018 and explains that recording her solo EP is not something she was intentionally planning, but she had previously worked with the studio engineer on a Wyvern Lingo release and was offered the chance to record with him again. "I had the huge privilege of getting to work on my EP with someone who really got it in a space where I really had time to figure it out," she admits. Over the years Caoi had performed with Glasshouse – a music ensemble based in Dublin that presents collaborative interpretations of contemporary albums, and so her performances with the string quarter really informed the way she arranged the music for the EP. The main goal for the release was for it to be timeless and intimate, with just voice and guitar and some sparse string arrangements. "It's very easy to get happy with recordings and in the studio, and you think you want to layer up songs and mix them with production. Playing with the strings is a lovely embellishment, but I wanted to be sure that the songs also completely functioned if it was just me and a guitar."
With a guitar style and sound evocative of Jeff Buckley, Caoi discloses that she somehow struggles with writing lyrics. "The craft of songwriting kind of evades me all the time," she confesses. "That's just the nature of doing anything creative – you always feel like you haven't quite nailed it!" For inspiration, she reads a lot of poetry and cites 'Poetry Unbound', an American podcast hosted by Irish poet Pádraig Ó Tuama, as a way of helping her mind think poetically.
Last summer, Caoi went on her first solo tour of Ireland, and doing it on a scooter was something she always wanted to do. She explains that the experience of travelling in Ireland at the back of a van can become quite ordinary, especially if you're stuck on the motorway. "It's about getting from A to B and especially if you're a gang, you need to do it as efficiently as possible. I'm kind of doing it really inefficiently on purpose and just enjoying the whole experience, enjoying having to desperately find a petrol station in the back roads of Ireland and just seeing places and meeting people and having experiences that you would just never have otherwise. In that way, it's a very kind of personal quest. It really sparks people's imaginations, people really get it, and it's kind of a joyful thing to do."
Lessons she learned from last year's 'Scooter Tour' include bringing rain gear, selling tickets "even if they're super cheap or free" because it means people are more committed to going to the show, and making sure she already has a relationship with the venues instead of cold-calling new ones. "I'm in a unique position whereby I've already met so many people on the road and already got to experience so many different venues around the country," she points out. "There are so many lovely, amazing venues around Ireland. It's like a little Appreciation Fest for me."
Although the songs on 'Thicket' are mainly about romantic love, the new single she's about to release is on a different subject. "The song is about feeling like a perpetual adolescent in the terrible glow of the Irish housing crisis," she explains. "It's called 'Tree House' and it's coming out on June 29, two weeks before the tour starts. It'll be the day before we support Hozier in Malahide Castle with Allison Russell."
Asked if there are plans for an album: "That's the dream!" she exclaims. Her new year's resolution last January was to start saying no to things to give herself time to work on songs, but things got busy on the drumming front with other acts. She divulges she would love to drive from Ireland to Berlin on her scooter, but she refuses to rush an album just for the sake of a tour. "I'm ready to have an album, I've got enough material there so that is my goal for next year to be starting to release an album. So hopefully this winter it's just going to be nonstop recording some classics!"
Caoi deBarra plays Prim's Bookshop in Kinsale on July 26, DeBarra's Folk Club on July 27, and KIN Ahakista on August 9.