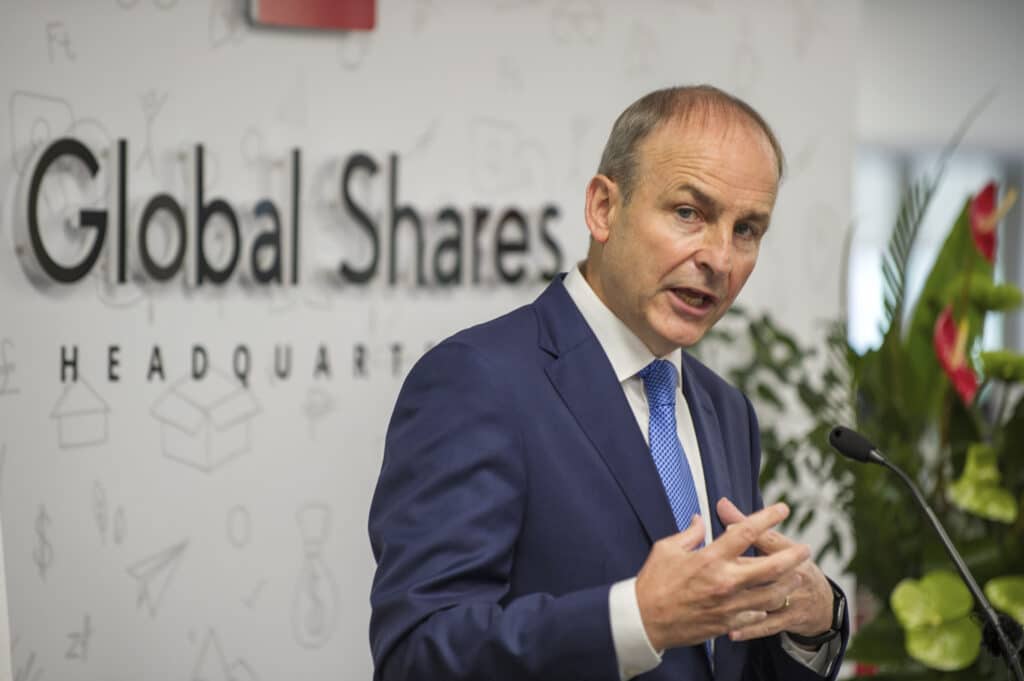 Global Shares – an employee owned company – is seeking to increase its headcount from 370 currently to 1,000 by 2024, and fill 150 high-skill, high-value roles immediately. The fintech company is on track to achieve Unicorn valuation status by 2024.  
The jobs which are coming onstream now are supported by Enterprise Ireland.
An Taoiseach Micheál Martin today announced the new jobs at the firm's headquarters in the West Cork Technology Park on the outskirts of Clonakilty town.
Speaking in the almost empty office space – the majority of employees have been working from home due to Covid 19 guidelines – An Taoiseach said: "The story of Global Shares is a remarkable one, illustrating how from small beginnings a company can grow and develop a global footprint.  It is an inspiring example of what can be achieved through talent and ambition.
 "At the heart of Global Shares is its people.  This hard working, determined and highly skilled workforce has driven the company's success and growth. 
 "Today's jobs announcement marks another step in what is an exceptional journey."
CEO of the company, Tim Houstoun, said: "I love that we are writing software in Clonakilty that transforms people's lives worldwide through the momentum and wealth created by employee ownership".
He added: "Our growth over the past couple of years has been enormous, but over the next few years, we're aiming to be West Cork's first Unicorn, and we're on track to achieve that."
"This is something that is exciting for many reasons – including the fact that as an employee owned company, many of our own staff will reap the rewards of the hard work they've put in over the years."
"We have also just launched a new offering to help venture backed private companies to create and manage employee options as well as help their investors track the value of their ownership."
"People often ask how a company on the edge of Ireland, on the edge of Europe, could succeed on a global stage, competing with the world's biggest financial services giants…yet here we are. It's amazing what you can achieve when you back yourself, think globally and empower your team to succeed".
Julie Sinnamon, CEO, Enterprise Ireland added: "Global Shares is a world-class company and a great example of what's possible for innovative Irish businesses on the world stage. Enterprise Ireland has worked closely with Global Shares for many years and supported its growth from Clonakilty into over 100 markets worldwide.
She added: "We are delighted to support the new jobs announced today which will help further Global Shares' innovation focus and look forward to continuing to support their global ambitions for many years to come."
Global Shares is one of a handful of companies globally that offers fully outsourced employee share plan management.

It provides the administration services through its team of expert share plan analysts, financial, legal and complianceprofessionals, but also provides a software platform where employees can view, manage and sell the shares they own, online or through an app

Global Shares' success is also down to a global network of banking and brokerage partners.  A combination of the company's software and partner banking and custody supports makes it the ideal solution for many global companies.
Global Shares clients include Italian insurance firm Generali, Krispy Kreme, Cargill, Fujitsu and many more global, household names.

Founded in 2005 as a service only company, Global Shares spotted a gap in the market for a fully global software solution that would help companies and their employees better manage their equity.

In 2015, it launched its proprietary software platform, and since then it has grown from strength to strength, taking on global banks and large multi-nationals.

It is the only remaining independent global company in this space and currently employs 370 staff in 16 offices globally, including London, Barcelona, New Jersey, Nashville, Tokyo, Miyazaki, Hong Kong and Beijing.
The company was set up in Clonakilty, where it remains headquartered today and employs 167 staff. In addition, Global Shares has an office in Cork city centre, where 35 staff are based, bringing the total staff in Ireland to 202.

The company is currently seeking applications for roles including software development, product owner, compliance,cyber security, financial reporting, project management and many more.

Global Shares is a finalist in the 2020 EY Entrepreneur of the Year Programme.
For further information about Global Shares, check out www.GlobalShares.com