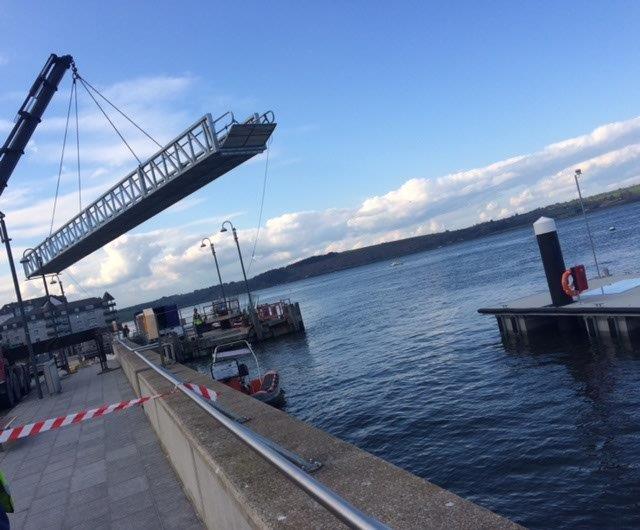 Cork County Council has received approval of grant aid amounting to €394,500 from the Department of Agriculture, Food & the Marine (DAFM), for harbour and marine leisure infrastructure for 2020. This follows the recent announcement by Minister Michael Creed, T.D., of a €3.1m package for ten coastal councils across the country, including Cork County Council.
The funding being provided to Cork County Council involves 13 projects in 22 locations across the county and ranges from small scale works, like providing upgraded electricity and water supply facilities and enhanced safety measures such as additional signs, handrails, bollards, etc. at several harbours to larger projects such as a new pier deck and gangway at Fishery Pontoon, Kinsale.
Improvements are being provided at Ballycotton, Kinsale, Youghal, Knockadoon, Monkstown, Courtmacsherry, Union Hall, Baltimore, Castletownsend, Lough Hyne, Adrigole and also on island piers at Bere, Sherkin, Heir, and Long Islands.
Chief Executive of Cork County Council Tim Lucey said "This year Cork County Council has succeeded in securing more than double the funding allocation from the Department of Agriculture, Food & Marine compared to that of 2019, when we received €196,000. This is a timely and welcome increase as Cork County Council progress our countywide campaign to boost local economies through Project ACT – Activating County Towns. The grant aid from the Department represents approximately 75% of the total cost of delivering on our various marine infrastructure projects, with the Council contributing the balance of 25%. The increase in funding is great news for our rural coastal communities in County Cork and will allow Cork County Council to continue the ongoing development of infrastructure for fishing related activities, marine leisure and tourism in these areas helping to sustain and grow resilience in local economies."
The Mayor of the County of Cork, Cllr Ian Doyle, also welcomed the news saying, "County Cork has Ireland's largest coastline of any county, the second largest natural harbour in the world and a wonderful variety of beautiful coastal villages and amenities. Cork County Council is fully committed to the further development of these places through infrastructural projects that will boost the local economy and create jobs for the community. The projects undertaken with the aid of this funding will help give our coastal communities a much needed boost at this particular time."