This year there will be a new version of Clonakilty International Guitar Festival for the new version of the world we find ourselves in. This year's event, the 16th annual festival, will be completely online but the organisers are still bringing the same high quality and eclectic line-up that's come to characterise this very special festival. 
There will be Live-streamed concerts from DeBarras Folk Club featuring Jinx Lennon, Greenshine, Wayward Folk , Maija Sofia and more.
The team has also been busy in recent weeks filming pre-recorded sets in iconic Clonakilty venues from artists such as Bill Shanley, Eve Clague, Míde Houlihan, Jim Murray and ADT. They will also digitally premiere shows from many of the artists that they had hoped to bring to Clonakilty in the flesh this September, as well as some exclusive interviews including Folk Musician & Poet Roy Harper in conversation with award winning author David Mitchell.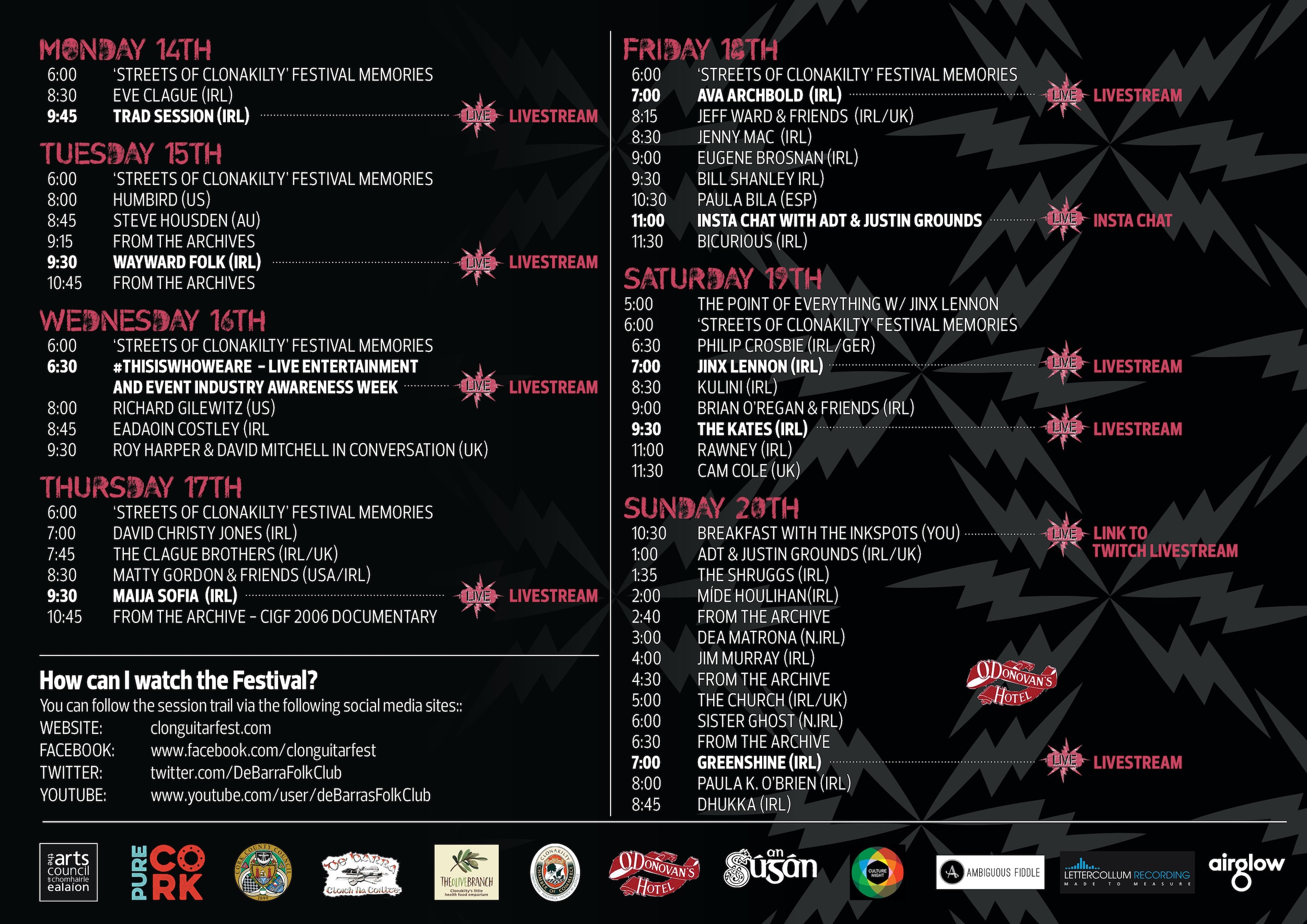 All online concerts have been prepared in compliance with necessary health & safety protocols to bring you an exciting digital experience for this year's event. 
On top of all that, the organisers have delved into the CIGF archives to present some highlights of the first 15 years of this festival's history. 
Of course, nothing beats the live experience of a bass drum kicking you in the throat, the sharp sting of sweat in your eyes from a hungry mosh pit or the existential joy of leaning in at an acoustic show to hear artists whisper truths in still moments. But this year's festival will continue the sheer energy of our artistic community, its spirit of resilience, adaptability, creativity, and humour.
2020 ARTISTS:
Jinx Lennon (IRL)
Greenshine (IRL)
Bill Shanley Band (IRL/UK)
Ava Archbold (IRL)
Cam Cole (UK)
Wayward Folk (IRL)
Richard Gilewitz (US)
The Kates (IRL/US)
Bicurious (IRL)
Humbird (US)
ADT (IRL/UK)
Maija Sofia (IRL)
Matty Gordon & Friends (US/IRL)
Dea Matrona (N.IRL)
Jim Murray (IRL)
Mide Houlihan (IRL)
Roy Harper (UK)
The Church (UK/IRL)
Paula K O Brien & Friends (IRL)
David Christy Jones (IRL/UK)
Sister Ghost -acoustic-(N.IRL)
Matty Gordon & Friends (US/IRL)
Paula Bilá (ESP)
Rawney (IRL)
Eve Clague (IRL)
David Mitchell (UK)
The Point of Everything (IRL)
Éadaoin Costley (IRL)
The Clague Brothers (IRL/UK)
Kulini (IRL)
Eugene Brosnan (IRL)
Jenny McNamara (IRL)
Stephen Housden (AU)
Jeff Ward & Friends (UK)
Dukkha (IRL)
Breakfast with the Inkspots (YOU)
Please check out http://clonguitarfest.com/ for the most up to date information on CIGF 2020