After a challenging few years, Fit-Up Festival is back with a full festival in July and August this summer in West Cork. Running from July 14 to August 7 in a selection of venues around West Cork, Blood in the Alley Theatre Company has an excellent offering of five plays lined up for West Cork audiences in 2022.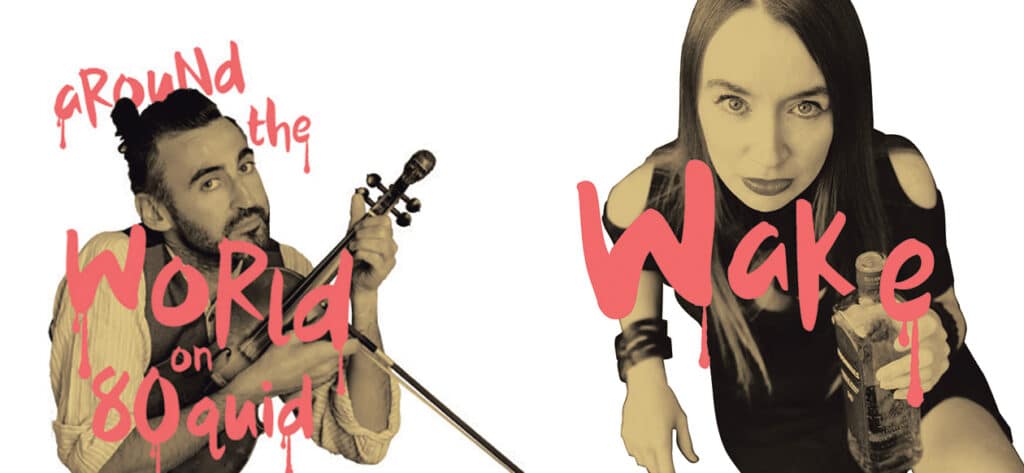 Based on the Fit-up's of the 1950s when professional theatre companies travelled to rural villages performing in makeshift venues during the summer, the Fit-up Theatre Festival aims to provide rural communities, where there is a lack of accessibility to professional theatre, an opportunity to sample some of the wealth and talent professional theatre has to offer.
First up, Big Guerilla Productions presents 'Victor's Dung'.
Performed by: Seamus O'Rourke, Charlie McGuinness and Tommy Sharkey; this is Seamus O'Rourke's (writer and director) mad, galloping tale of cantankerous Cavan farmer, Victor Maguire and the ghosts of his past, present and maybe future. It's full of philosophy for beginners and smeared in sadness, but there's lots of accidental joy.
Age Suitability: 16+ Running Time: 70 min. No Interval.
Hot on its heels is 'The Handyman'. Written, directed and performed by Seamus O'Rourke; The Handyman is hilariously funny, yet a poignant poetic look at small-town life in rural Ireland.
Hugh Spotten is the local Handyman. He is about to receive an award for his contribution to the community… but all is not what it seems in a small town, falling in on itself. Seamus O'Rourke explores friendship, relationships and how best to get noticed on your last day.
Age Suitability: 15+ Running Time: 90 min. No Interval.
Next up is the winner of Best Solo Show at the 2008 New Zealand Fringe. 'Around the World on 80 quid' is written, directed and performed by: Aindrias de Staic.
Aindrias de Staic cannot be pigeonholed as a traditional Irish musician. He is his own unique and authentic brand of Irish. An accomplished and acclaimed actor, writer, television presenter, and film-maker, there is nothing status quo about him.
Wildly original, worldly, enthralling and slightly enigmatic, Aindrias is a captivating and diverse performer who will leave audiences amused and confused, delighted and bewildered and creatively fuelled with his explosive, infectious energy.
This tenth anniversary remixed version reveals an older wiser man looking back on the follies (and craic) of his youth.
Loosely based on a true story, this multi award-winning storyteller and musician recounts the journey of an Irish violin player as he wanders across the globe through musical genres, devilment, debauchery and near-death experiences until he eventually finds himself and the music of his soul at the end of the road. But behind the laughs and music is the story of one mans addiction, and how he battle clever to overcome.
'the sense of joy and redemption expressed through his playing is quite moving…the man's got talent and humour in abundance' – The Scotsman
Age suitability: 18+ Running time: 55min No Interval
Written and Performed by West Cork's own Irene Kelleher and directed by Geoff Gould, 'Wake' is an animated monologue set around a West Cork funeral.
Actor and published playwright Irene Kelleher's first play, 'Mary and Me' toured extensively to critical acclaim and is also an RTÉ produced radio play. It has subsequently toured to London, Scotland, US Premiere in October 2020. 'Gone Full Havisham', Irene's second play, enjoyed a sell-out runs in the Cork Midsummer Festival, Edinburgh Fringe and in Dublin's in Bewley's Theatre. Her third play 'The Misfit Mythology' was most recently produced by the Everyman as part of their Play it by Ear Audio Dramas. Irene is currently one of the writers in this year's Irish Theatre Institute's Six in the Attic.
"I try to escape the sea of parishioners spitting sympathy and sandwiches at me with trail of egg salad dripping down. The house is like a scene from the Great Gatsby. Only this is West Cork so minus the glamour and good-looking people."
At her mother's wake Lily suffers her way through the sea of Auntie Rachel's sandwiches, cousin Aileen's juicing recipes and Aoibheann's woodland theme wedding plans, until an old face from her past arrives. Rapidly changing into her x-rated top and revelling in the disapproving whispers from the neighbours, Lily is not your typical mourner. She will not let the night that's in it thwart her plans.
'This animated monologue written and performed by Irene Kelleher and directed by Geoff Gould shreds the ritual banalities of funeral ceremonies with glee.' – The Irish Times
Age suitability: 14+ Running time: 60 min. No Interval
For the grand finale of this year's programme, HubCap Theatre Company presents 'The Parish', a hilarious light comedy in which two actors bring to life a range of characters that can be found in every rural community.
Michael Ryan is a professional freelancer in the Performing Arts. He is a performer, playwright and producer. Holding a degree in Drama and Theatre from UCC, he has performed in many professional roles on stage and screen.
Sean Kelleher is an accomplished actor and playwright. He has won multiple awards in the ADCI drama circuit including the Best Actor award in the 2016 All-Ireland One Act Drama festival.
The Parish centres on two friends wanting a new life and how they upset the whole parish in the process.
HubCap Theatre Company was set up to perform original work written and performed by its founders Sean Kelleher and Michael Ryan. As performers, writers and producers, their ethos is to provide highly entertaining, accessible theatre in its purest form. It is influenced by the tradition of the old Fit-Up theatre companies that travelled to every community bringing live theatre to the people.
The Parish is performed with minimal set and supported by a rich soundscape.
Age suitability: 14+ Running time: 80 min. No Interval
Doors open 30 minutes before show start time and are not suitable for audiences under 14-years-old. €15 per ticket, €50 Family ticket (2 adults and 2 teens).
The Fit-Up Festival full list of dates and venues around West Cork will be available online at www.fit-uptheatrefestival.com from Tuesday, July 5.