The oft told story and laudable accomplishments of Ballydehob's resident professional wrestler Dan 'Danno' O'Mahony were actually pre-dated by the equally impressive and decidedly more authentic achievements of an enthusiastic amateur from Gloun. Twenty-seven years before the Irish Whip's AWA and NWA World Heavyweight title wins, Con O'Kelly was the biggest name in world wrestling… Paul Lordan finds out the true extent of West Cork's unlikely dalliance with the sport of wrestling.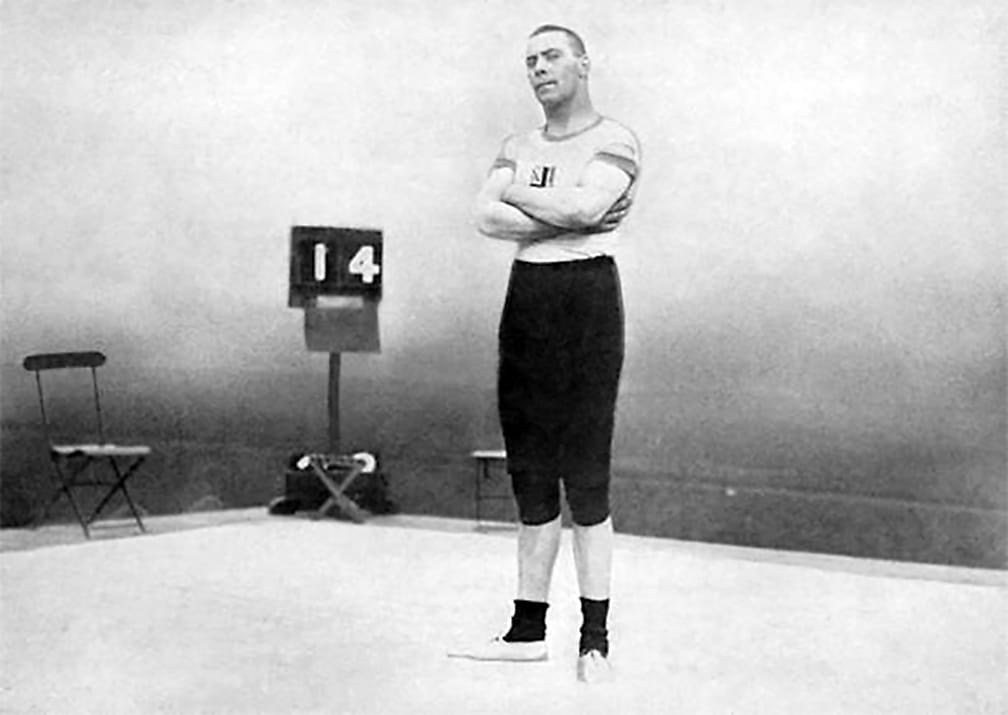 George Cornelius 'Con' O'Kelly was born in Gloun, near Dunmanway in 1886. Like many young men from Dunmanway and its surrounding areas at the time, Con O'Kelly was forced to venture abroad to gain employment. He settled into a thriving Irish immigrant community in Kingston Upon Hull, England. Con lodged with the Larvin family in the Old Town area, and later went on to marry their daughter Sabina. O'Kelly joined the Kingston Upon Hull City Police in 1902 and became PC249. He settled in to a role with the local fire department, which at the time functioned as an arm of the local police force. Whilst settling in on Humberside, Con's colleagues introduced him to wrestling via his local club, the Hull Amateur Wrestling Club. 
Con O'Kelly's natural wrestling ability was quickly noticed by the club instructors and he was promptly entered in to a series of local competitions. He stood at an imposing six foot three inches in height, and weighed in at 220 pounds. Contemporary descriptions indicate that O'Kelly's ample frame was reinforced with a plentiful supply of lean muscle. He was immediately successful, and after a short period of intensive training, Con put his name down to take on the Northern Counties champion in Liverpool. Although still a relative novice in terms of experience, he defeated his opponent within three minutes, establishing himself as a contender within Britain's wrestling community. This win was followed up with three successive wins against experienced, high ranking opponents. In 1907, the Hull Amateur Wrestling Club took the decision to enter Con into the British Amateur Wrestling Heavyweight Championship, and he rewarded their faith by delivering the club's first national title.
As the British Amateur Wrestling Heavyweight champion, Con O'Kelly was rewarded with a place on the British Olympic team for the 1908 Olympic Games in London. However, his preparation for the games was severely disrupted in dramatic fashion by a work place injury, incurred when a wall collapsed on him as he was fighting a fire at Soulsby's sawmill in Hull in March, 1908. Thankfully, O'Kelly recovered quickly from a badly bruised back and shoulder and many facial lacerations and managed to regain his fitness before the commencement of the games. Con defeated the American Lee Talbot, and Englishman Harry Foskett before facing fellow Munster man, Edmond Barrett. Barrett hailed from Ballyduff, near Listowel in County Kerry. He was something of a sporting all-rounder, and also competed in the shot, javelin, discus, and tug of war competitions in the 1908 Olympic programme and achieved a gold medal in the latter. He also famously helped London to a 1-5 to 0-4 victory over Cork in the 1901 All Ireland Hurling Final. Although defeated by O'Kelly, he went on to claim the bronze medal, and would compete on the British Olympic wrestling team again in the 1912 games in Stockholm. His victory over Barrett meant that Con faced Jacob Gunderson of Norway in the final. Although 11 years O'Kelly's senior, it was reported that he had a major physical advantage over the Corkman. An experienced matman, Gunderson was the Scandinavian and United States champion. It took Con all of 13 minutes to pin the Norwegian in the first bout, before he eased to victory in the decisive second bout and became the first Irishman to win an Olympic gold medal in wrestling.
Con received his gold medal from Queen Alexandra, who also presented him with a green oak leaf badge in recognition of his great feat. After the conclusion of the games, he returned to his adopted city of Hull amidst a great deal of fanfare. He was greeted by the Chief of Police Major Malcolm, the Chief of Worship Street Fire Station, and a cheering crowd of over 12,000 people. He was chaired aloft by several of his fire station colleagues, and placed upon a patriotically decorated, horse drawn fire engine, on which he toured the city. Con continued to wrestle sporadically after his Olympic victory. This included a professional bout where he squared up against Galway native Pat Connolly in Grand Central Palace, New York in 1909, which made headlines for all of the wrong reasons. The match degenerated in to a fistfight, and ended in a double disqualification for both men. The New York Times report on the bout from November 23, 1909 was particularly damning. It stated that 'It was conceded to be the worst wrestling bout that has been held in this city, and the Irishmen, of whom there were many in the house, hissed from the beginning, and finally were loud in their declarations that neither of the contestants was an Irishman'. Clearly unperturbed by his New York experience, Con would emigrate to the United States after retiring from active competition in the early 1920s. He later spent some time on the family farm in Gloun, before returning to Kingston Upon Hull where he died in 1947. Sporting excellence clearly ran in the family, as O'Kelly's son, George Cornelius 'Con' O'Kelly Junior would represent Britain as a heavyweight boxer at the 1924 Olympics. A medal would elude O'Kelly Junior, who later became a priest and passed away in 1968 in Stockport.
The fact that we have won a mere nine Olympic gold medals since the foundation of the state proves that an Olympic gold medal is a rare feat for an Irish athlete. Although his medal was won whilst representing Great Britain, this observer feels that such a technicality should have no bearing on our willingness to tell the story of Con O'Kelly of Gloun. He is rightly regarded as an Irish Olympic hero!