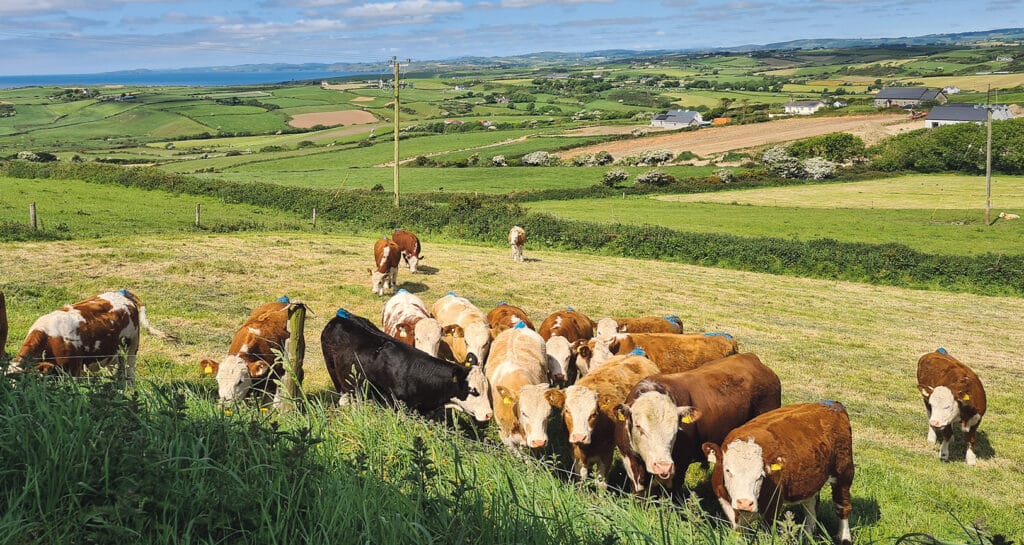 Milk price
The Irish Farmers Journal annual milk price review showed eight milk processors in the country had an average milk price of 58c/l excluding VAT in 2022. With five of those eight processing milk for West Cork dairy farmers, it meant a lot of extra income came into the region last year. The review is based on variable milk price, so milk sold under fixed price contracts where a proportion of the milk is locked into a price for a period of time is not included. Also excluded from the review are bonuses for milk quality and for trading with the co-ops. Factoring these bonuses meant the west Cork co-ops and Dairygold paid out anything from 60.95c/l to 62.16c/l to their milk suppliers last year. Those were almost dream like figures that the market returned last year but 2023 is proving to be a different kettle of fish. Milk prices have been slashed since earlier this year and when the prices for April milk were announced in the middle of May, all base prices had collapsed from that high to below 40c/l. Luckily down here remains the highest with Carbery paying out a base of 39.1c/l excluding VAT and Dairygold are 1c/l behind them. Looking west, Drinagh co-op suppliers who border Kerry suppliers are getting a base price that is 3c/l ahead of their neighbours.
Prices dropping by one third in such a short space of time are generally unheard of in agricultural circles. The big challenge however is input prices haven't followed suit and the on-farm challenge for dairy farmers now is to try and keep a margin.
Weather
The blast of good weather makes things easier now especially given how challenging it was for farmers for the 10 weeks from the start of March to the middle of May. Wet conditions saw work back up for agricultural contractors too and for a while at the beginning of May some of them were juggling planting maize, beet, grass seed and even barley in some cases along with trying to pick off silage where they could. The sunny weather is certainly welcomed by them.
From early June, I find there's a bit of a wind down on the farm. Sheds are empty, silage stocks are usually well replenished and breeding season is around the half way point. Once that's out of the way the daily routine on this farm eases off and there's a bit of time to recharge the batteries. Not just because of the workload easing off but I find this one of my favourite times of year. Blue skies and walking out to a field of content cows can be relaxing on a sunny evening and I could easily lose half an hour when I'm checking the cows for AI around 9pm. You wouldn't lose that time if it's raining though.
Given what we've had in terms of rainfall already, I'm half planning for a dry summer. I have a good proportion of silage cut and for now nothing will be taken cut from the grazing block until there's a drop of moisture again. It never ceases to amaze me how fast weather can turn around.
Farm payments
Farm advisers are due a bit of a break and I hope they get one too. They're after a few hectic months as they got their clients applications sorted for a plethora of new farm payments associated with the latest CAP (Common Agricultural Policy). For many farmers it was a case of clicking the no changes button and applying but with more of an environmental focus in the 2023 to 2027 version all farmers had to pay more attention to their application. Land eligibility changes especially with regard to the space for nature element saw ground that was previously rendered ineligible for payment now qualify. It's a move to be welcomed from a biodiversity perspective as previously it would have been in a farmer's interest to try and reclaim that ground whereas now it can be left be and there's a small financial reward for it.
EIP projects
In a similar vein of financial gain and improving biodiversity, a public consultation is underway to find new European Innovation Partnerships (EIP) projects. EIP projects are locally-led schemes which are designed and implemented by collaborative groups involving farmers, scientists, ecologists and other experts to deliver specific goals. That's something that may interest farmers and environmentalists in west Cork, who wish to collaborate. Results from previous EIPs have gone on to aid the creation of the flagship agri-environmental scheme ACRES. EIP projects are supported across two streams; A and B. Stream A projects will address wider competitiveness, modernisation and animal health and welfare challenges in the sector and/or, stream B will address areas related to environmental, biodiversity and climate change challenges.
There is a pot of €36m available for new EIPs under CAP 2023. Launched in late May by Minister of State for land use and biodiversity Pippa Hackett. The minister said:
"EIP projects bring together a range of actors to trial and test innovations that may improve the environment, animal welfare and the livelihoods of those that work to provide quality food."
This consultation is to seek the views of all stakeholders and public on the key themes for the next round of EIPs before a call for proposals is launched later this year. The survey is open from Tuesday May 23 and will remain open until 11.59pm on Monday, June 12. The survey can be found on https://commission.europa.eu/