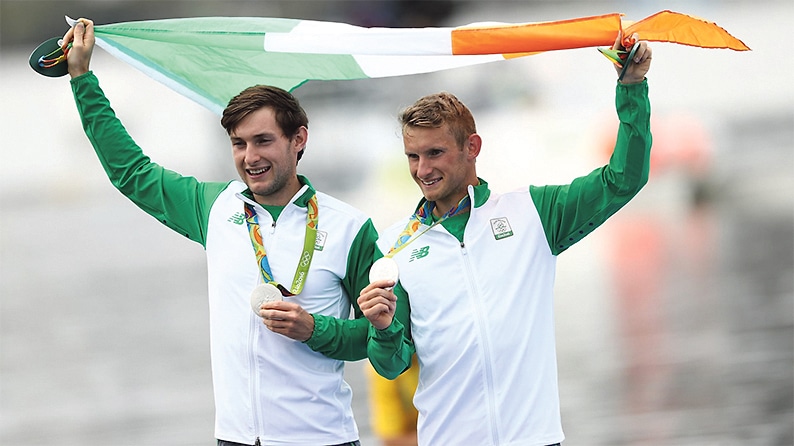 It is fair to say that over recent months, the content of this column has clearly shown that West Cork has been a breeding ground for many great sportspeople. The fact that the achievements of Olympians, internationals, and All Ireland winners can almost be forgotten over the course of a century is a testament to the sheer volume of sporting excellence that the area contributes to Ireland's sporting landscape. When reviewing the considerable and wide ranging pantheon of sporting giants that have called West Cork home, one question does loom. Who is the greatest West Cork Sportsperson/s? I quickly came to the conclusion that this is a question that I am unable to answer myself, and one that I felt compelled to ask a wider audience.
Therefore, we are asking all of our readers to vote for the greatest West Cork Sportsperson of all time. You can register your vote online at 
www.westcorkpeople.ie/vote/
As always, opinion is subjective. If your choice does not feature on our shortlist, you are free to enter a name manually on the link above.
1. Kevin Jer O'Sullivan
A Glengarriff native who excelled in Adrigole colours over a 23-year club career, Kevin Jer also represented Beara and Cork with distinction. A supremely talented attacking half back, he was a central figure in Cork's 1973 All Ireland win over Galway. In addition to this, his seven-year inter-county career yielded three Munster Championships, while he also won two Railway Cup Medals as an interprovincial player. Despite a controversial All Star omission in 1971, Kevin Jer won two All Star awards in 1972, and 1973. He also took the right half back berth on Cork's Football Team Of The Century in 1984.
2. Declan Barron
Declan Barron was another member of Cork's class of 73, having progressed to senior ranks with two All-Ireland minor and two All-Ireland U21 medals in his possession. Equally effective when deployed at centre forward or midfield, Barron's eleven-year inter-county career yielded an impressive haul of three Munster Championships, two All Star awards and a League title. At club level, he won Junior and Intermediate county titles with Bantry Blues and a Senior title while playing Divisional football with Carbery. He was also selected on the Cork football teams of the Century and Millennium.
3. Graham Canty
Another Bantry behemoth, Graham Canty burst on to the inter-county scene in 2000. An awesome competitor, he operated with tremendous effectiveness at full back, centre back and midfield over a thirteen-year inter-county career. His time in the red jersey saw Canty win five Munster Championships, three All Star awards, and two League titles. He also captained Cork in their 2010 All Ireland victory over Down. At club level, Canty was part of Bantry's 1998 Cork Senior Football Championship winning team, and he also represented Ireland in three International Rules series (2001, 2004 & 2008).
4. Nollaig Cleary
A hard working, technically-gifted half forward, Nollaig Cleary is a native of Castlehaven but played her club football for Gabriel Rangers. She was a member of their All Ireland Junior title winning team of 2003. Her inter-county career extended from 2004-2015 and she is rightly, widely regarded as one of Cork's greatest ever players. This is re-inforced by a jaw-dropping medal collection, which includes ten Munster titles, nine All Ireland titles, eight National League titles, and three All Star Awards.
5. Niall Cahalane
Almost universally known as the toughest man to ever pull on the famous red jersey, Niall Cahalane was a tiger-ish individual, best deployed at wing or corner back. Although remarkable for his tough streak and his longevity (14 years on the Cork senior panel, and 25 years on the Castlehaven senior panel), Cahalane was consistently best in class when it came to football intelligence and technical ability. He won seven Munster Championships, two All Ireland titles, two All Star awards, and one League title. With Castlehaven, Cahalane won two County U21 Championships, three Senior County Championships, and three Munster Senior Club Championships.
6. Tadhgo Crowley
A Clonakilty club man, who was a driving force in helping the club to win seven Senior County Championship titles between 1939 and 1947, Tadhgo Crowley also manned the centre back berth for Cork from 1943 to 1949. He won three Munster Championships in Cork colours and captained the rebels to All Ireland success in 1945. Renowned for his football intelligence, bravery and fielding ability, Tadhgo Crowley was deservedly posthumously named at Centre Back in both the Cork teams of the Century and Millennium.
7. Jim and Eamonn Young
Sons of 1911 All Ireland winner Jack Young, Jim and Eamonn Young followed in their father's footsteps by also representing Doheny's (amongst others) over the course of highly productive club careers. Jim, the older of the pair, represented Cork in both hurling and football. Although football success eluded him, he was an integral part of the great Cork team that picked up five All Ireland Hurling Championships between 1941 and 1946. Eamonn, represented the Cork footballers from 1942 to 1953, lining out at midfield in the 1945 All Ireland final win over Cavan. Eamonn was selected on both the Cork football team of the Century and the Cork football team of the Millennium, whilst Jim was selected on the Cork hurling team of the century.
8. Conor Hourihane
Conor Hourihane is a skillful, attack-minded central midfielder who currently plays with Swansea City (on loan from Aston Villa). Having come up through the ranks at Bandon AFC, he signed for Sunderland's Youth Team in 2007. He has also played for Ipswich Town, Plymouth Argyle, and Barnsley (where he was club captain) throughout his career, as well as winning 24 caps for the Republic of Ireland National Team. Prior to departing for Swansea City on loan, Hourihane was a central figure in the Aston Villa team that secured promotion to the Premier League in the 2018/19 season. He went on to make thirty-one Premier League appearances for the club.
9. Gary and Paul O'Donovan
The Skibbereen brothers burst on to the international rowing scene in 2016, winning a gold medal in the lightweight double sculls at the European Championships in Brandenburg. This was quickly followed by a silver medal in the same event at the 2016 Olympic Games in Rio de Janeiro. The brothers subsequently won silver medals in the European Championships in 2017 and 2018, and took gold in the 2018 World Championship. In 2019, Paul was paired with Fintan McCarthy and took gold in the Lightweight Double Scull event in the 2019 World Championships. He also previously secured World Championship Gold medals in the 2016 and 2017 Lightweight Single Sculls events.
10. Wayne Lordan
Wayne Lordan is a prominent Irish jockey from Crossbarry. He rode his first winner in 1998, and has experienced success in multiple racing groups. His win on Sole Power, at the 2010 Nunthorpe Stakes in York was the longest priced winner in a British Group 1 race for 35 years. Since 2017, he has been riding for Aidan O'Brien. In 2017, he won the 1000 Guineas, and the Matron Stakes in O'Brien's colours. To date, he has fourteen major wins to his name in Ireland, the UK and the US.