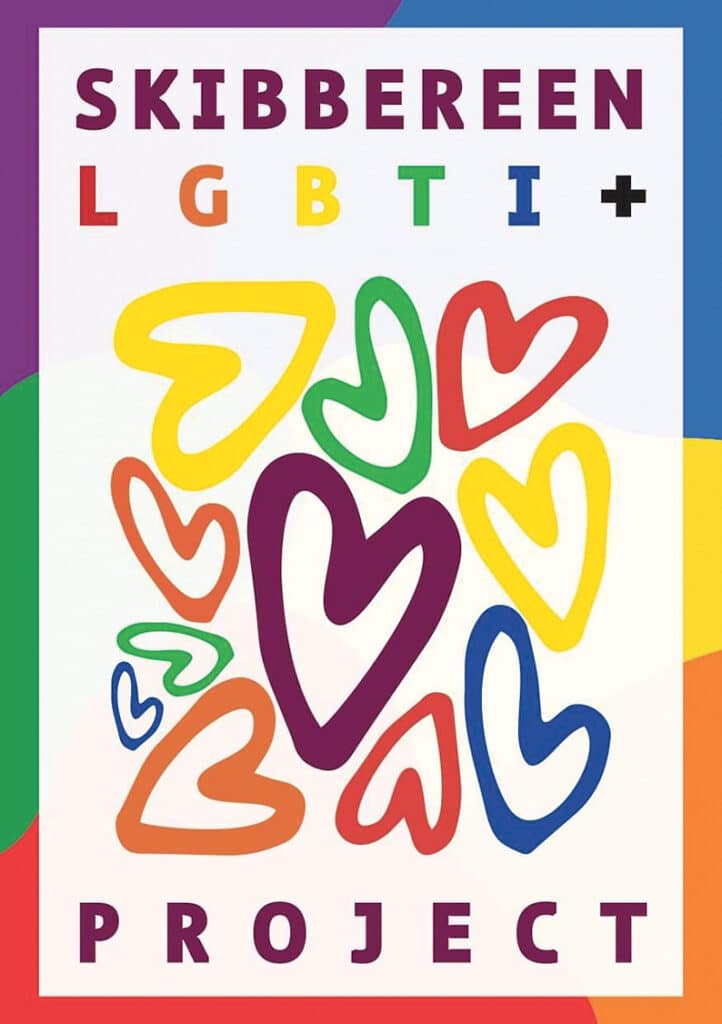 by Mark Holland
Hats off to all at the Community and Family Resource Centre in Skibbereen for hosting the events and looking after us all so well for the month of June. It is the first time that West Cork has had its own dedicated LGBTI+ inclusive space, and that alone has made such a difference and meant so much to so many marginalised people. It all culminated last Tuesday with a closing ceremony at the Uillinn Arts Centre, with the assembled crowd enjoying the same high standard of refreshments, live music, and the opportunity to reflect, that we had been treated to for the whole month.
It was a month packed full of events, educational and social, that all began with the newly appointed LGBTI+ Development Officer, David Campos, assembling, with the help of many hands, 300 Pride packs. The packs included badges, stickers, balloons, flags, bunting, information leaflets and a programme of events. David and his helpers then went out, on foot and by car, to every single business in Skibbereen, to deliver, in person, invitations to all of the events, and the materials to decorate and display on premises the welcoming colours of inclusion for all diverse minorities.
The Centre itself is a fabulous resource that feels like it was purpose-built. It is opposite the old Courthouse building on North Street, just the after the playground if you are coming into town off the Cork road. It is a single storey premises on the same grounds as the 'Spearline' building, with easy access to all three spacious function rooms, and facilities. On June 1, they raised the flag outside and opened the Archive Exhibition inside, which remained on display to the public for the whole month. The exhibition, 'Not Sick, Sinners or Criminals', is the story of Cork's LGBTI+ community during the 1970s and '80s compiled by archivist/activist Orla Egan, who witnessed it all in real time. As director, Orla came back on June 21 to present her film from around the same era, 'I'm Here, I'm Home, I'm Happy', which puts a warm glow of nostalgia on some of the experiences from back then.
Other events that were hosted there during the month were; Awareness Training, presented by LINC, Transgender Issues, presented by TENI, and Choir practice and performance with Liz, which leads us to the high point of the month, Pride day on June 18. So, taking the show on the road with all staff and management on board, we set up an information stall at the Farmer's Market, and had great fun with conductor Liz regaling the market-goers and stall-holders with a stunning rendition of our newly crafted masterpiece of singing. Later, back at the Ranch, on North Street, we had a full afternoon of live music, headlined by the Youth Group, playing to a decent crowd with food and craic.
The month is over but the initiative is only beginning. David started up LGBTI+ Movie Nights for over-18s in May and this will continue on. The movies are shown weekly on Fridays at seven o'clock in the Centre. There is a big screen and comfy chairs, with refreshments, and it's all free of charge. We are also awaiting the arrival of a couple of hundred new book titles to set up an LGBTI+ Library at the centre. Information about next week's film, upcoming events, and anything else that's happening will be posted up on Instagram and Facebook @skibbereencfrc. It is up to us now, the West Cork LGBTI+ community, and supporters' club, to get behind this initiative and come out and get involved. To show that it is wanted and vital to the improved wellbeing of all of us in West Cork. It would be wonderful if people were to come forward with suggestions of activities that they would like to attend, like choir practice, table-tennis, or anything else that you think you would like to do in a group that would get a crowd out.