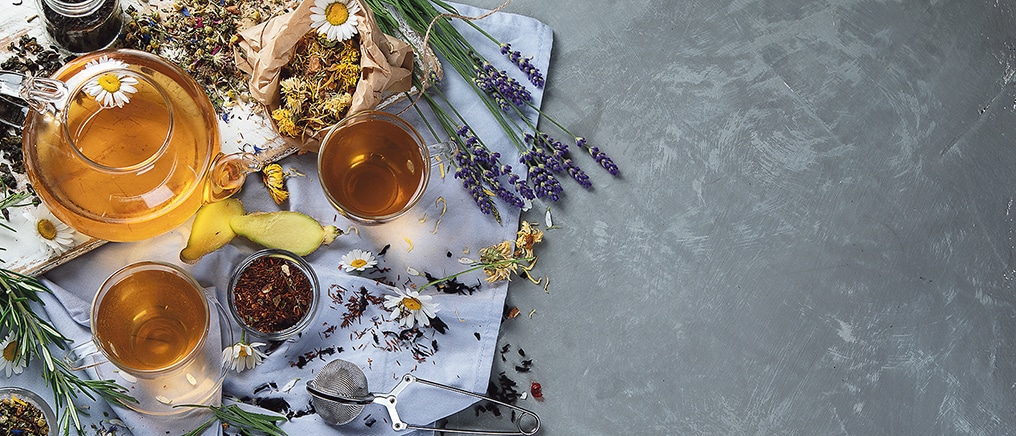 How do you take your tea? In Ireland, the love for a comforting cup of tea runs deep in our culture. Yet, beyond our favourite milky brew, there lies a world of super-healthy herbal alternatives. These herbal infusions offer not just warmth but a range of health benefits, aiding detoxification, boosting metabolism, and offering digestive support. And as the cooler months of autumn and winter settle in, a healing cup of herbal tea can nudge your body toward good health gently and naturally.
Enjoying a cup of tea can be part of your self-care ritual – taking time to choose which tea you want, making it mindfully, and drinking it mindfully. It can be a quiet moment of peace on a hectic day.
Personally, I've swapped my first cup of the day from black to green tea – I've tried a few different options to find one I like, as I'm not a fan of very bitter green teas. There are very distinct differences, so it's worth experimenting. I love the Sencha Green Tea by Clearspring, and the Qi Green is also nice. I've found that by not having a milky tea first thing in the morning, I actually enjoy a variety of different teas throughout the day.
I have black tea in the afternoon (my favourite is the Clipper Earl Grey), but once I get home, I have either Rooibos (also called Redbush, this is the staple tea in many African countries and I love it with and without milk) Chamomile or Lemon Verbena.
Weight Management: Green Tea's Metabolic Boost
While no tea alone causes weight loss, green tea's compounds, specifically catechins, can enhance the metabolic rate, aiding in calorie burning and fat utilisation. Green tea is high in polyphenols, which are a key part of a healthy diet, and it provides a welcome gentle caffeine boost. Additionally, green tea offers oral health benefits – it's good for gum health.
Rooibos/Redbush– an alternative to builder's tea
Rooibos or red bush is a tisane traditionally made by fermenting the leaves of the flowering shrub, 'Aspalathus linearis'. It is naturally caffeine-free and does not act as a stimulant, great for those avoiding common effects of caffeine, and it means you can drink it at night without being kept awake. Also, some people find tea upsets their stomach and Rooibos won't do that. It's a source of polyphenols and comes in various flavours including Earl Grey and Vanilla.
Ginger Tea's Multifaceted Health Benefits
Ginger tea is renowned for curbing nausea and aiding digestion, while also having anti-inflammatory properties and potential immune-boosting effects. Its antioxidants and trace minerals contribute to overall health and wellness. You can buy ginger tea bags or you can make an infusion of the fresh root.
Turmeric Tea for longevity
Turmeric is THE most studied spice of all time, and it's widely recognised that consuming approx a quarter teaspoon of the powder every day is very beneficial for a multitude of reasons. You can add turmeric powder to porridge, pop it in curries or in tea. If you like ginger tea, as mentioned above, try combining it with turmeric, which again is available as a fresh root as well as in tea bag form.
Peppermint Tea for Digestive Health
A cup of peppermint tea helps alleviate abdominal discomfort by relaxing muscles in the gastrointestinal tract, bile duct, and gallbladder. It's a natural solution for temporary indigestion. Peppermint tea is also very cooling on a hot day (hence it's widely drunk in hot countries such as Morocco). You can use fresh peppermint or dried, but do always choose organic as non-organic peppermint is a heavily sprayed crop.
Cleansing Teas for Detox and Hydration
Golden Rod and Knotgrass Tea, commonly referred to in Organico as 'Kidney' Tea, combines herbs like goldenrod, birch leaves, knotgrass, horsetail, and wild pansy. While not a treatment for severe kidney problems, this tea's cleansing properties can aid in reducing UTIs and supporting kidney health by flushing out toxins if drunk on a daily basis. It comes in bags and we generally suggest making a pot and drinking it spread throughout the day.
Dandelion and Nettle: Combating Water Retention 
Dandelion tea, loaded with potassium and magnesium, may help reduce bloating and water retention, particularly beneficial during premenstrual times. Nettle tea offers a range of benefits from aiding anaemia, high blood pressure, and reducing allergies to potentially supporting fertility.
Chamomile Tea: Beyond Relaxation
Chamomile tea isn't just a pre-bedtime calming ritual; it contains flavonoids that act as antioxidants, supporting heart health, the immune system, and potentially aiding in reducing anxiety and inflammation. My favourite Chamomile Tea is an Organic tea bag from Salus Haus, it's by far the best flavour. You can make two or even three cups from each tea bag – just leave it in the cup and top up with hot water.
Lemon Verbena – both uplifting and calming
Lemon Verbena grows in Mediterranean countries and is prized for its health benefits as well as its delicious taste. I'm using leaves I dried this summer, and when they run out I'll buy a bag of Sonnentor's loose leaves as I'm really enjoying selecting four to five leaves and making tea (taking a break from teabags!). I find Lemon Verbena calming and uplifting at the same time, and I often combine it with chamomile in the evening.
Relaxation and Balance: Valerian Tea
Valerian, often known as Herbal Valium, is ideal for relaxation, aiding in sleep, easing period pain, and reducing anxiety. Its combination with fennel seeds is also recommended for managing hot flashes during menopause.
Let me know what your favourite brew is! And as you savour your next cup, remember that it's not just a beverage but a gentle remedy, supporting your body's natural balance and vitality, so choose the best quality tea you can, and try to introduce some variety to make the most of all the herbal benefits. All the teas mentioned above will be found in your local healthfood shop, and if possible try to buy organic to avoid unnecessary chemicals in your cuppa.
November News in Organico – we are getting ready for Christmas here in Organico and we are offering 10 per cent off nearly everything online for 24 hours at the end of the month – to know when that is and to get the code, make sure you are on our Newsletter List.