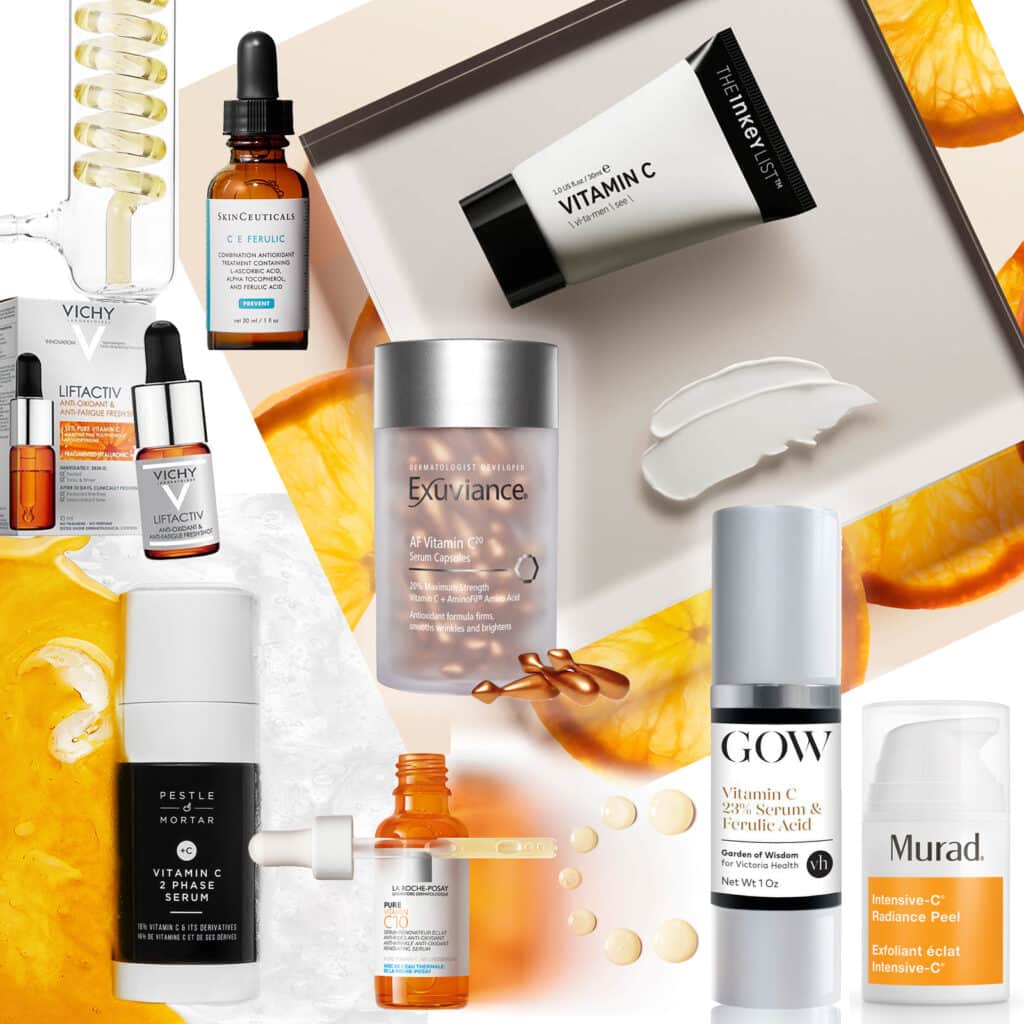 When it comes to vitamin C, more often than not we tend to associate it with boosting our immune system and helping fend off colds and flu but if you didn't know already, it also works wonders for our skin. Loved by pretty much every skincare expert, it's renowned for its brightening and anti-ageing benefits as well as being one of the strongest protective antioxidants out there. Along with vitamin A (retinol) and ceramides, vitamin C is a key player in your skincare line-up.
A natural component of healthy skin, this water-soluble vitamin, is abundant in our skin when we're young but as we age, our levels naturally deplete and unprotected sun exposure (UV damage) and pollution can further accelerate this decline, leading to uneven skin tone, rough texture, fine lines and general dullness. However, the good news is that this skin saving ingredient is incredibly easy to integrate into your skincare regime and will help fight free radical damage caused by the environment, boost collagen (making skin look firmer) fade pigmentation, repair tired, lacklustre skin and will put the glow back in your complexion. And in these unsettling circumstances we're presently in, we could all do with a little brightening up!
For me, a vitamin C serum (serums are made of smaller molecules, so the skin absorbs them quickly and deeply) is a great place to start. Research also shows that high strengths of vitamin C (10 per cent and higher – typically found in targeted treatments or serums) are particularly effective.
When choosing the right one for you, it can be confusing as it comes in lots of different forms, but ascorbic acid is the one to look for (also known as L-ascorbic acid). This is the most stable and effective form of vitamin C in skincare, so if in doubt, that's the one to look for. Also because of its ability to protect your skin from UV damage and environmental aggressors, vitamin C is best used as part of your morning skincare routine; that being said, you can use it at night too (especially higher percentages of vitamin C ). If you're new to using vitamin C, you may experience a slight tingling on first using, if this is the case, start slowly, perhaps three times a week and gradually build up to daily use.
It's also worth noting that vitamin C can be a tricky ingredient; keep in mind that it is extremely sensitive to air and light and will break down over time if routinely exposed to them. If you want to get the best possible results from your vitamin C serum it needs to be in an opaque, air-tight container to help ensure the ingredients remain stable; this is why you'll often see vitamin C serums in dark bottles.
Read on for my roundup of vitamin C serums and treatments that will leave your skin feeling happy, bright, and protected….
Vichy Liftactiv Vitamin C Brightening Skin Corrector
This potent treatment from Vichy's powerful anti-ageing Liftactiv Range, is the ideal antidote for transforming tired, dull skin into a brightened, radiant complexion. Powered by a 15 per cent concentration of pure vitamin C combined with vitamin E and hyaluronic acid, this antioxidant-rich and anti-fatigue concentrate will leave skin looking rested, firmer, hydrated and more luminous in just ten days, €32 available from selected pharmacies nationwide.
The Inkey List Vitamin C Serum
An accessible and affordable skincare brand, The Inkey List focuses on hero ingredients and simple but effective formulations. Their budget friendly vitamin C serum boasts 30 per cent stable L-ascorbic acid in a potent waterless formula and delivers multiple benefits with minimal irritation. Suitable for all skin types, it helps to brighten, even skin tone and reduce the appearance of fine lines to give you a naturally glowing complexion, €11.50 available from selected pharmacies nationwide and online from arnotts.ie
Pestle & Mortar Vitamin C 2 Phase Serum
Two years in the making, this new serum from Pestle & Mortar is formulated with three types of high-performance vitamin C and natural extracts for dramatically brighter, tighter, smoother looking skin. With its custom packaging and an innovative delivery system to make sure that it stays active, the serum is stored inside the bottle in two phases – an oil phase and a water phase. The pump technology mixes the vitamin c-rich water phase with a super lightweight oil phase to produce one perfect dose of serum. Lightweight and super-absorbent, it's suitable for all skin types to remedy dull skin and a lacklustre complexion, €76 available from selected pharmacies nationwide and online from pestleandmortar.com
La Roche Posay 10 per cent Pure Vitamin C Serum
An oil-free, noncomedogenic serum that absorbs quickly into skin, releasing a surge of beneficial ingredients to leave your complexion feeling softer, more hydrated and glowing. Pure vitamin C harnesses anti-wrinkle and antioxidant properties and gives radiance and glow, while hyaluronic acid plumps skin with moisture to soften the appearance of fine lines and wrinkles. Deeply hydrating and skin-smoothing, it also contains salicylic acid to gently exfoliate away dead skin for a brighter, more uniform tone and texture. Lastly, its dose of thermal water delivers soothing, restorative, and protective benefits, €38 available from selected pharmacies nationwide.
Murad Intensive-C Radiance Peel
Not so much a serum but an at-home facial peel designed to restore and brighten your complexion and exfoliate away any dull, damaged cells, leaving you with seriously radiant skin. In one easy step this extremely effective treatment utilises a powerful combination of glycolic acid, vitamin C, Indian fig and myrtle extract to smooth, hydrate and enhance radiance, while reducing pigmentation to even skin tone and clarity. Apply a layer on to cleansed skin, leave for 10 minutes, and then rinse with warm water and pat dry. Use once or twice weekly, €63 available online from Cloud10beauty.com
SkinCeuticals CE Ferulic
I can't write about vitamin C serums without mentioning SkinCeuticals multi-award-winning CE Ferulic Serum. A cult favourite, recommended by many dermatologists, thanks to its highly advanced blend of 15 per cent vitamin C, one per cent vitamin E and 0.5 per cent ferulic acid. This impressive serum actively defends the skin cells and collagen stores against damage and destruction while aiding the healthy production of vital proteins within the skin. Used daily, the skin becomes firmer, smoother and more uniform in texture. Suitable for normal to dry skin types, apply a few drops to cleansed skin and massage in until completely absorbed, for best results use every morning, €119 available online from beautyshop.ie (if your complexion is on the oily side, then SkinCeuticals Phloretin CF might be a better option for you).
Exuviance Vitamin C Serum Capsules
Each mono-dose capsule contains a powerful blend of 20 per cent pure vitamin C and patented AminoFil Amino Acid to stimulate sluggish collagen production within the skin and firm, smooth and brighten while providing the cells with vital protection against environmental damage. These capsules promise to restore a youthful smoothness and radiance to the skin in just four weeks. Suitable for all skin types, apply the contents of one capsule to cleansed skin every evening for best results. For sensitive skin, use two to three times per week, then increase use as tolerated, up to once daily, €62 available online from exuviance.ie.
Garden of Wisdom Vitamin C 23 per cent + Ferulic Acid Serum
Garden of Wisdom, or GoW as it's often referred to as, is another skincare brand that falls into the budget friendly skincare realm. A firm favourite of many beauty bloggers, this high strength vitamin C serum packs quite a punch considering the price tag. It's a blend of 23 per cent pure L-ascorbic acid to brighten and even out skin tone and ferulic acid which helps protect skin against free radical damage. Housed in an airless pump to prevent oxidation, this non-greasy serum is easily absorbed into skin and works to brighten and freshen the complexion along with helping to prevent and treat pigmentation, £10, available online from victoriahealth.com.
All details of my facial treatments, skincare consultations and classes are on shernamalone.ie. You can also follow me on Instagram and Facebook @shernamalone.ie
Stay safe and well