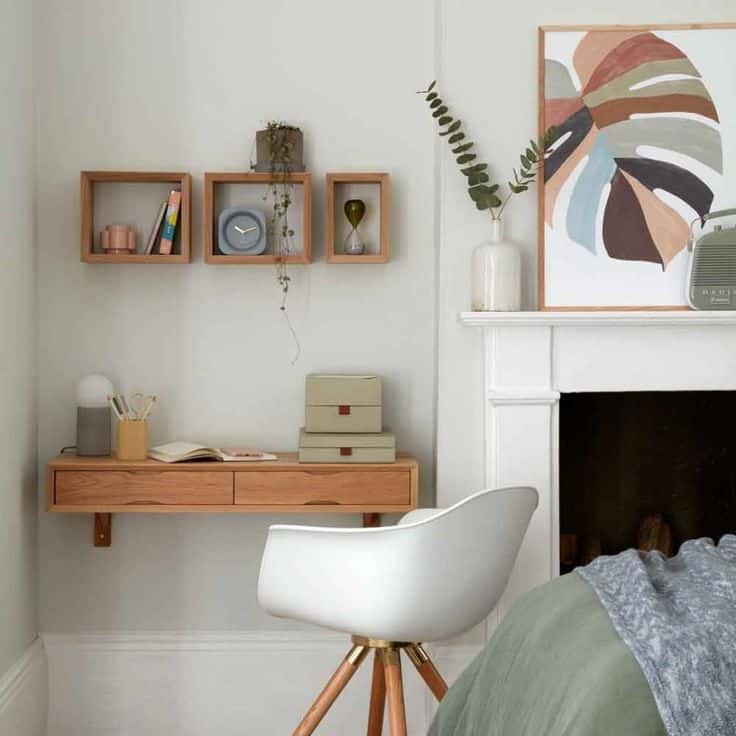 For most of us our homes are currently the central location for our business or, a secondary work-area, classroom, and creche, all-in-one space. Prior to Covid-19, home office space would generally not have been seen as an essential ergonomically planned space in our home. So, like many others right now, you are probably calling the couch, the kitchen table, kitchen island, under the stairs, spare bedroom or the master bedroom, your office!
Studies show that we all need some peace and quiet in open-plan offices but what if that open plan was your living-room? I think it would be fair to say we all like to close the door at the end of a busy day and not have to think about work again until the following day, however it might not be physically possible to close the door. So with this in mind, I have some advice for you in creating a good workspace within space limitations to ensure productivity while working from home.
If you want to create an office in your bedroom bear the following in mind: Choose a space in the room where you can focus and declutter the area. You cannot be productive if the room is untidy – optimise space for creative needs. Make sure the room is bright and airy, if there's a window in the room sit near that; if there's a view from there even better still.
Desk
Ask yourself 'What space in the room do I have?'. With that in mind, there are a number of desk options to choose from. You could put an unobtrusive desk in the room or a wall-mounted shelf could be an option if you're short on space or consider slotting a desk into the alcove in the room. Is it possible to hide the desk and chair in a wardrobe? This option means you can close the door and turn it back into your bedroom in an instant.
If you need another socket for your computer or light, obtain an extra power bank and attach it to the side of the desk for easy plug -in/out access. Maybe use a cable tidy if you have one – keeping cables tidy behind the desk looks better visually.
Chair
If you don't have a suitable chair, please ensure it is comfortable and has ergonomic fixtures and perhaps add in a footrest for good measure. Never put your back to a door, as you will be constantly turning around and this could lead to a back or neck injury.
Colour and Light
Make sure there is a bright or neutral colour scheme on the wall, as this will lift your mood. Light has a huge impact on our daily wellbeing. Light colours make a room look brighter and bigger, more reflective – making a space look more airy and open.
Decide on the mood of the room. Do you want it warm or cool? Pick a colour that suits your personality. As an interior designer, I believe that colour can dramatically affect your mood, feelings and emotions. Wassily Kandinsky once remarked that 'Colour is a powerful communication tool and can be used to signal action, influence mood, and even influence physiological reactions'.
A warm neutral colour like Purbeck Stone from Farrow & Ball can be added to by introducing colourful accessories.
Your feelings about colour are often deeply personal and rooted in your own experience or culture.
If you are in a room or space that is already painted you can make that space feel brighter by perhaps changing the halogen bulbs to a warm white, adding a bright rug (this also helps with noise absorption), a floor lamp, and a piece of art on the back of your desk.
Natural light is very important factor. Pull back the curtains more if needed or add a desk light. Please note, if the window is behind you, position the computer so that it doesn't give you a glare on your computer screen. You might need a monitor glare screen (you don't need this if you are on Zoom/webinar call during the day). You might also consider a black-out blind on the window in case the light gets too much.
Storage
Buy an office mesh tray – you could add your daily work tasks in here to keep them tidy, also add a little holder for your pens/highlighters.
Open shelving is good for storage. Add containers or baskets if needed for any items not used on a daily basis, label and put somewhere out of sight.
Put a 'feel good factor picture' on the desk – this adds personality and warmth and will make you smile when you look up from the screen.
Place a picture or piece of art on the wall.
Think green and add a plant or two.
Tidy your desk at the end of the day. As it is a living or bedroom space too, recreate your relaxation space before you leave the office, as you will be returning to this room for bedtime or to relax in later that evening. Excess office materials thrown around can lead you to feeling overwhelmed and this is the last thing you need. Perhaps light a candle with a nice scent before you finish your day and close the door behind you.
Maura Mackey Design on Instagram / Facebook. Email maura@mauramackeydesign.ie