Two Cork based businesses have been awarded Local Enterprise Awards from Cork County Council's respective Local Enterprise Offices (LEO) in Cork North and West and South Cork. Companies 'BaseWorx' and 'Hyde Whiskey' received the accolade for building successful businesses despite the challenging times of the past two years. They will now compete against 28 other businesses at the National Enterprise Awards at the Round Room in Dublin on June 1 for a share of the €35,000 winner's prize fund.
Representing LEO Cork North and West, BaseWorx, was founded by Graham Clarke, Keith Killilea, and Kevin McSharry. BaseWorx is a cloud-based management platform for flexible workspaces. It helps managers to efficiently manage their space for a wide range of workspaces including Enterprise Centres, Coworking Hubs and Shared office settings. The global flex space market is expected to reach a value of $103 billion by 2027, a growth that is driven by an increase in demand for flexible office spaces from various industries, along with the rise of remote work and the need for more contemporary, co-working-style environments. As BaseWorx grows and adds new products it will be well placed to be a leader in this market both here in Ireland and internationally.
Conor Hyde of Hyde Whiskey created his now burgeoning business from revisiting his own family's rich history of whiskey distilling of over twelve generations since 1640. It has been awarded some of the world's top whiskey accolades for its art of wood management and cask maturation which gives Hyde Whiskey its unmistakable taste and character, making it one of Ireland's best small batch, hand-crafted whiskeys. Now in its ninth year of business Hyde Whiskey today exports over 23 different HYDE whiskeys into more than 65 different export markets worldwide.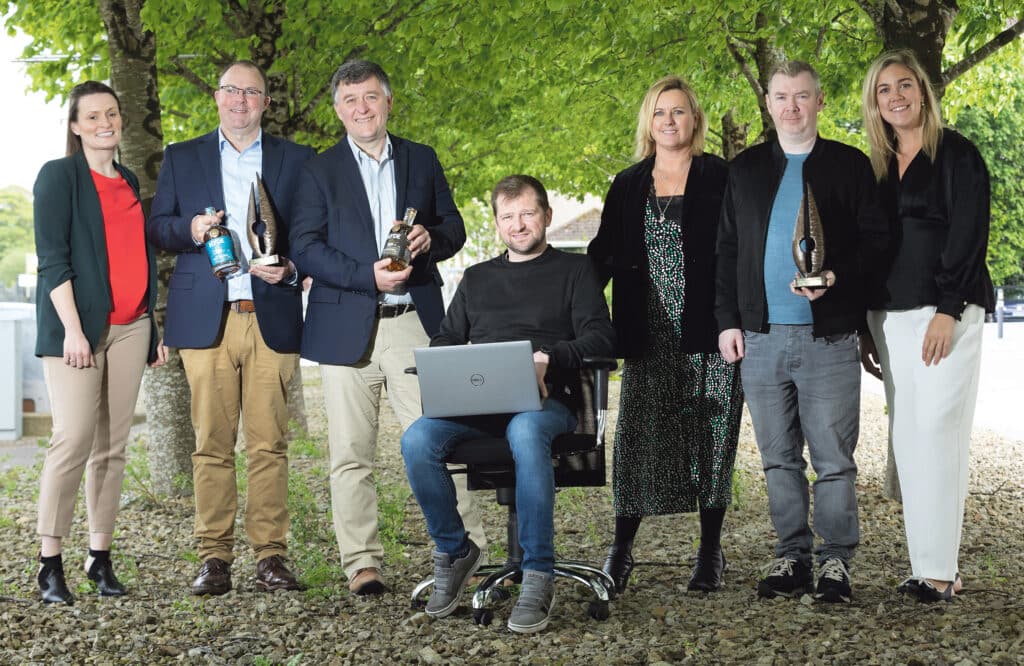 Speaking at a special luncheon to celebrate the award winners, Mayor of the County of Cork, Cllr. Danny Collins said, "I would like to congratulate Hyde Whiskey and BaseWorx on their awards and wish them all the very best as they progress in the competition. While many independent businesses are encountering challenges, it is heartening to see many still break through and achieve success. Hard work and dedication has brought these businesses here today. I am proud of the supports that our Local Enterprise Offices offer to local SME's and I encourage other local businesses to avail of the large suite of supports available to them from the LEO's. I wish Hyde Whiskey and BaseWorx all the very best in the national awards and beyond. I am certain that we will hear much more from both of them in the coming years as they grow".
Speaking of the award, Conor Hyde, Hyde Whiskey said, "The whiskey business is not an easy one to compete in but with Hyde Whiskey we feel that we have created something very special that has brought customers all over the world to connect with our brand and appreciate the time and expertise that goes in to creating an award winning independent whiskey. Since the beginning, the LEO in South Cork has been an enormous support, through grant support and mentorship they have helped me to grow the business and reach new export markets which has been a lifeline in such challenging times for small, independent businesses."
Speaking of their award, Graham Clarke, CEO, BaseWorx said, "We were all too aware of the enormous shift of how people are working and the advent of the co-working industry. We are even seeing a demand for our product in traditional office settings as a lot of organisations come to terms with the shift to hybrid working. Our solution ultimately reduces the administrative burden of running a workspace. As it is such a fast-growing sector, having the support of the LEO Cork North and West has been invaluable to us and we look forward to representing our region at the national finals next month."
Last year Cork County Council's LEO offices in South Cork and Cork North and West approved grants totalling over €1.75million to assist local businesses.
Further details about the supports available to local start-ups and small businesses are available through www.localenterprise.ie.