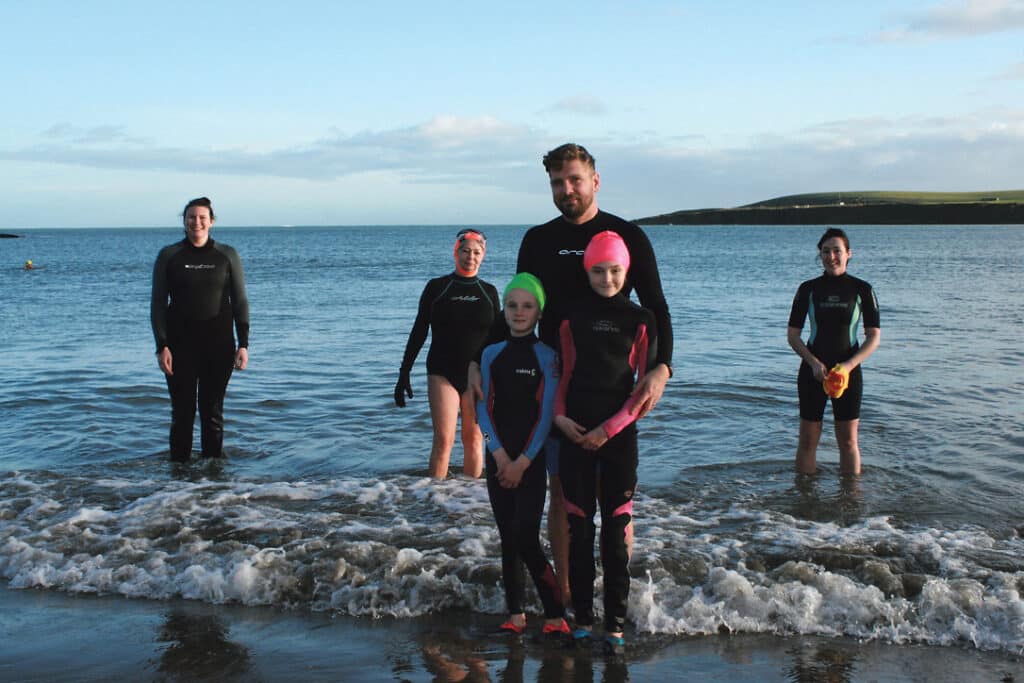 With movements constrained by Covid-19, many in West Cork have found unexpected pleasure in the freedom of the ocean. With this call of the wild, all around West Cork, young and old, have been seen donning thermal accessories and taking the plunge. Aside from offering a release from the restrictions that have us tied to within 5km of our home during this pandemic, the physical and mental benefits of open water swimming are said to be immense, from better circulation and boosted immune system to increased happiness. In fact, according to researchers from Cambridge University, cold water swimming may even protect the brain from degenerative diseases like dementia.
"When you're in there and the wave catches you and lifts you up, it really does lift your body and your soul," says Daniel Boddington from Courtmacsherry.
Daniel, 35, works as a hairdresser in Clonakilty and joined the ranks of the open water swimmers for the first time during the lockdown in the Spring. In fact this was a real baptism of fire for Daniel, who had never even swum in the ocean before. "I've always had a pretty bad shark phobia," he explains. With some gentle persuasion from his neighbour Maureen, who has been enjoying the benefits of sea swimming all year round for a few years now, Daniel eventually pushed aside his fear and hasn't looked back since.
With his work life paused due to Covid, swimming has become the highlight of each day for Daniel. "I'd go so far as to say it's similar to that feeling of excitement in the build-up to Christmas…except you have that feeling every day before a swim!
"The uncertainty has been very hard. It feels like we're on a rollercoaster with all the ups and downs and always waiting for the next thing to happen. Swimming is my outlet; it gives me headspace…I've been in the water every day since the start of the second lockdown."
Daniel has set up a WhatsApp group to co-ordinate swims with a few other locals so there is also a social aspect to the activity. His three young daughters, age eight, 10 and 13, regularly accompany him on swims. For a brief part of every day, the great open space of the ocean, whatever the weather, allows the opportunity for a safe, friendly chat, albeit treading water. "There is a really nice community feel to the swims," says Daniel. "It's a chance to make friends with people you'd ever only meet in passing before in the locality."
Whatever about sharks, even a recent invasion of the venomous Portuguese man o' war hasn't deterred the swimmers of the Seven Heads Peninsula.
"Doing something out of your comfort zone changes the way you see things; you deal with fear differently and nothing is as bad you imagine it to be," explains Daniel simply.
"It takes you back to nature. When the sun comes out from behind the clouds and ripples and reflects off the water, it makes you stop and just be in that moment…and whatever your feelings and worries, you simply enjoy it."