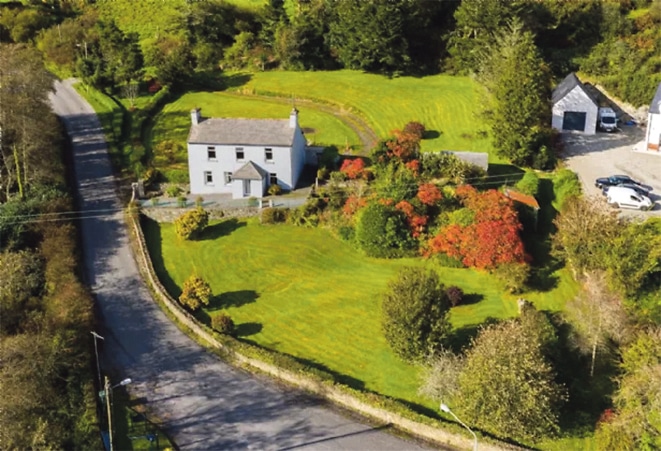 Estate Agent Con O'Neill of Sherry Fitzgerald O'Neill shares his knowledge of the West Cork property market and gives some helpful advice for buyers and sellers
What's the West Cork market looking like at the moment?
The market is very strong across the board. Nationally, excluding Dublin, house prices were up 12.9 per cent last year and West Cork would fall into line with this. While the number of properties advertised for sale is as low as we have ever seen it (there are just eight dwellings advertised for sale in Clonakilty, 22 in Skibbereen and 18 in Bantry on Daft at the time of writing), the number of sales of secondhand homes in 2021 was back to the pre-pandemic levels of 2019. This reflects the fact that properties are going sale agreed in weeks rather than months in many instances. While the new builds in Clonakilty and Rosscarbery have been a welcome addition, the issues with water supply in Clonakilty, sewerage in Dunmanway and water in Castletownbere are a major worry moving forward. While we anticipate an uplift in supply of property in 2022, it will be insufficient to meet current demand. Prices will likely rise again in 2022, albeit at a reduced rate compared to 2021.
Which is more popular, new houses with all mod cons or period properties with character – is it a certain type of person/family going for either one?
Buyers will typically pay a premium for a house that is in walk-in condition. Not a lot of people have the time or energy to devote to a renovation. This is typically true of younger first-time buyers and older buyers. Farmhouses and cottages are attractive across the board while larger period properties will almost exclusively attract an older buyer.
Are city folk looking for the complete opposite and looking for something very rural?
Since the pandemic, we are definitely seeing an uplift in city buyers looking for the rural property. When someone pictures themselves living in the countryside, they think of an idyllic farmhouse or cottage. Areas north of Clonakilty, Bandon and Macroom, have seen a dramatic uplift in demand, as they are commutable from the city, and prices typically were a bit more affordable, as prior to the pandemic prices there had not recovered since the recession hit. Last year we saw a farmhouse in Rossmore make 50 per cent more than it made in 2018, while an extended cottage in Enniskeane made almost double what it sold for in 2015.
In your experience what are families with young children most excited by? What should these families keep in mind when looking at a property?
Buyers with young families are conscious of having a safe secured garden for children and dogs where they can play safely. That's a real dealbreaker for young families. Internally it's the practical rooms such as the utility room or a hot press with good storage that buyers often get most excited by. A second living space, which can double as a home-office, play room or just a space to escape the children for a break, is also a real positive.
Is connectivity one of the first questions people ask? How is that situation looking in West Cork from what you are seeing?
While it is a dealbreaker, it doesn't come up as often as you would think. There are so many options out there now, from fibre to satellite broadband to the 4G network, that people almost assume that there will be some option open to them. It's a long time since we sold a property with no options available.
What financial paperwork could people have organised before serious house hunting to help the process along?
The first step is to get approval in principle for a mortgage by either speaking directly to a bank or mortgage broker. What we have noticed recently is the single biggest delay in drawing down a mortgage is getting life insurance. Buyers will typically look to arrange this after going sale agreed, however, reports from doctors are sometimes required and this can lead to significant delays. It would be worth considering getting this in place immediately on getting approved for a mortgage.
Have you any advice for how people should decide on their budget?
It's hard not to get caught up in the final price you pay for a property but what is far more important in the long run is that you can comfortably afford the mortgage repayments. Prices will rise and fall over time and, where you are later selling at a lower price, you are also buying at a lower price. Unfortunately, buyers in the current market have no option but to borrow the maximum amount allowed, however, where there is flexibility, a lower mortgage repayment to buy a lesser house may allow a better quality of life with, for example, the option for a one parent to take time out from work to mind children or to follow a passion.
Are there some problems with a house might that would initially put someone off but are actually very easy to fix?
Low energy ratings. It is a lot easier to take an E or F rated house to a C than it is to take a C rated house to an A rating. Easy wins such as a new boiler, improved attic insulation, windows, doors or changing an open fireplace to a stove could make significant improvements to a house. When it comes to making a house comfortable to live in, it is best to live in the property and make incremental changes over time.
Are there many options out there for people thinking about downsizing?
It's a big issue in that there is a lack of one and two bed properties in the towns and villages of West Cork. The vast majority of houses in new developments over the last 20 years have been three or four bedroom properties. It is an issue moving forward, in that at present we are seeing buyers who may be expected to be downsizing, buying the large detached properties surrounding Clonakilty, Skibbereen and Bantry.
Any advice for people who need to sell in order to buy that would make the process less stressful?
I think we are going to see a lot of people on the move this year with the pandemic hopefully settling down. My only advice would be to control the 'controllables'. Contact your solicitor early. They will give you a list of documents they will require in order to issue the contract. The sooner you can issue a contract after going sale agreed, the easier the process will be. It would also be best to contact one or more estate agents in order to get an idea of values and advice on maximising value prior to advertising the property. It is also a great time to declutter your house so that you will have a few less boxes to take with you.
Sherry Fitzgerald O'Neill:
Clonakilty 023 8833995. Skibbereen 028 21404.
Email: info@sfoneill.ie.