A French film crew visited Clonakilty in October to shoot a documentary on autism for an episode of their show 'Nous, Les Européens', which examines different social situations in communities across Europe and how they're managed. The producers aim to educate and inspire their French audience by showing how different approaches get positive results. In this case it was Clonakilty, as Ireland's first Autism Friendly town, and a local family with a child on the autism spectrum, who provided the inspiration for the show. The French crew spent an entire weekend following Traolach O'Dowd and his family, going about their activities in Clonakilty on a typical weekend, with the point being to demonstrate how Clonakilty's autism-friendly initiative and community participation has made life so much easier for a child on the spectrum.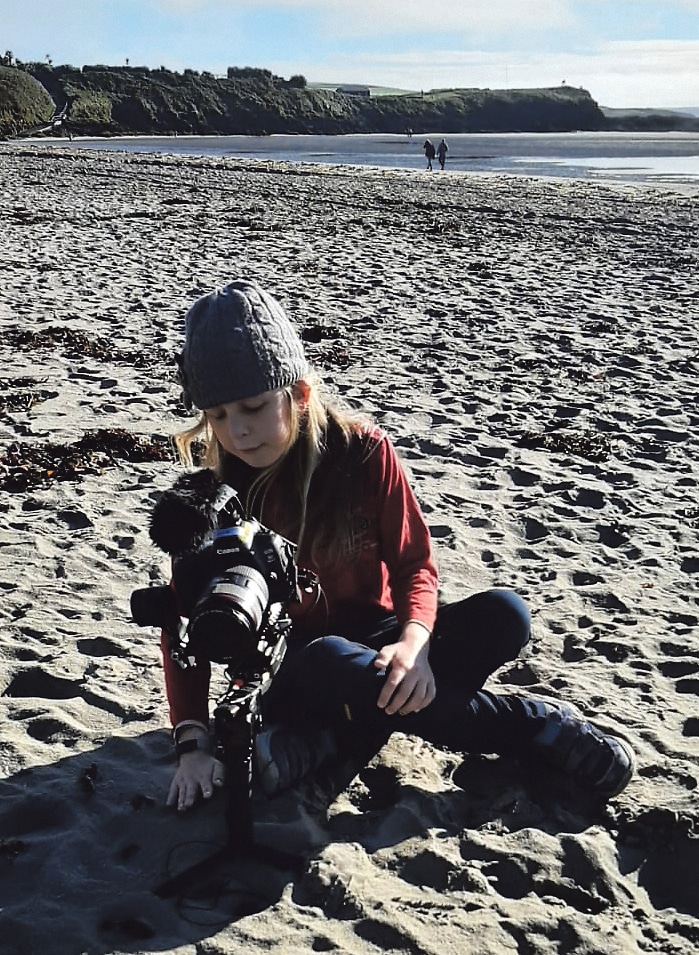 Filming took place at  a number of venues in the town including Clonakilty Rugby Club to demonstrate some of the measures put in place by sports clubs in Clonakilty. Traolach and the crew also visited shops and cafes, speaking to staff and some customers to get their thoughts on autism and the initiative in Clonakilty. Scally's SuperValu, in collaboration with AsIAm, has been at the forefront of the autism awareness initiative, so Traolach took the TV crew on a shopping trip to his local supermarket to show the steps that Scally's have put in place to make the routine of shopping with an autistic child a less demanding experience.
Changes as simple as turning off music in stores and dimming lighting can make a big impact towards reducing sensory overload and creating a more pleasant environment for those on the spectrum.
Traolach, 10, a fifth year pupil at Gaelscoil Mhichíl Uí Choileáin says, "I think it's good that more people are learning about autism, and how to deal with it."
Traolach and the film crew also visited Tom at Jagged Edge Hair Design. "A hairdresser can be a very challenging environment for somebody with sensory processing issues," explains Traolach's mum, Sorcha. "There are so many different sounds and smells. Many people on the autism spectrum are very sensitive to touch, so having their hair washed or cut can be quite a distressing experience and the TV crew wanted to see what could be done to make this experience easier for somebody who can find it overwhelming. Traolach has very long, thick hair, so it meant Tom could demonstrate the entire process."
There are many things that really challenge Traolach every day. The first is co-ordination: Complex tasks, or sequences of tasks, are difficult. He gets overwhelmed at the idea and doesn't know where to begin. While his parents, Sorcha and Mick are always there to help him break things into simpler steps, co-ordination is something that Traolach is learning for himself.
"Things that many people take for granted, like tying shoe-laces or writing a note are also very challenging for him," explains Mick. "Many would take these types of activities for granted but for somebody on the autism spectrum everyday activities can be difficult."
Traolach's spectrum includes ADHD – Attention Deficit Hyperactivity Disorder. This means it's very hard for him to concentrate on things. "It causes him to get bored easily," shares Sorcha. "He can be very erratic, and his conversations will often jump from one topic to another. This was a particular problem at school, because he'd be unable to sit through lessons and, if he got bored, he'd start to disrupt the class. He often takes medication to help with this, as it calms his mind and allows him to focus better."
While the challenges Traolach faces can be overwhelming and make daily tasks that most people find very easy, incredibly frustrating for him; he is a young boy filled with imagination and creativity with a fun and mischievous side to his personality. "Traolach is full of energy," says Sorcha. "He is full of ideas, so his mind works all the time. His thought process is complex; he'll never look for a simple way to do things. He will always look to alternatives, and does a lot of 'what-if' thinking.
"He talks constantly. If he has an idea, he has to share it. Sometimes it's not the right time or place, it may simply be somebody else's turn to talk, but this doesn't work for him. You can physically see the frustration grow inside him if he needs to say something but can't, like a pressure cooker. This can make him volatile; he finds it very hard to regulate his mood if something bothers him like this."
Traolach's road to diagnosis was quite a long one, which is generally the case for children on the spectrum. Sorcha and Mick recognised very early that Traolach behaved differently from his peers. "Even at a very young age he struggled in social situations and found it very hard to play with other children," explains Mick. "He didn't really understand how to play the same games, so would often try to disrupt whatever other kids were doing. He also had difficulty with language; he couldn't really speak at all until he was well over three-years-old, so other people found it very hard to communicate with him."
While his parents knew that he would require extra support when he got to school, Traolach couldn't qualify for support without diagnosis. "We tried to get this very early, but this is extremely hard to do through the public health system: waiting lists are very long and resources are so stretched that many of those who need help don't get it."
Like so many other parents in Ireland, Sorcha and Mick had to go down the route of private consultation to have Traolach assessed and he did finally get his diagnosis. "This was huge for us because it opened the door to all sorts of help," says Mick.
In school Traolach now has had varying levels of access to an SNA and an extra teacher to provide additional help. This means that he has somebody to help him with his work, or somebody to take him out of the class for a movement break. He still finds many things, particularly reading and writing, quite challenging, but we've been very lucky with the teachers and staff at the Gaelscoil that have worked so hard with Traolach over the years. The school and its incredible facilities is one of the reasons we moved to Clonakilty."
Outside of school, the support Traolach has received has changed over the years, as he's grown.
"When he was smaller, he used to have a lot of help with Occupational Therapy and Speech Therapy," explains Sorcha. "This was mainly through West Cork Child Development Services (WCCDS), Co-Action West Cork, and also Sensational Kids in the Technology Park. They've worked with Traolach to help him manage social situations and develop his motor skills."
'On the spectrum"'usually refers to the specific set of behavioural and developmental problems and the challenges associated with autism spectrum disorder. In Traolach's case, this includes Development Co-Ordination Disorder (DCD, or dyspraxia) which can affect balance and general co-ordination of movement. Children with this might have difficulty with things like jumping, hopping or cycling a bicycle, and often don't get involved in sports. This can also impact small movements too, and mean it's more difficult to pick up small things, tie shoe laces or hold a pencil.
DCD is very common in the autism community and is a condition that makes sport difficult. While Traolach really enjoys taking part in sports, participation for him isn't easy. "He's had tremendous support over the years from all the sports clubs in Clonakilty: the GAA club and the Rugby Club have helped him to understand about teamwork and to make friends," says Sorcha. "When Clonakilty was working towards getting the Autism Friendly Town designation, there were training courses hosted to show sports coaches how to support kids (and adults!) with autism. These courses were well-attended and would benefit any club."
Traolach has also trained with Clonakilty Gymnastics Club, learned taekwondo with Warrior Martial Arts, and taken swimming lessons at Clonakilty Park Leisure Centre, which have all helped him with developing co-ordination and building strength.
For Traolach and his family, Clonakilty is a really special place to live. "For an autism family, it can be hard to belong and even simple things can be very stressful," says Sorcha. "To raise awareness means that families don't have to feel like they're being judged. An episode could be anything: a child crying or swearing in a supermarket; a very messy table or floor after a meal at a restaurant; cutting a conversation off without warning because it's suddenly time to leave. These are not rudeness or bad parenting, they are all responses to some triggering event. To know that people understand this without judgement is very reassuring."
Sorcha stresses that while Clonakilty has done a lot and the community has really shown what's possible when people work together; this doesn't mean that people should sit back and do no more. Where there has been a high turnover of staff and familiar shops and restaurants have changed their layout during Covid could cause a lot of anxiety in places that people used to find familiar and safe. "Training needs to be readily available for new staff to help them deal with difficult situations and simple things like photographs, floor-plans and even social stories available online can help people to better prepare to visit places where their surroundings may have changed," says Sorcha.
"I think the autism boxes are good to help you to calm down, but they are often not near me when I need them," says Traolach, who really enjoyed taking part in the filming.
"It was fun to wear a microphone for the weekend," he shares. "I liked how I got to go to the rugby pitch and be recorded playing rugby. I liked to fly the drone afterwards, and to fly the drone on Inchydoney on Sunday. It was good to get my hair done, and I got a new brush.
"I liked to use the autism trolley in Scally's, it helps me to concentrate on the shopping. I liked how it was quiet, the lights were dim, and there was an autism box there."
Clonakilty has a Sensory Garden, which is a fantastic resource for people on the spectrum. "The playground, town library and Clonakilty Park Cinema are also places we are comfortable to visit,"says Sorcha.
This year marks Clonakilty's third year of being an autism-friendly town. The aim of the initiative was to create a greater awareness, understanding and acceptance of autism so that communities become more accessible and enjoyable places for autistic people to live in.