Many of us are thinking more sustainably when it comes to the interior of our homes and what we gift others. But as well as quality and longevity, consumers are also looking for items with personality that give comfort and joy; things that they love, not just to look at, but also to touch and smell. There has never been a compromise between beauty and sustainability at Emily Connell's charming home wares shop, Chalk & Easal in Ballinspittle. It is a place to be inspired and feel creative, somewhere to acquire beautifully designed items for the home or clever gifts for others. Emily invites us into her home where she gives an insight into some of her favourite interiors finds and inspirations.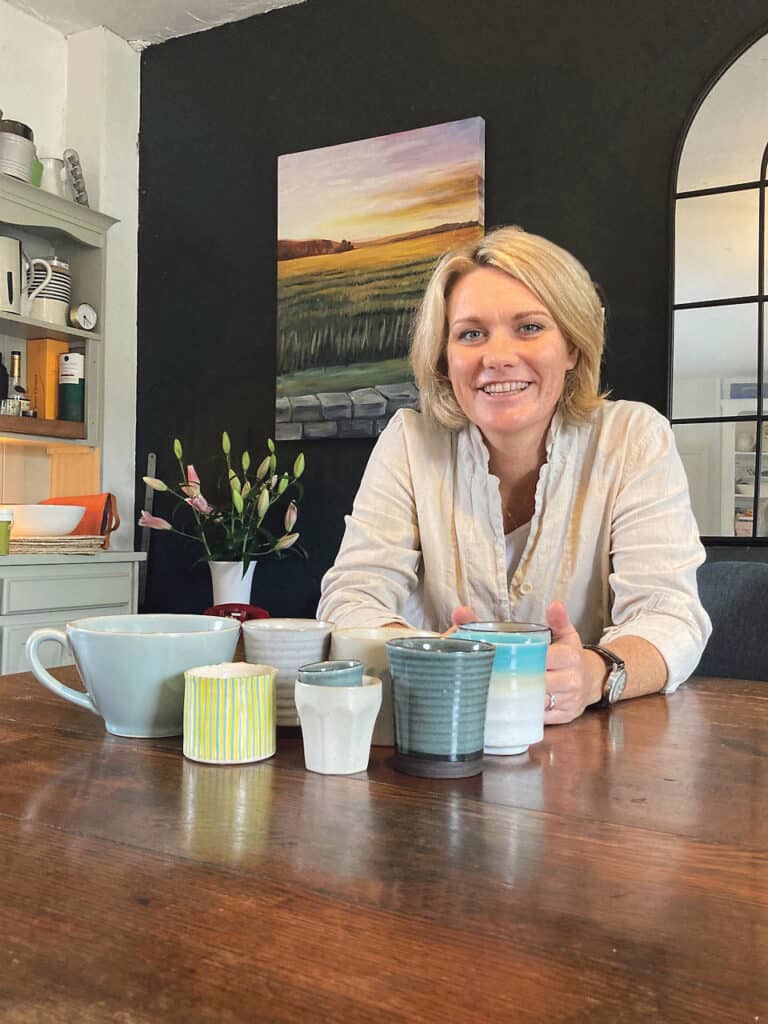 How would you describe your interiors taste?
Definitely eclectic. I buy what I love, it must make me happy to see, touch and use. I have always been drawn to natural materials and simple but effective design.
What is your favourite spot in your home and why…describe?
Sitting at our huge 200-year-old kitchen table. It's so solid and chunky. It would have once been beautifully French polished but we got it in a bit of a neglected state and chose to keep it rustic so that we didn't have to worry about hot mugs and so on, which is great, as it also doubles as a stage for our four-year-old's impromptu performances.
Describe your favourite interiors items in your home and why you chose them?
My collection of what I call hyggemugs – handless mugs and cups that feel so comforting with both hands wrapped around them while sipping hot coffee. I probably have one of every cup that I have ever sold in the shop.
Wool Blankets, they move around the house with me. None have a fixed abode and certainly none are solely for aesthetic reasons. Their purpose ranges from giving comforting hugs, providing a shoulder to cry on or feet warmer, and often tents for Elliott. They even come in a basket with me when I'm going to a friend's garden for a bbq or to the beach.
Low wattage lamps in every nook and cranny. Every single room in the house has at least four lamps and I rarely use the ceiling lamps. I believe every corner should have a light source.
Do you have a sentimental weakness or 'soft spot' for any particular item?
I've been called a basket case more than once! There's something about baskets that I'm drawn towards. But I won't admit to having too many yet…there's always going to be more baskets.
Pet interiors/design hate?
I'm definitely not a fan of matching. I feel that the home is alive and growing and changing with needs; I think what we surround ourselves with should show who we are; I feel sometimes people have lost the ability to choose what they like and instead choose what might suit the look of a space, which is sad. I'd love for people to feel confident in choosing how to design a home for themselves based on what they're drawn to. That way the items become timeless and don't need to be replaced if trends change. I wonder if people are feeling differently about their interior choices in the past year, when it's just them using the space, have they become less formal, more cosy and so on?
Have you splashed out on anything recently?
My biggest spend in the home this year was a record player for my husband. I'm also totally in denial about the fact that furniture I love from the shop sometimes just finds its way into my house…I never really know how it gets there!
Do you believe in the principle 'Form follows Function'?
Absolutely. I live by it, it's one of the most important factors when I'm buying for the shop also. Even last night at a pottery course I found it really difficult to come up with an idea for something to make if it didn't have a function first. Form is also really important but should always take shape with the function in mind.
What are you inspired by when it comes to design?
I know it's trendy now but I have always been inspired by mid century and Scandinavian design. I have had the privilege of working for some amazing designers in Dublin, Arthur Duff and Greg Tisdall from Duff Tisdall and Mike Price from Inside; all of whom have imprinted upon me an appreciation for simplicity and timeless design. Proportions and line are the aesthetic qualities that govern me. Furniture should make us feel light and comfortable. Nothing should be difficult or uncomfortable to use. I think that if the attention to detail is put in at the design stage there's no need for frills and so on.
Going in to the winter, what three items would you like to add to the interior of your home?
I love creating atmospheres so candles are a must-have for me.
I love fresh air flowing through the house, I really miss it in the winter, so this year I will be treating my home to a Bare + Botanical electric diffuser with essential oils by La Bougie.
There is definitely going to be a beautiful rainbow check McNutts blanket making its way into the house this winter.
The best piece of design advice you've been given?
Imagination is observation…my now 94-year-old grandmother told me that when I said I wanted to study art. Clever lady!
Can you share a good piece of advice you have imparted to someone recently?
When it comes to buying items for the home I'm encouraging people not to be afraid of colour – we all need a little colour in our lives at the moment.
Is there anything missing from your home?
Actually, can I say nothing? I really can't think of anything…Right now people is probably the only thing missing!