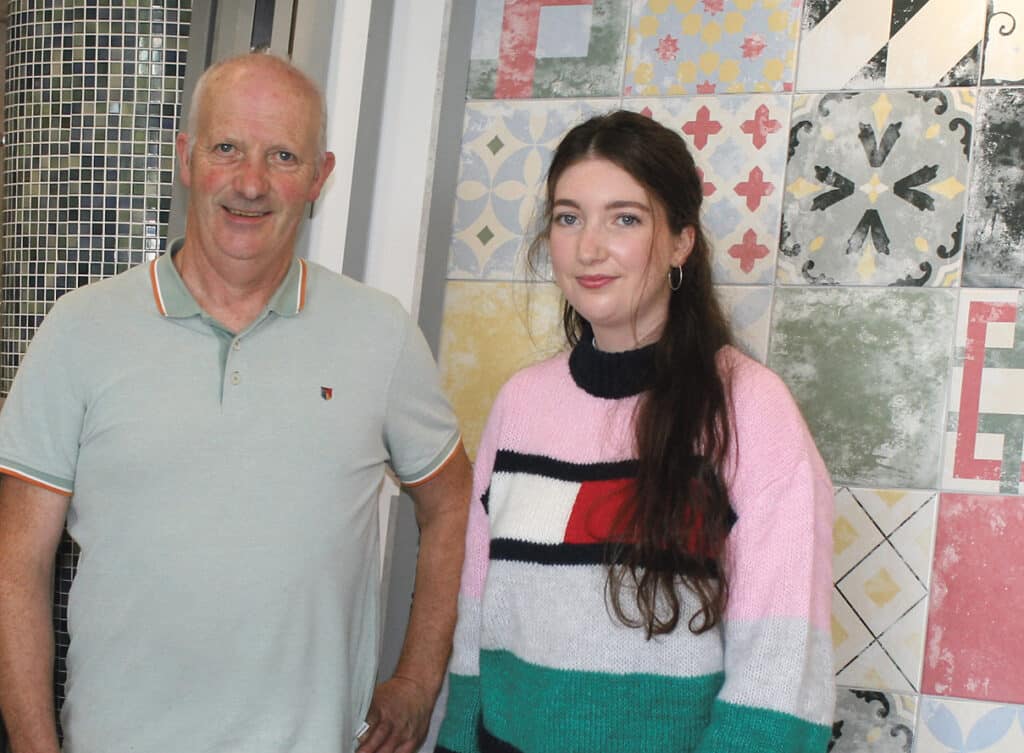 That Buckley's Tiles in Skibbereen is heading towards 30 years in business, having started out in a modest garage in the early 1990s, is testament to a hardworking family that puts customers and quality first. Lauren Buckley, who has a degree in business under her belt, has now joined her parents Norma and Jerry in running the business and hopes to grow it even more in years to come.
Always known for its superb range of indoor tiles, Buckley's branched out in recent years to provide outdoor paving tiles, a market that grew massively in the last year due to homeowners upgrading their garden seating and eating areas. They also stock a huge range of bathroom ware and accessories, with something to suit every home. 
"There is a very diverse market down here in West Cork," Lauren explains. "From old farmhouses to modern new builds, so we make sure we cater for everyone, in both tiles and bathroom ware."
Whether for a new build or as a renovation project, homeowners are now putting a lot of thought and love into their bathrooms to create a relaxing space at home. To achieve a high-end look, take a look at Buckley's range of baths and ceramics, taps, shower units, cabinets, mirrors and more.
To really personalise your bathroom, how about designing your bath to match the rest of your decor? "We have a range of Dolocast freestanding baths and basins that can be custom painted in a selection of 1,500 colours and finished in either matt, gloss or satin," Lauren explains.
"Most of our bathroom ware is made in Ireland, and our adhesives and grouts are also made on the island. It's great that we can support Irish jobs in this way and also cut down on transport emissions."
Tiles are influenced by fashion as much as anything else in the home. In the last few years Buckleys has seen pattern tiles fly as people got sick of seeing grey and beige everywhere. "Now the size of the tile is getting bigger every year!" Lauren says. "For a little while everybody wanted small tiles but they are back up to a very large 60cmx 120cm tile, which is very striking."
Tiles do suit every home in terms of form and function, especially new builds that are encouraged to install underfloor heating – tiles are the best floor option to retain the heat.
A trained tiler himself, Jerry is the expert when it comes to knowing his product and providing sound advice to customers.
"We have such a diverse selection to choose from, terracotta to slate to porcelain. We are probably one of the few shops in the country selling natural Brazilian slate and natural terracotta. We source our tiles from European manufacturers, mainly in Spain and Italy but we also like to support anybody making local handmade tiles and mosaics.
"West Cork has such a diverse mix of international people with all different tastes and we cater for them all but can also give you some guidance. For example, if you have an old style country house modern polished porcelain wouldn't be right."
Jerry say it is never too early to come in and start looking. "A lot of people leave it until the last minute and then it's a panic. Come in three or four times and start getting a feel for what you like. You don't have to make a decision, just start the process.
"We strongly encourage clients to take home samples to see how tiles look in their space, with their lighting," he says. "That narrows down the selection and make the final decision easy and right."
Visit buckleystileandbath.ie or follow them on Facebook and instagram for some design inspiration.