Con O'Neill Sherry FitzGerald O'Neill
Clonakilty and Skibbereen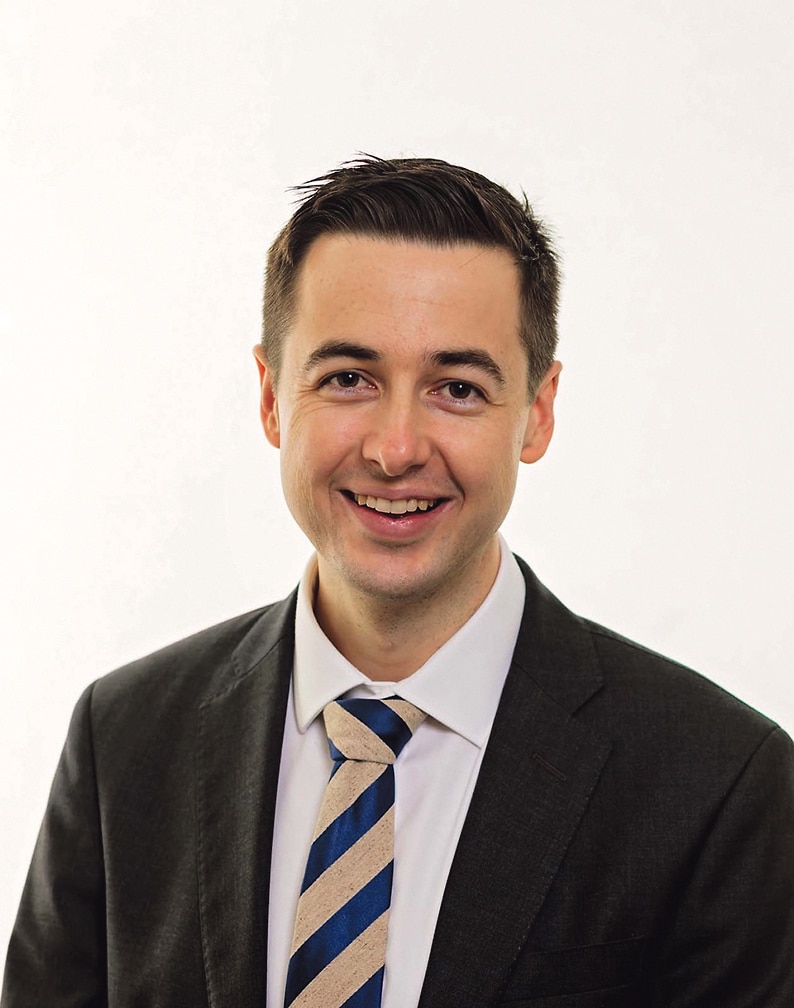 Tell us about yourself and when and why you got into the industry?
I spent my summers as a teenager working in the business and always had a draw towards it. In many respects, it is the ideal job to combine an obsession with history. Every new property offers a new area to explore, people to meet and stories to gather. After completing an MSc Computation Finance in the University of Limerick in 2011, I spent five years working with Irish Fin-Tech firm First Derivatives, which included stints in Moscow, Dubai, Stockholm and Dublin. While in Dublin, I studied an MSc Real Estate from the University College of Estate Management in Reading, which I graduated from in 2017. I joined the team at Sherry FitzGerald O'Neill in January 2018 and haven't looked back since.
What do you enjoy most about your job?
The most enjoyable part of the job is helping guide sellers and buyers through what is an extremely stressful process. There is so much outside your control and often it feels like the job is more akin to a therapist, helping people to remain calm and focused.
Can you share a few highlights…some of the properties that you're particularly proud of making a sale on?
There is great enjoyment in seeing new businesses start up or expand and meeting the people behind those businesses. It might slip under the radar, but the pandemic has seen lots of new businesses open up or expand. Clonakilty has seen the Kirby family take over The Whale's Tail, the Mehigans taking on Richy's under the name 'Berts', Michelle Whyte open Platinum Hair Studio, Casey's Bar make the move to Pearse Street, and Crudge's Barber Shop open up at Astna Street. In Skibbereen, the Simply Café has been a great addition to North Street while 'Flour and Water' is thriving on Bridge Street. In Bantry O'Connors Seafood Restaurant is getting great reviews under head chef, Shane Spillane.
Why should someone choose you as their estate agent?
Whether we're selling a three bed semi-d or a one-million-euro country home, our marketing strategy doesn't change, and we never compromise when it comes to marketing any property. This, combined with hard work, a database of active buyers, and regular communication with vendors and buyers, gets results; and ensures you will get the best price for your property.
The pandemic has fuelled huge interest in the West Cork property market. What are buyers now looking for in a property in West Cork?
West Cork is just so varied, it literally accommodates every type of buyer. The major difference between pre-pandemic and now is that the buyers that are in the market are extremely active and every type of property is moving quickly once marketed correctly at the right price. The majority of buyers are local or have local connections but there are exceptions and there are three specific markets where we have seen a dramatic change in buyer behaviour:
1. The market, which has seen the most dramatic change, are detached houses in the countryside with a little bit of ground surrounding Bandon and north of Clonakilty which are within a 45-minute commute of the city. If the property is turnkey and under €400,000, we are seeing significant numbers of first-time buyers from the city.
2. The run on coastal properties has been well documented. High level executives in Dublin, Cork and internationally have realised that they can work from home for a couple of months every summer and where better to spend that time than West Cork. Parents can work from their holiday home while their children go sailing in Glandore, Baltimore or Schull.
3. The third market where we have seen a major shift is with large, detached properties, over say €500,000, which are within safe walking distance of towns and villages. We are seeing a high numbers of couples in their fifties or sixties, typically cash buyers, either relocating from rural properties to the town or making the move to West Cork to retire. We are now seeing the other West Cork towns mirroring Kinsale in this respect.
The remainder of the market is more in line with national figures, with price increases of approx. 5.7 per cent in the 12 months to the end of June. The majority of buyers are purchasing with a mortgage and are restricted to borrowing at 3.5 times salary, which has curtailed the market as intended by the Central Bank. While salaries may not have increased during the pandemic, with no weddings, holidays, reduced transport costs and a general reduction in discretionary spending, buyers have managed to save a larger deposit, which may be going into property.
What are the biggest mistakes you see people making when selling their home?
If you are thinking of selling in the future, get started now. Start talking to estate agents. If we see a competitor list a property, more often than not, we have not been invited in the door to make a proposal. We offer free market appraisals with no obligation to sell with us. We will provide an advised market value, advise on presenting your property, a marketing strategy to get you the best price and outline our fee structure. You might be pleasantly surprised! Secondly, call your solicitor or appoint a solicitor immediately and ask them to review the title documents.
What is your outlook of the West Cork property market for 2022?
We would see an increase in supply of property in 2022, however, this is the most difficult part of the market to predict. When everything settles down and the pandemic is under control, I think we are going to see a lot of people on the move. We have spent more time at home than ever before during the pandemic. There are a lot of people out there who have discovered that their houses are too small, too big, too isolated, and so on and, where they were not able to extend or renovate, they will likely sell in 2022 which may help with supply.
We expect demand to remain strong with the Banking and Payments Federation Ireland reporting record levels of mortgage approvals in May this year and with levels of cash on deposit in financial institutions at a record level nationally.
Pre-pandemic, property prices had been remarkably stable with low single digit increases or decreases. With the constraints on mortgage lending effectively controlling price inflation, namely central bank rules limiting the majority of borrowers to 3.5 times salary along with loan-to-value restrictions, we expect that prices will begin to stabilise in 2022 and a return to low single digit growth.
Thinking of selling? Contact Sherry Fitzgerald O'Neill Clonakilty 023 883 3995 or Skibbereen 028 21404.
E-mail: info@sfoneill.ie.
www.sherryfitz.ie