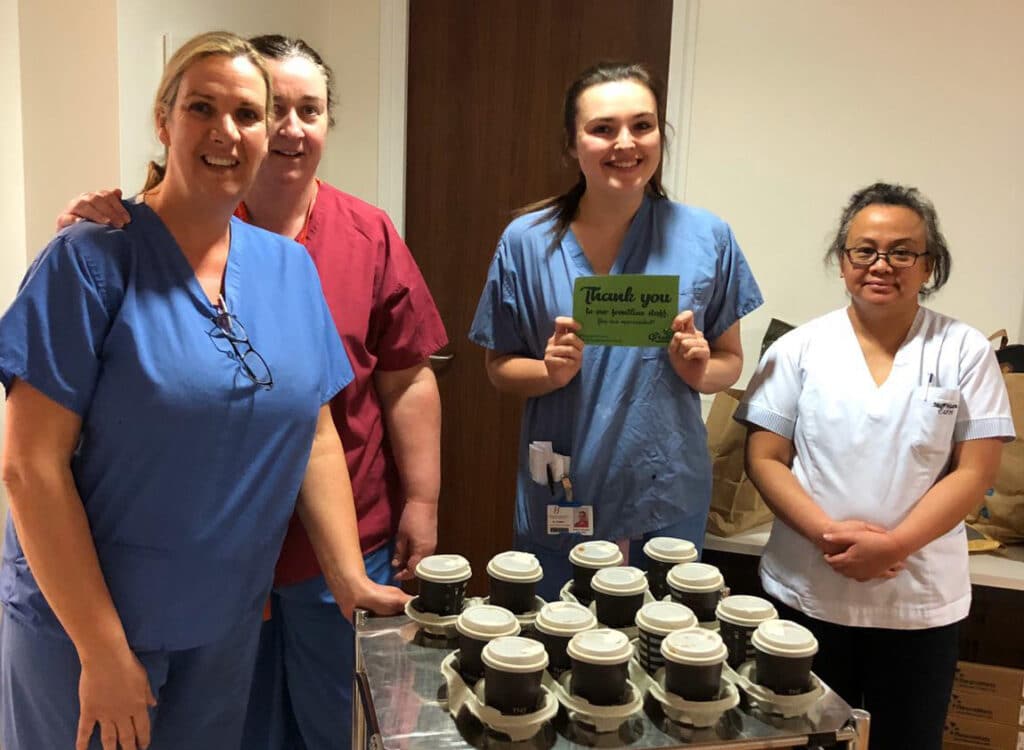 Run by a group of volunteers in Kerry, the Green Wave is a social and emotional movement started to help support frontline staff during the impact of Covid-19. Their vision is for frontline staff to feel an outpouring of gratitude and support from the public to help bolster their resilience during the Covid-19 crisis. Coffees are being delivered into their hands, with local coffee shops being supported through the campaign too.
Since launching three weeks ago, The Green Wave has already raised nearly €15,000. Every cent raised is going towards buying coffee. Each coffee costs €2 to be delivered into a frontline worker's hand, to date more than 5800 coffees have been handed out.
Founder of The Green Wave, Kelly Crichton, said, "Like so many people we just wanted to do something to help. I was hearing a lot about how frontline staff could do with a coffee mid-shift that they didn't have to go off site to find. I thought we can do this and we delivered our first batch of coffees within 48hours. We are urging the public to get behind the initiative – we need to show our support and gratitude for these awesome people. If you can, donate the price of a cup of coffee and we'll get it to them."
Paul O'Carroll, Owner of The Bookshelf Coffee Houses in Tralee and Cork has been delivering coffees with The Green Wave, "We wanted to do something to help, The Green Wave reached out to us and we got to work. It's something small but we know people appreciate a good cup of coffee and we're getting that to them when they are in exhausting situations. We hope it can make things a little more bearable. I'd urge the public to really get behind this as well as other coffee shops to help grow The Green Wave and make our frontline workers feel our immense gratitude."
Every Friday The Green Wave initiative encourages people to wear green clothes and post on social media to show frontline workers their support for their efforts.
The Green Wave is operating on a not-for-profit basis. All donations will go to supporting frontline staff beyond any costs incurred e.g. the cost of the cup of coffee. Coffees have already been delivered to the following hospitals: Dublin – Beaumont, The Mater, Clontarf, St Vincent's and St Michael's; Cork – CUH, The Mercy, the Bons, St. Finbarr's and Bantry Community Hospital; Limerick – University Hospital Limerick; Kerry – University Hospital Kerry, The Bons and Killarney District Hospital; Louth – Our Lady of Lourdes Hospital, Drogheda; Wexford – New Ross Community Hospital.
Coffee drops have also been delivered to a number of Garda Stations, nursing homes and other facilities. It is hoped that the campaign can expand to include further key workers should the level of donations allow.
The team are using social media to build support, drive donations and proliferate The Green Wave across the country. All of this work is taking place within the confines of the Irish Government's hygiene guidelines and guidance on Covid-19, for example through remote working and with social distancing practiced.