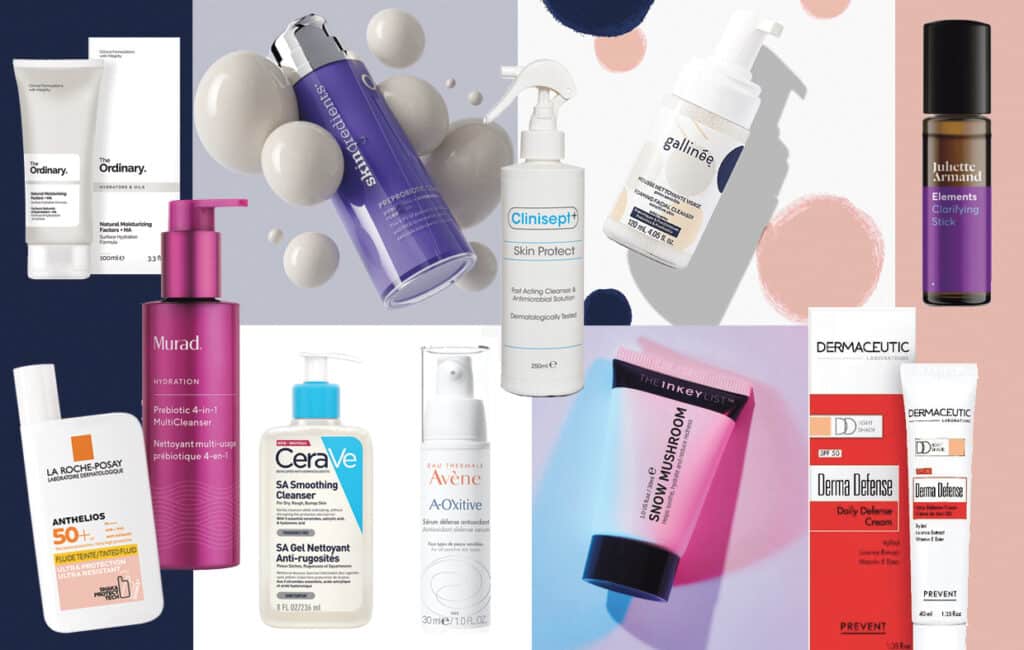 Yes, 'maskne' (mask acne) is a thing and unfortunately an all too common skin condition I'm seeing in clinic as result of mask wearing. The technical term for maskne is 'acne mechanica' and it is the result of the mechanical friction of fabric against the skin. This friction can lead to inflammation and irritation of the skin, triggering clogged pores, blemishes, dermatitis and redness or rosacea. This can be exacerbated further by moisture getting caught in the mask from perspiring and humidity, and wearing makeup underneath also adds to the problem. While maskne isn't going away anytime soon, a few simple changes to your mask wearing and skincare routine can make a big difference in easing the effects of it and helping to stop it from forming in the first place. 
Consider the type of mask you wear
Ask any dermatologists and most will agree that you should stick with a lightweight cotton or washable silk, even silk lined, both of which are gentler on the skin and create less friction than synthetics like polyester. After that, it's ensuring you keep it clean, especially as the temperature rises and you perspire more. I always advise clients to treat their mask like underwear and wash it daily. You don't want all the bacteria, dirt, and other pollutants to sit there only to reapply it to your face constantly. I prefer to use a non-biological detergent, or one that is suitable for sensitive skin. Nothing too fragranced as this can irritate skin further. Ecover has a great washing powder suitable for sensitive skin. Also make sure you buy enough masks to last between washes.
Cleansing
If you don't already have a morning and evening cleansing routine, now is the time to start, as it's essential for removing unwanted bacteria, dirt and dust particles, which can cause irritation and sensitivity and pores to become blocked, which will only exacerbate the breakouts. When it comes to choosing a cleanser for maskne, look for gentle cleansers that will target the acne or breakouts but won't irritate your skin or compromise your skin's barrier function. If you have a combination-oily skin type, a great one for this is 'CeraVe SA Soothing Cleanser' which will remove excess oil if present, gently exfoliate dead skin cells and debris but won't strip your skin or leave it feeling tight, €12.50, available in selected pharmacies nationwide and online. Using microbiome-friendly cleansers are a great option too, as they will focus on restoring the balance of the skin's microbiome, which will calm and soothe irritated skin all in a gentle way whilst also strengthening the skin's natural barrier. Some of my favourite microbiome friendly cleansers are 'Murad Prebiotic 4-in-1 MultiCleanser', 'Skingredients Preprobiotic Cleanser' and 'Gallinée Prebiotic Foaming Facial Cleanser'. You will find these online and in selected pharmacies/salons nationwide.
Hydrate your skin
While gentle cleansing is an additional way to protect the skin, always follow with some hydration to keep the moisture barrier healthy. Opt for a lightweight barely-there feel of an oil free moisturiser, as these are a very effective option and will help to minimise oil production which can clog pores and increase breakouts. Some budget friendly options include 'The Inkey List Snow Mushroom Moisturiser' €12, a super-hydrating, lightweight jelly moisturise that helps to soothe and calm skin while providing an instant cooling effect. 'The Ordinary Natural Moisturising Factors + HA' €7.70 (100ml) provides your skin with a complete combination of natural moisturising factors, made of up amino and fatty acids, urea, hyaluronic acid and more. Its lightweight and non-greasy formula is a simple but effective moisturiser. Lastly an oil free moisturiser that does that little bit more for the complexion, 'Avène A-Oxitive Antioxidant Water Cream' €29, helps to provide a protective shield for the skin, along with helping prevent early signs of ageing, visible pores and improving the overall appearance of your skin. Containing a unique combination of powerful antioxidants, pigment correctors and a high percentage of moisturising agents, including hyaluronic acid, skin is left hydrated, protected and restored. All available from selected pharmacies nationwide and online.
Avoid wearing makeup
If at all possible, avoid wearing makeup under your mask. A great alternative to a face full of foundation is to wear a tinted SPF that will not only even out your skin tone and any minor imperfections, but it will also protect your skin from the harmful UV rays. Some of my favourite non-pore-clogging tinted SPF's include, 'Heliocare 360° Colour Oil-Free Gel SPF50' €36, which comes in a few shades, making it easier to match to the tone of your skin. 'La Roche-Posay Anthelios Shaka Ultra-Light Fluid Tinted SPF50' €18 and 'Dermaceutic Derma Defense SPF50' €34, which comes in two shades, light and medium. All available from selected pharmacies/salons nationwide and online. And if you are concerned about going foundation free, remember half of your face is covered and people will be naturally drawn to your eyes, so perhaps pay a little more attention to that area of your face – a slick of mascara and a well-defined brow will balance out an otherwise makeup-free look.
Quick fixes
For those pesky blemishes that won't budge look for a dedicated spot treatment product, one that contains ingredients like salicylic acid, which will exfoliate, dissolve any gunk and help break down the debris that's clogging pores, which causes the blemishes. Make sure to only apply it to those areas that need it, rather than your whole face. 'Juliette Armand Claryfying Stick' is a targeted spot treatment that will speed up the healing process, while tackling the irritation and redness. Containing Azelaic Acid, Salicylic Acid and Canadian Willow Herb, these key ingredients will effectively reduce inflammation and the blemishes while regulating sebum, €32 from skinboosters.ie and selected Juliette Armand Salons nationwide.
'Clinisept+ Skin Protect Fast Acting Skin Cleanser and Antimicrobial Solution', is a cleansing pH neutral antimicrobial solution without containing alcohol. Extremely useful in treating and managing skin conditions such as acne thanks to the anti-microbial action, it gently disinfects skin to deliver exceptional protection against infection and provide the ideal conditions for skin recovery and regeneration without any stinging or irritation. I apply to the inside of my mask (let it air dry), I also spritz my face with it, as well as applying it to any blemishes that are present, €12 from Boots Ireland.
All details of my facial treatments, skincare consultations and classes are on www.shernamalone.ie. Call 086-1451551 to make an appointment. You can also follow me on Instagram and Facebook @shernamalone.ie.