As you might remember, my last couple of columns have asked – and sought to answer –the question about staying healthy and motivated during the lockdown. 
In this Spring column, I will look into other ways to stay motivated, and on a personal level, I'll reveal my top external motivation.
No matter how interesting or challenging our choice of training is, it does sometimes gets boring, or rather we have zero motivation to get up, get changed, and get out. When I started running about one-and-a-half years ago, I found that aside from following a plan or programme, using a fitness watch helped me stay motivated and consistent.
If you are new to fitness watches, I can briefly tell you that the overall purpose of using them is to keep track of your general fitness level. You can get watches which range from the FITBIT, which does the basic – Track your sleep and step count, active time and calories burned (and recognise a few activities automatically (often) walking, elliptical and running) – to more elaborate fitness watches, which beside the aforementioned, also have a range of activities to choose from, include GPS for route-tracking and altitude levels, VO2 Max, waterproof for swimming and more accurate sport tracking data.
In short, you can roughly distinguish the two by saying Fitbits in general are for people interested in health and wellbeing, and sport or fitness watches such as Polar, Garmin, Suunto and so on are for people more interested in sport and fitness. These watches can break down your training to see progress, over-training, recovery and maintenance to help you improve.
Common for both types of fitness gadgets is that they provide a steady flow of fitness data – and therefore motivation to be healthy.
A couple of months into running seriously (following a programme) my first wish was to get a pair of decent running shoes and after another couple of months, a watch. The benefits from either were essential to me as a runner. Good shoes are obviously needed to protect feet and legs (joints, muscles and bones) from the continuously pounding, which running is; and the fitness watch provides me with unending data and motivation.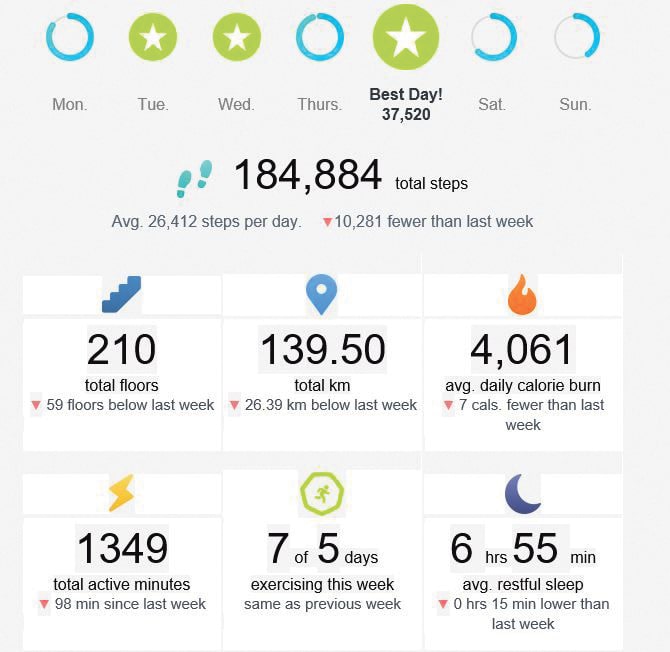 The data shows me the route I ran (in km or miles), calories burned, and time consumed. It also tells me speed, cadence (steps per minute), heart rate, elevation, and the watch gives suggestions to rest and recovery periods following a run or training session. It also tells me my VO2 max (Maximal oxygen uptake), which reveals my fitness level. VO2 max is reached when your oxygen consumption remains at a steady state despite an increase in the workload. It is at this plateau that the athlete moves from aerobic metabolism to anaerobic metabolism. From there, it is usually not long before muscle fatigue sets in and forces the athlete to stop exercising.
To invest in a fitness watch or Fitbit is an individual choice, but for me, it provides two main motivations: 1) It gives me a lot of data, which I find interesting to decipher and 2) It gives me a sense of accomplishment. As I'm rarely running with anyone and don't have a coach, like many of you who train alone, it can some days be hard to stay motivated or see your progress. My watch basically works the same way my Muay Thai trainer did; it comments on progress, areas to work in, gives kudos and a scold when appropriate. So you could say, it provides me with feedback and motivation.
Now I wouldn't suggest throwing money at a Fitbit or fitness watch right after reading this column. First take a good, honest look at your situation: What is your goal? Would this kind of motivation work for you? What kind of data do you need – and do you need any at all to stay motivated?
For most people external motivation is a helping hand to stay consistent with training and/or dieting, and if you are the type to respond positively to this, a fitness gadget could be a great help to stay motivated and focused, especially in these times where it's hard to do classes and group exercising.
Fitbits are famous for sending weekly reports, which highlight the days you've reached your step count, average calories burned per day, average sleep, activity minutes and days of exercising.
These can be very motivating and helpful to stay active, and you can even set some Fitbits to remind you to move, if you've been sitting too long.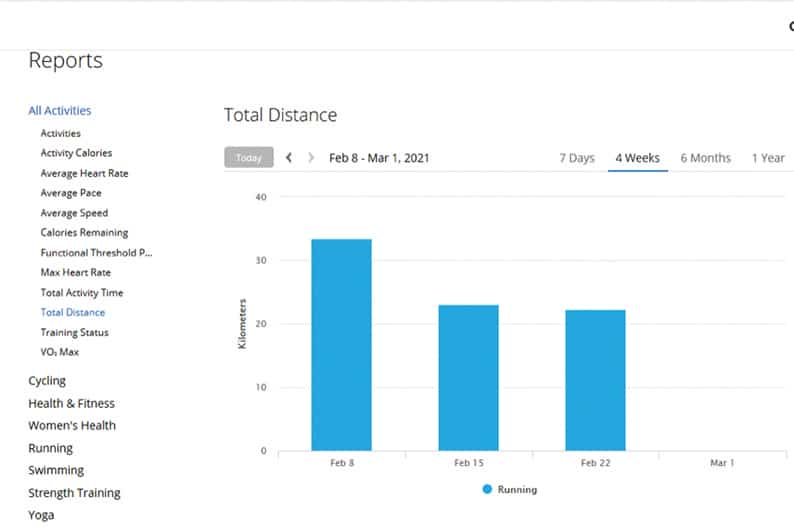 As you can see from the report, Fitbit gives you a good break down of all the vital information to track your general health and fitness level. Fitbits range from around €65 to €299 in retail.
If you're into sport and fitness, especially running, cycling or triathlon, you could consider a sport or fitness watch. It's my guess that all the brands offer the same functions, with tiny differences, like Garmin using Vo2 Max term and Polar using Fitness Number to describe the same thing (Your fitness level).
Again, before you head out to buy or order online, take time to think about your needs versus price versus offerings. I opted for a fairly basic running watch, which is great for what I need it to do: GPS run tracking, cadence, speed and heart rate. It gives me a fairly accurate picture of my fitness Vo2 (for accurate Heart Rate you need a strap).
The watches also track calories consumption and if you are looking to lose weight, you can track your calorie intake via apps or websites like My Fitness Pal, and compare the two. If you are in calorie deficit, you will lose weight.
Here you can see how Garmin reports can look. Options ranges from one week to one year and everything from activity calories to average speed can be displayed.
You might also find, that an old school notebook or wall calendar is all that you need to keep focus, noting down your work out, time and date. Which I can only commend you for. One of the pits with using a fitness gadget is you can get a bit obsessed with the numbers and even feel disappointed if you go running or biking without your watch. As with most other things electronically, it's about finding a balance, where you get the benefits, but don't get obsessed.
Last mention is websites and apps, which can support your fitness goals and gadgets:
www.strava.com (for running and cycling tracking);
www.myfitnesspal.com (tracking diet and exercise):
www.finalsurge.com (training log for athletes)
Apps: Yoga for beginners (For Iphones/ Ipads and Androids free w/ in-app purchases); Pear (Personal Fitness Coach) (Apple and Androids, free w/ in-app purchases); Fitbit Coach (Apple and Androids, require subscription 7.99$ month or 39.99$ annually)
I hope you find this month's column useful, even it didn't contain any exercises; I'll get back with the sweaty stuff next month. If you have questions or comments they are as usual welcome at: taniaskitchenfitness@gmail.com or via Instagram: @trainwithadane