Tofu is an excellent source of protein, as well as carbohydrates, minerals and many important vitamins. It is also full of phytoestrogens or antioxidants that aid good health. Jacques Brennan serves up a simple but tasty dish for those new to this healthy and versatile ingredient.
Jacques Brennan is the author of the blog – Le Journal, find it at www.hungrusoulplantpower.com and is a frequent collaborator with the West Cork arts and health organisation MusicAlive. He is also a guest food contributor to the West Cork People newspaper.
Tofu for beginners
I have a friend who turns his nose up at the sound of the word 'tofu', "It has no taste," he says, "how can you eat that?"
I eat tofu all the time but I understand where he's coming from; something we are unfamiliar with eaten in the 'raw' form does not taste good. When I think of tofu, I remember my days in Toronto, eating in Chinatown. Restaurants in which my Chinese friends would order by scribbling undecipherable characters on to slips of paper. They knew I was vegetarian, but what came to the table always surprised me. Plate after plate of textures. Sweet, sour, many new tastes, all wonderful with crunchy sautéed vegetables and of course, mountains of rice. I had to double check that it was actually vegetarian. I was informed that it was tofu skin and tofu chunks. It did not resemble any tofu I had eaten before but it was very good.
What is tofu?
Tofu is a soya bean curd made from coagulated or curdled soya milk. It is then pressed and formed into blocks ready to be transformed into filling and tasty dishes.
In Ireland, we can find it in most supermarkets and health food stores. Originally from the East, it just happens to be the staple food of most of Southeast and East Asia. We are talking billions of people…soya and tofu is an important food.
Tofu needs sauces and marinades to give it flavour. But it does have texture, from very silky and smooth to firm and chewy, especially when fried. Once marinated and fried, it is perfect to add to a stirfry, Thai or an Indian vegetable curry. I really like it cubed and marinated with tamari, soya sauce, fresh ginger and minced garlic, then fried. Make a nice volume of sautéed vegetables; broccoli florets, carrot sticks, red pepper strips, onions, well just about any non-starchy vegetable in your fridge. If you like a hot red chilli or two, add to the mix. All this served on a bed of steaming brown rice.
Did you know?
Soya is also full of protein, in fact 43 per cent of tofu's calories are from protein, as well as carbohydrates, minerals and many important vitamins. It is full of phytoestrogens or antioxidants that prevent many chronic modern diseases … so eat lots of Tofu!
Sautéed Tofu and Broccoli  – Served on a bed of brown rice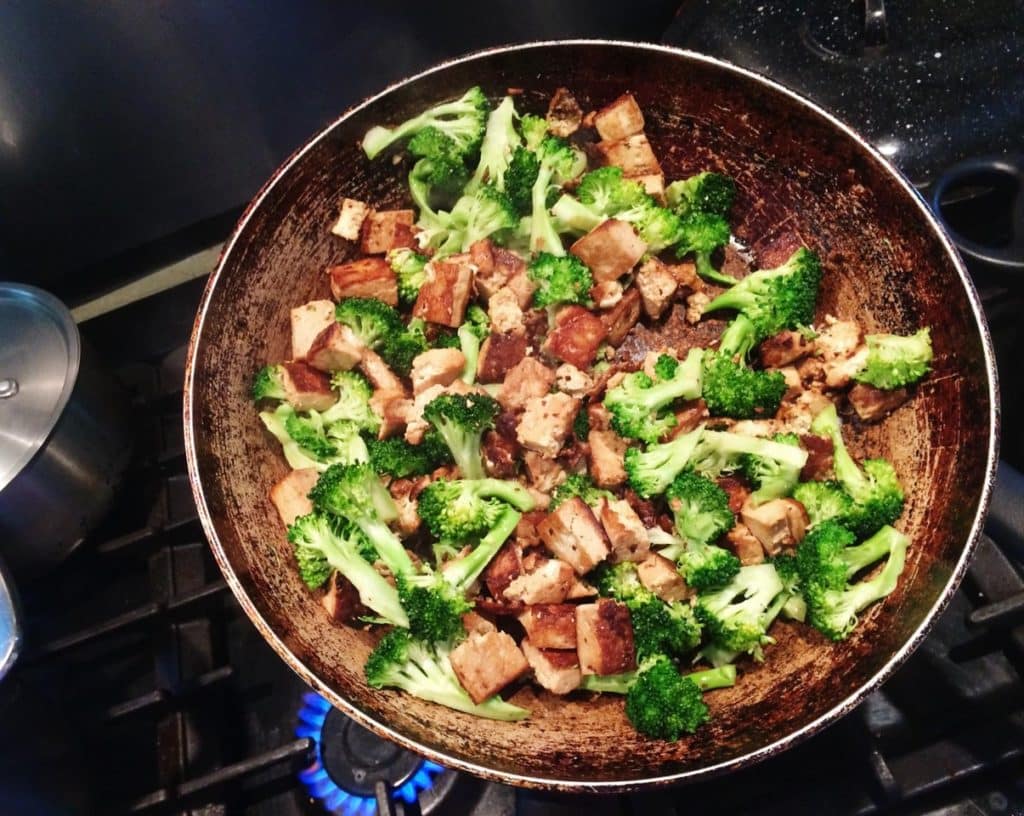 Ingredients
One block of firm tofu, 300-400g
A small head of broccoli
Fresh coriander/cilantro if you have it
A clove or two of garlic, sliced
1 or 3 red chillis or a pinch of chilli flakes.
1 cup of brown basmati
Marinade:
3 to 4 tbsps. of tamari soya sauce
2 or 3 garlic cloves, minced
One good thumbs size piece of fresh ginger, finely chopped
Method
1. Make the marinade.
2. Cut the tofu into 2 x 1 cm cubes and allow them to soak in the marinade for an hour or so if you have time. Turn once or twice to make sure everything is well coated.
3. Cook your rice; two cups of water and 20 to 25min. should do it.
3. Fry the tofu until crisp on a few sides, then set aside.
4. Cut the broccoli into bite size flowerets and sauté until bright green and a little cooked then add the sliced garlic and chilli. Sauté another minute or two.
5. Add the tofu to the pan and heat all together.
6. Either serve on a bed of rice or add the rice to the pan and warm everything together (my preference). You can add some of the leftover marinade to the rice if you want more flavour.
7. Sprinkle with a little chopped fresh coriander as you serve it.