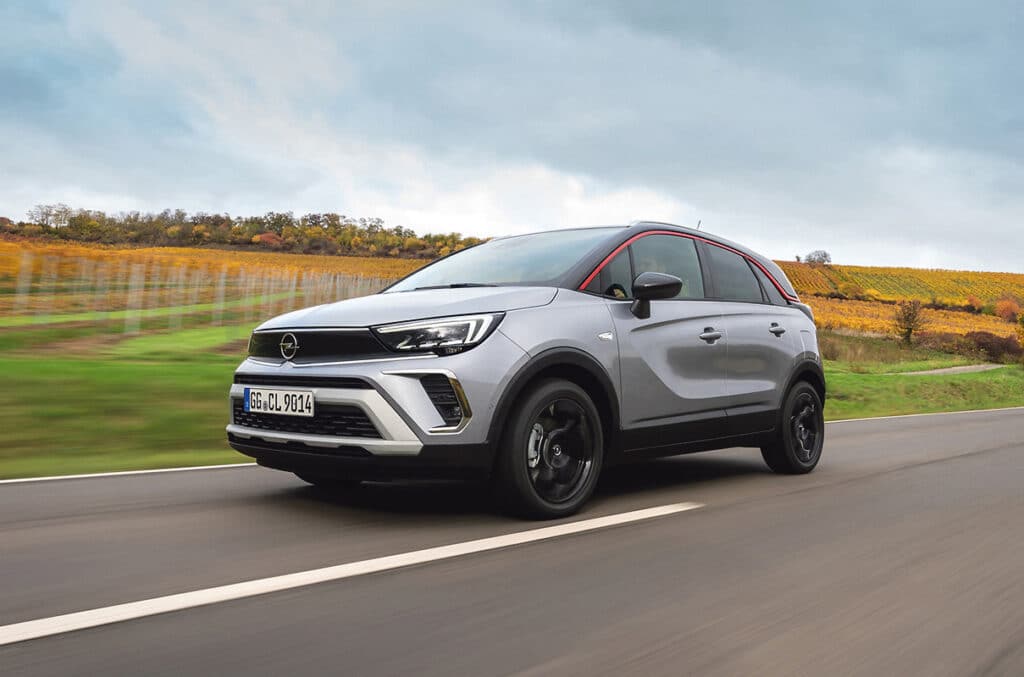 Opel has dropped the 'X' from their new Crossland, but that's only the name and they certainly have made up for the disappearance of the 'X' with some impressive designs in the new car
Crisp and compact on the outside, spacious and versatile on the inside, the new Crossland is the first in the range to adopt the Opel brand's unmistakeable new Vizor front face signature.
James Brooks, Managing Director at Leeson Motors, the Irish Importer of Opel, said: "The new Crossland retains all the key ingredients the Crossland X predecessor model had. Comfortable, practical, spacious, keenly priced and powered by efficient engines, our new Crossland model now brings to market the stand-out, new Opel front style signature and a smart new rear finish.
"Many more comfort and safety features have been added, to offer a really attractive package for drivers looking for the perfect compact family crossover with SUV looks. The arrival of the all-new Crossland heralds the start of a complete rejuvenation of the Opel model line-up in 2021."
I always associate Opel with the Republic of Ireland soccer team when Arnold O'Byrne was a regular sight on RTE promoting the Opel brand with Irish stars like Frank Stapleton. An Irish MD cannot be responsible for the overall sales of a world brand like Opel, but somehow Opel's popularity seemed to decline when Mr O'Byrne left the company.
The new version of the Crossland comes with a range of frugal petrol and diesel engines; it has comfortable seats, excellent interior proportions and an easy-to-use dashboard. Talking of dash, there does seem to be a lot of dashboard in your line of vision.
I drove a white version with a black roof and some lovely red lines. The red colour is replicated inside on the doors, dash and seats, which makes for a very bright interior. There is plenty of room in the back seat for three adults. I really like the high driving position and the good news is that the spacious boot contains a proper spare wheel.
Available in seven different body colours and in SC, SRI and a range-topping Elite trim. The new Crossland is powered by a choice of a 1.2 83bhp stop-start petrol 5-speed manual, a 1.2 130bhp turbo stop-start petrol, 6-speed automatic, a 1.5 110bhp turbo stop-start diesel and a 1.5 120bhp turbo stop-start diesel.
A hallmark signature of all new Opel models to come, is the front Vizor face. It is married to an equally strong rear visual identity featuring a new, high gloss black tailgate panel housing the Opel logo and book-ended with stylish rear lights.
With prices starting from €22,395, standard equipment from level one SC includes a plethora of extras. The sporty SRI trim, from €23,895, is packed with features over the SC trim, to include park assist front and rear, rear view camera, and many more goodies. The range topping Elite trim, from €25,395, is the ultimate in luxury.
Opel also has a new version of their Mokka due here very soon and as James Brooks said, the Opel range is due a 'complete rejuvenation.' Now if Stephen Kenny can succeed with his brand of 'total football,' maybe we can relive those halcyon days of Euro '88 and Italia '90 in an Opel car.
Check out the Crossland on Opel.ie or contact your local Opel dealer for further information.