Cork native, Colm Ó Dubhghaill, is not your typical 21-year-old. He is one of the top longboard surfers in Europe and has a number of national titles. You might catch him on the beaches of West Cork, where he often trains. This is on top of pursuing entry to a medical degree. And he remains particularly grounded about it all.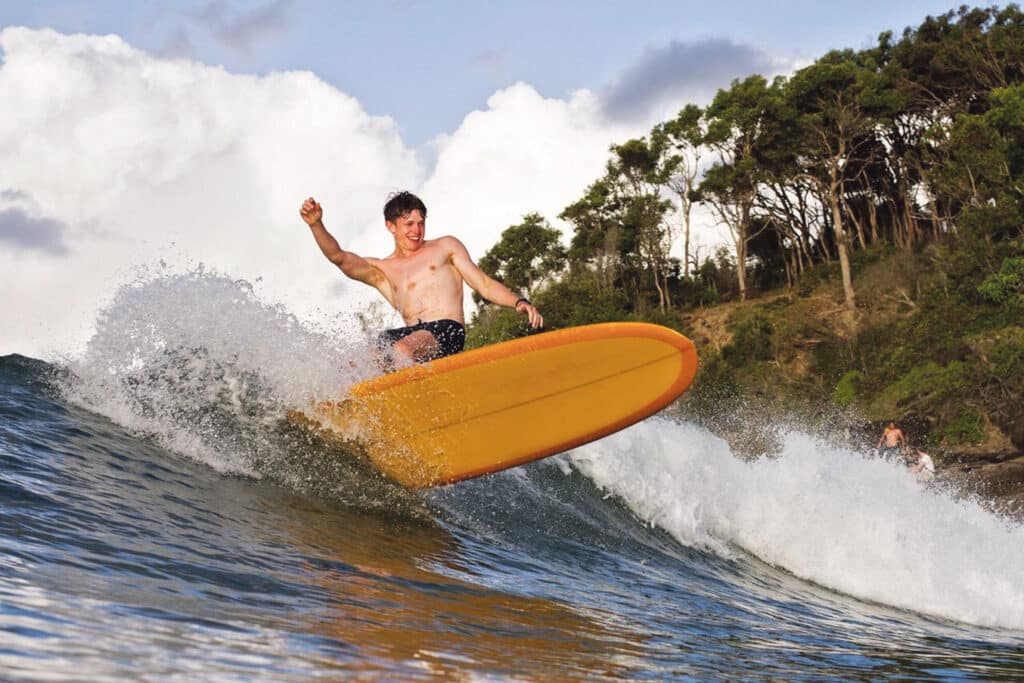 Colm was raised in Glounthaune in the suburbs of Cork city. With two brothers, one older and one younger, they played all kinds of sports in the garden growing up. "World cup, three-goals-in and pucking around (hurling) were among our favourites. Our German Shepherd, Sally, would chase the sliotar and bring it back to us. She is still around today and keeps us on our toes."
Brought up in the family home through Irish, Colm was also taught through Irish at Gaelscoil na Dúglaise primary school. His mother was also a teacher there. Then Colm attended Coláiste an Phiarsaigh post-primary school in Glanmire.
"I started playing sport at the age of nine with Douglas GAA Club, which had strong links with Gaelscoil na Dúglaise. My older brother had played with the school teams and I wanted to follow suit. Our coach in primary school was also the coach in the club. To make the school team, you were better off playing with the club."
"Unlike my brothers, the skills of ball sports didn't come naturally to me. I was fairly fast but had to spend a lot of time on my ball skills, such as hitting off my weaker side in hurling. I also played soccer briefly with the Avondale club and rugby for the Dolphin club when in primary school. But hurling and (Gaelic) football were what I wanted to progress with most. There were fixture clashes between the various sports, mainly on Saturday mornings. That influenced my decision to stick with Gaelic games. And I was making the championship teams, such as the Féilé team."
"I think my Dad has always had a really positive influence on my sports participation. He was like our own home coach. I often went to him for advice and he was my greatest guidance and source of encouragement throughout – in sport and in general. He taught me the fundamentals of sport, including many of the main skills."
"Dad played with the Erins Own club in Cork, which is a stone's throw from where I grew up. And we played with Douglas, a neighbouring club, as our primary school was in the catchment area. I remember going to mass on a Sunday wearing a Douglas half-zip, and Dad would tell us to cover it up or change, in case anybody from Erins Own would see us. He is in his mid-50s now and still plays with the UCC staff soccer team." Colm's father, Dr. Rónán Ó Dubhghaill, is currently the Vice-President for External Relations at University College Cork (UCC).
Despite a passion for Gaelic games, it's surfing that that emerged as Colm's favourite. "When I was nine, we spent a few summers down in Ballyferriter on the Dingle Peninsula. My grandparents had a house there. This is where I had my first encounter with surfing. I did a week of lessons on Inch Beach and the same the following summer. When I was 11, we bought a foam-board off the surf school and that was really the start of my surfing journey. Straight away, I found surfing exciting."
"As I progressed in secondary school, I started surfing more and more – mainly at Garrettstown beach, at Inchydoney and Long Strand too. At 13, I started surfing with Garrettstown Surf Club. As my teens progressed, surfing took over from Gaelic games."
"We had two coaches at Garrettstown every Saturday. One was Jason Coniry from Clonakilty, who passed way from cancer a few years later, sadly. Gary Mason was the other, who also coached at Dolphin Swimming Club. Being surrounded by these established surfers got me into competing, as they had vast experience of the circuit."
"In the summer of 2012, when I was 14, my Dad drove me and two friends to my first competition – an Irish Surf Association, national junior competition. After a few competitions, I became interested in the longboard category. The shortboard category involves a board, typically, under seven feet, and longboard over nine feet."
"I became longboard national champion (junior, Under-18) when I was 16 and again at 17, in 2014 and 2016. And, so, my ambition grew. Every two years there was a European championship, and an Irish team would be put together. At 16, I had hoped to go to the Azores in Portugal with the Irish junior team but didn't make it. I bottled it in a crucial heat. That was very disappointing!"
Despite a hectic surfing training and competition schedule, Colm didn't allow this to affect his studies, gaining a place on the BSc Physiology degree programme in UCC, where is he now in the third year. "I didn't surf the year of my Leaving Cert. Even though my results were grand, I decided to take a year out, as I didn't know what third level course I wanted to do. I just wanted to surf. That summer, I worked as a lifeguard on Garrylucas Beach and saved some money. I was mad to get back surfing again."
"I spent a month in Spain surfing, then Cornwall. The following spring, I went to Australia for two months and competed in the famous Noosa Longboard Festival in Noosa Heads, about two hours north of Brisbane. There I competed against the very best, including past world champions. It was a very humbling experience. I did it for the competitive experience and to improve my overall surfing. I didn't think I was going to win."
"I was pursuing becoming a professional surfer at that point, which comes about through competing and getting brand sponsorship. I managed to get some sponsorship through a surfing equipment brand called Slide 65. But it was mostly my personal funds that sustained this pursuit. I had real ambition but didn't get close enough. You could see the clear advantage for those growing up in the likes of Australia, with some of the best waves in the world on your doorstep."
It was after this, in 2018, that Colm decided to start in UCC. "I surf with the UCC Surf Club and won two national longboard intervarsity competitions. I was also competing regularly in senior events on the national circuit around this time. I made the senior national team after winning the two selection events."
"In 2019, the world longboard championship was in France and the European championship in Portugal, which I represented Ireland in. After a rocky start in the round-robin Europeans, I ended up coming sixth, just missing out on the final. I was surprised and delighted with that."
Despite his somewhat quiet, relaxed and warm demeamour, it is clear that Colm is a deeply motivated individual, content in pursuing the road less travelled.
Take longboarding – an individual sport that is a smaller community within an already small community, in Ireland at least. Colm is also an active member of UCC Swimming and Waterpolo Club, competing in intervarsity competitions. Despite a very active and enjoyable social life, it involved "a lot of sober nights out. I never drank and never started. I was involved in a number of other activities."
"As you pass through life, you realise that mental ill-health is within touching distance of everybody: one in four will suffer directly during their lifetime. Although I've never suffered from this, I have been involved in the UCC Niteline service in recent years. It's a non-judgmental, non-directive listening service for students run by students and is confidential. Firstly, I was a call-taking volunteer and then took up a role on the committee as Volunteers Officer, liaising with Cork Samaritans to train students each semester. It was a brilliant experience – very sociable and felt we made progress in helping people."
Colm is also working towards a four-year graduate entry medicine programnme. I realised that I wanted to do medicine from working as a Lifeguard, interacting with and helping people, like first aid. And having to respond to serious situations on the spot with limited information; I found that exciting. I have always enjoyed the sciences throughout school and college too. It's a serious challenge to get in, but hopefully I'll get there."
Colm possesses an unusual blend of motivation. Extrinsically, for example, he enjoys the acceptance among his peers of winning a surf competition. Who wouldn't? Intrinsically, Colm's motivation in sport and beyond runs much deeper than this.
"I have never held back in any aspect of my life and want to empty the tank on my chosen pursuits. I want to get the most out of myself. It not about proving myself to society; what people think is out of my control. It's about my journey and I want to make the best of it."
Colm is certainly doing a good job of it and there is no sign of him slowing down. His courage and dedication to be authentic, consciously or not, is refreshing and inspirational. One to look out for!
This is my last article for the foreseeable future. It has been a pleasure writing with the West Cork people over the last number of months. I will return now to focus on my doctoral degree, which I am completing in my spare time. Thanks to the Mary O'Brien, Sheila Mullins and the interviewees for all their support.
For more, see patculhane.ie or @Pat_Culhane