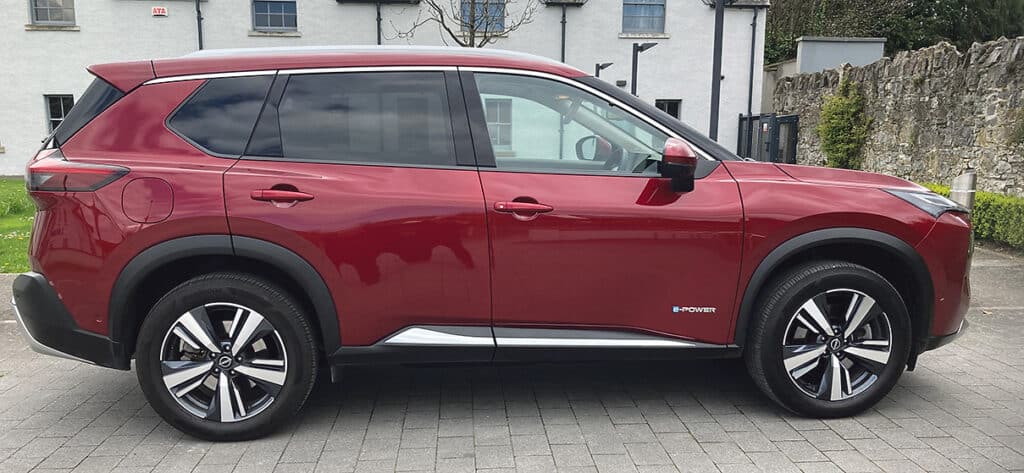 The Qashqai is Nissan's most popular car and its best seller. A few years back a Qashqai + 2 was tried, but it wasn't very successful. So if you want a seven-seater from Nissan the massive X-Trail is your only man or indeed your only woman!
Nissan has been producing this mid-size crossover since 2000. We got the second generation in 2007 and the third version in 2013. In 2017 there was a face-lift for the X-Trail with restyled headlights and tail light which included restyled twin LED projector headlamps.
The X-Trail is one of Ireland's favourite family SUV's. Since the introduction of the X-Trail, more than seven million have been sold worldwide. The latest model introduces hybrid power to the X-Trail range for the first time.
Recently I got to drive this much talked about e-power version, a system that Nissan is gradually introducing to all of their models. I remember when Nissan first launched their X-Trail. It was advertised with an amber-coloured car which had three bicycles locked on to the roof and in the background some rugged looking terrain about to be tackled by the owners and their family.
I drove a win-coloured version and it certainly attracted a lot of favourable comments from people in shopping centre car parks.
We have seen sales of fully electric and hybrid cars grow this year, but what is e-power? Well the main difference is that you won't be spending hours sitting at charge points around the country; the car charges itself as you drive.
Nissan's exclusive e-power system combines a petrol engine and an electric motor, but operates different to a standard hybrid system.
The e-power technology is different to your regular hybrid car as it uses a 1.5-litre turbocharged petrol engine, a battery and an electric motor. It charges the 2.1kWh battery or directly supplies power to the 150kWh motor to drive the wheels. But only the motor drives the wheels.
At no time does the engine directly drive the wheels as is the norm with regular hybrids. It has been described as similar to having an electricity generator on board.
Inside the car first thing you will notice is the display in the windscreen right in your line of vision telling you what your speed is and the speed limit on the road you are driving.
The leather seats were cream and looked great. My top of the range version also had a sun roof and two cameras, front and rear. Now a rear camera is normal for reversing, but not many cars have front cameras. The controls on the dash are well laid out and the huge infotainment screen is easy to use. I also liked the central button for volume control.
In the back seat there is plenty of room for three adults, but the third row of two seats are really suitable only for children.
The e-power version of the X-Trail is certainly smoother and more refined to drive than previous diesel versions. Difficult to say for certain that it's more frugal than a regular hybrid but I think there is potential to run the X-Trail more efficiently in urban areas.
The new Nissan X-Trail, badged as e-power starts at €45,995 for five seat version and from €54,995 for the seven-seater which also offers four-wheel drive. My top of the range test car with lots of goodies will cost you €61,995. Road tax is €270.