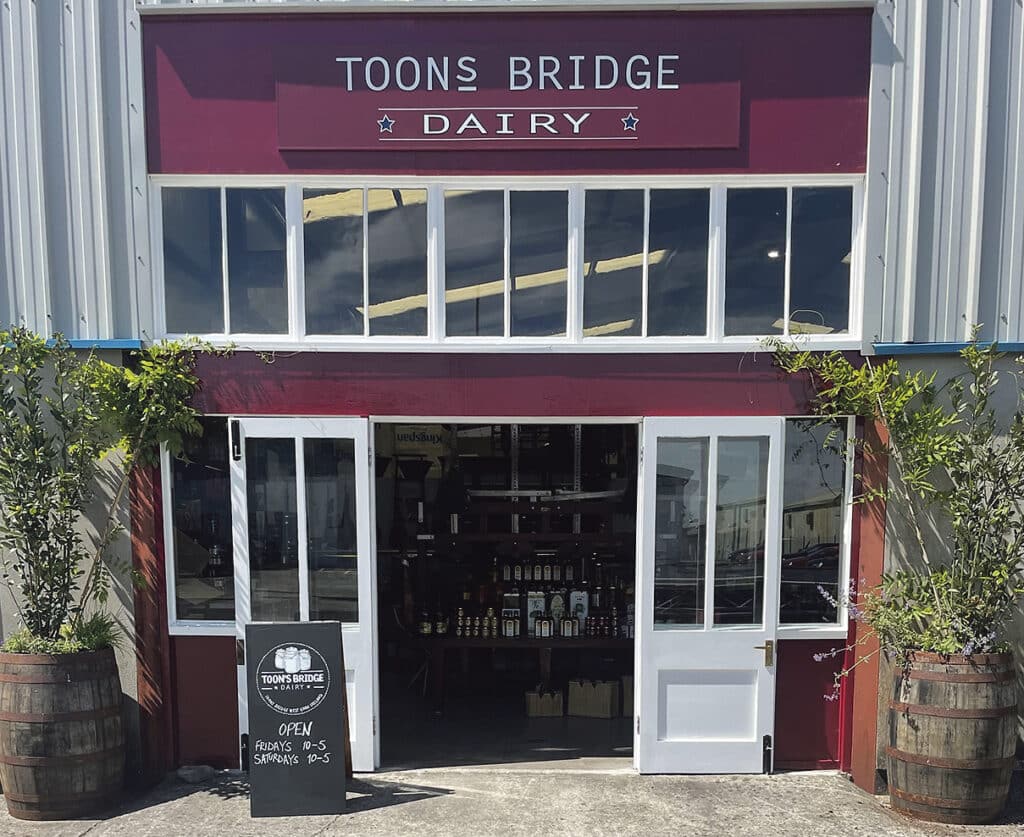 Toonsbridge Dairy and The Real Olive Company wrote a new chapter in their story with the opening of a warehouse shop in Bandon last month.
What started out as The Real Olive Company in a small stall by the fountain in the English Market in 1993 has since grown into a thriving family enterprise that currently employs 40 part- and full-time staff in County Cork and celebrates 30 years in business next year.
Sourcing produce from all around the Mediterranean, this independent enterprise, from its base in Bandon, distributes its products to restaurants and independent food shops all over the country.
The people behind this success story are Toby Simmonds and Jenny-Rose Clarke.
"We sell a huge large array of good quality mediterranean food including olives, cured meats, artichokes, sun-dried tomatoes, olive oils…Then there are the cheeses we make ourselves in our dairy in Toonsbridge, Inchigeelagh," shares Jenny-Rose.
"We love that our dairy is small enough and we are not tied into any supply contacts that we are able to play with what we make and produce seasonal and small batch products. We have our own buffalo milk and then buy cows milk from local farmers. Throughout the year we make mozzarella, smoked scamorza, halloumi, cheddar, caciocavallo, ricotta, yogurt, kashkaval, butter, burrata, stracciatella, cardo, camembert…
"When we started a lot of people couldn't understand why you'd try to sell olives in Cork!" she continues.
Not to be deterred by nay-sayers, the couple, with the help of an old Hiace van, started to do stalls in weekly outdoor street markets, Fridays in Bantry being one of the first. They went on to rent a small warehouse-shed behind the Sin E pub and then a larger building in Blackpool. In 1998, they bought the old creamery in Toonsbridge, which became their new kitchen, warehouse and home.
They expanded their markets, at one point covering 20 markets a week; from Belfast's St. George's Market to the bridge in Skibbereen.
When the notion occurred in 2009 to try to replace some of the Italian buffalo mozzarella they were importing weekly by making their own, they went into partnership with a neighbouring dairy farmer and Toons Bridge Dairy was born. Buffalo were brought from Italy and, with lots of trial and error and hard work, Toons Bridge Dairy made Ireland's first buffalo mozzarella in the old creamery building in Toonsbridge, Inchigeelagh in 2011.
While they now cover less markets, they have opened more shops and have increased their distribution. "We own both businesses 100 per cent between the two of us and are lucky to have our own children enthusiastic about to working with us," shares Jenny-Rose.
Hard work and determination has paid off and, as in any business, while there have been a few hiccups along the way, overall it's been a rewarding journey.
Last year, they moved the warehouse from near Macroom to Bandon and into a much bigger building, with room for a shop.
"It's quite a few years since we have had market stalls in West Cork and it's lovely to have had some of our old customers call in. Where we are located on the bypass is an easy pitstop for people heading further west. For now we are only open Fridays and Saturdays but we'll see how things go and we hopefully increase this," explains Jenny-Rose.
"Bandon is not a town we knew before moving but we have been made so welcome and encouraged by our neighbours and local businesses that we feel really positive about the town and its future."
Always moving forward, Toby and Jenny-Rose have recently bought a farm in Drimoleague for their herd of buffalo. "We've renovated and adapted the old milking parlour and are now milking there. We've already had 30 calves born in Drimoleague! We bring the milk over to the creamery in Toonsbridge and make it into delicious buffalo mozzarella. We'll see how things go but we'd love to open a farm shop one day."
While their buffalo mozzarella is always a winner, their cow's milk mozzarella, fiordilatte, is favoured with customers making pizzas.
While olives of course are still the most popular product, their halloumi, made with vegetarian rennet, is proving to be a favourite vegetarian BBQ option and they can't keep up with the demand for their 12-year-old balsamic vinegar from Modena, Italy that is bottled in Bandon.
For more information on The Real Olive Company and Toonsbridge Dairy or to order online go to toonsbridgedairy.com