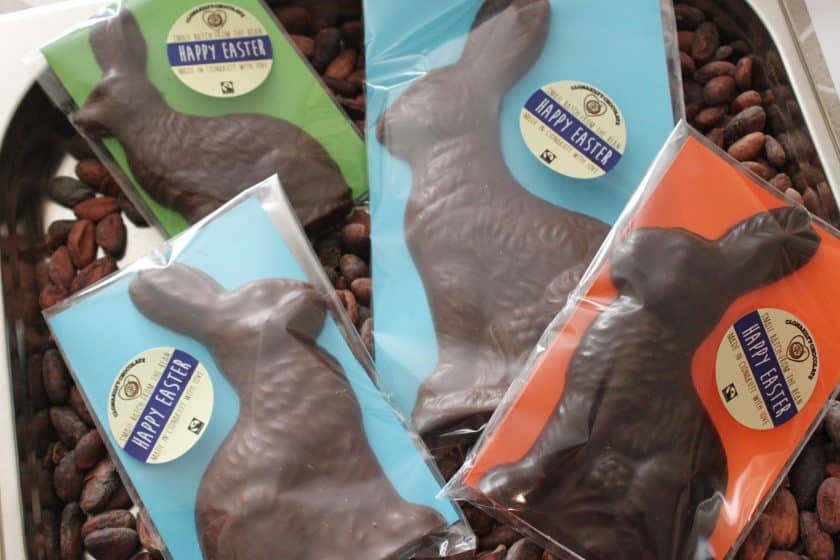 Exploding Tree, based in Clonakilty, is known for its alternative, and delicious, approach to chocolate.
The only entirely Fairtrade Bean-to-Bar Chocolate maker in Ireland, Exploding Tree finds inspiration working directly with the cocoa bean to make chocolates for those looking for something different.
This Easter, Allison Roberts, founder of Exploding Tree, (formerly Clonakilty Chocolate), is shining a light on her alternative range of chocolate bars, mendiants, truffles, Easter Bunnies, beans and gift boxes suitable for everyone, but in particular those who are unable to eat traditional dairy milk chocolates. Allison firmly believes that no one should miss out on Easter – especially children.
Allison says, "I'm Lactose intolerant, and so is my little boy, Ari. If, like me, you love chocolate, Easter can feel a little like you're missing out on all the good stuff. But, because I work directly from the cocoa bean and have complete control over my ingredients, I can make chocolates that are perfect for those marginalised by large scale commercial chocolate making, so no-one feels left out, ever!"
"…both me and my son appreciate what you do. Because of a health requirement I have to limit the amount of added sugar, chemicals in his diet and your products are a real life saver, he calls them his healthy chocolate  …As you can imagine it is tough for a kid when they can't eat the same as their friends but your products really make him feel a connection with his friends so i cannot thank you enough… thank you so much for all you do. D"
All of Exploding Tree's chocolate confections are naturally free from nuts*, soy and gluten
*nuts are present in our chocolate mendiants only.
Place your order on www.explodingtree.com