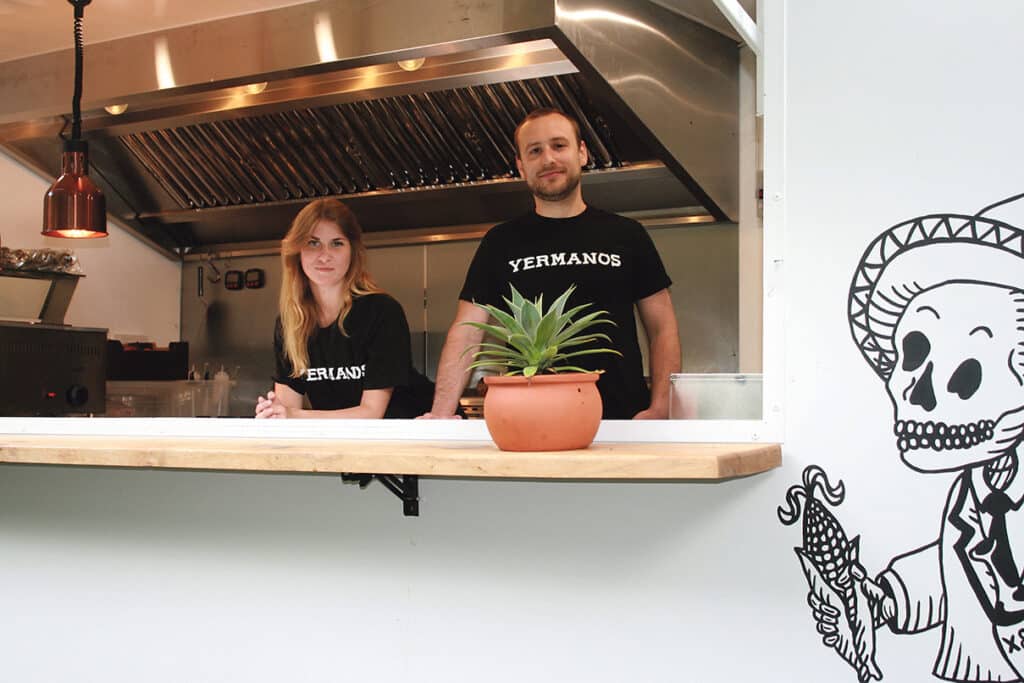 Saturdays in Ballydehob have been spiced up considerably since the arrival of Yermanos Taqueria food truck. Serving up a selection of authentic Mexican tacos, this tasty offering is the creation of locals Patrick McCaffrey and Rachael Stephens, friends and food lovers, who travelled all the way to Mexico to sample the best of traditional Mexican street food before embarking on their venture in West Cork.
While many people think of the hard shell versions of tacos, the traditional taco features a soft corn tortilla outer (gluten-free) and a tender meat filling, as you will find out when biting into a melt-in-your-mouth 'Yermanos' taco.
"A lot of people here haven't experienced real tacos"…but they're so good," says Rachael passionately.
It was this passion for real food that sparked the idea for a taco food truck over a dinner party one evening at a friend's house. "I brought the flour with me to make the tortillas and they went down really well," she says.
After locating a food truck, the friends put the time into stripping it down and renovating it, while also travelling to Mexico to research their product, before finally launching Yermanos this summer.
Since then, the rich fresh flavours of Yermanos has not only impressed locals but attracted the attention and approval of visiting Mexicans.
While the assembling of each taco may be simple, the mouthwatering taste of each dish is the result of hours of careful preparation.
'Quesa Birria' involves cooking up beef, marrow and oxtail with three different types of chilli and a selection of spices until the tender meat falls off the bone and you have a beautifully rich full-flavoured consommé. The tortilla is then dipped in fat from the consommé and topped with tender beef and a melted Toonsbridge smoked scamorza. The fried tacos are served with a side of consommé, which the tacos can be joyfully dipped in.
Carnitas are Mexico's version of pulled pork. Rachael and Patrick's version is rubbed with a sugar and salt mix, the pork shoulder then seared before being slow-cooked, submerged in pork lard until juicy and fall-apart tender. The meat-filled tacos are topped with avocado slices and salsa. 'So simple but so good," according to the duo.
Vegetarians are looked after with a very tasty roasted veg and pumpkin seed offering topped with avocado and a salsa of choice. This option is also vegan.
All salsas are created in-house with the selection available ranging from Salsa De'Arbol (very spicy) to Salsa Negra (smoky, sweet, sticky and spicy) to Salsa Verde (tart, sweet and mild) to Salsa Roja salsa (mild).
Nachos are also on the menu, loaded with a jalapeño cheese sauce and salsa of choice.
While Yermanos is open just one evening a week during the winter (Saturday, 5-8.30pm) on the pier near Ballydehob Community Hall the food truck is available for events and weddings.
To book email yermanos.westcork@gmail.com or message through Instagram.