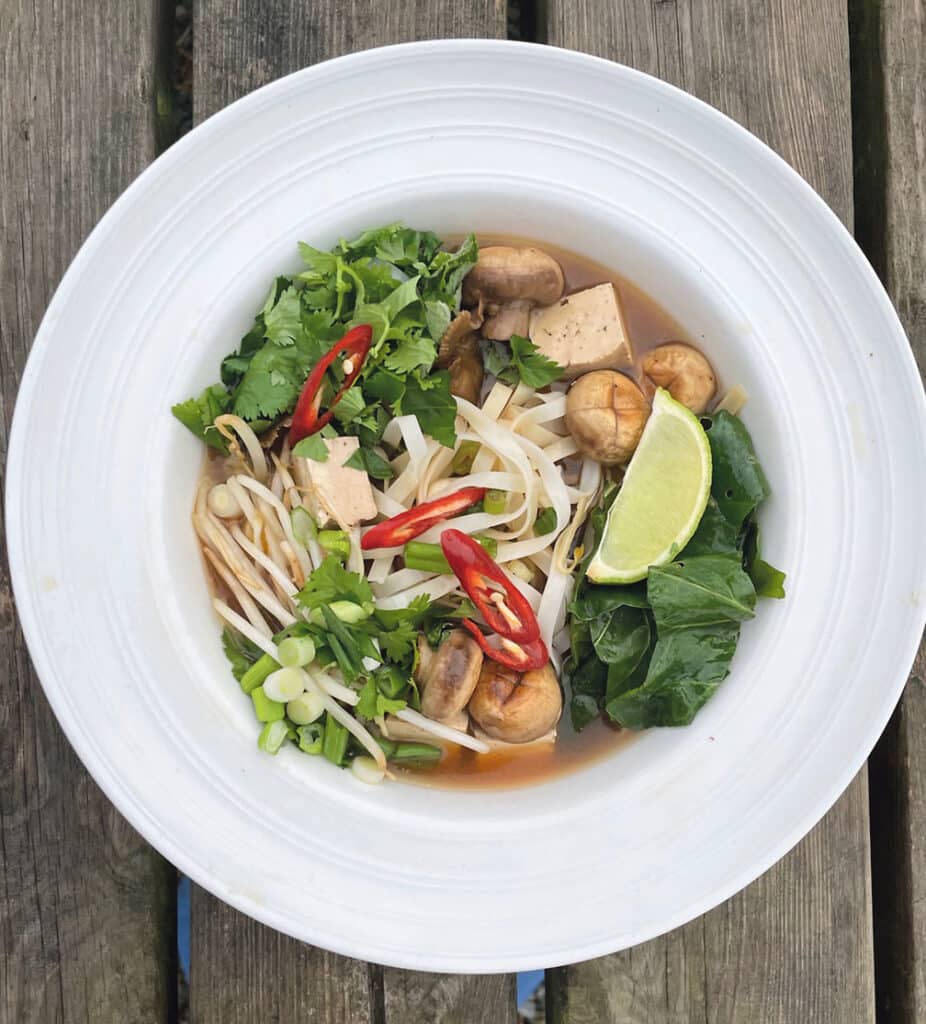 November brings us to the moment where we appreciate big bowls of warm food, and Pho fills that spot beautifully.
Pho, which is pronounced Fur – not a P in sight, is the national Vietnamese noodle dish. This comforting bowl of slurpy noodles manages to be not only nourishing but fresh and bright.
It can be found north to south in Vietnam – which is a very long country and all over the world where Vietnamese emigrants have settled.
We were recently in Berlin where we walked for miles, always the best way to explore a city and we passed people consuming a vast variety of food. The aromas were beguiling and we often did a double take to check out what people were eating – we are eternally nosy when it comes to food. At some stage we wandered past a Vietnamese restaurant and a lady sitting on the bench outside saw us eying up her bowl of noodles. "This is the most delicious pho in town," she said and the next thing we found ourselves sitting at a table and ordering our own. It reminded me of our travels in Vietnam and I've been obsessed ever since.
Traditionally Pho is made with beef stock, slices of beef and fish sauce but like all recipes it wanders from its root and a vegetarian version is now quite usual.
This tasty bowl of noodles is all about the broth and, as a vegetarian version obviously doesn't entail boiling beef bones for hours, the ingredients for the stock are important.
I use dried shitake or porcini mushrooms instead of beef and tamari or soya sauce instead of fish sauce – this makes a good umami base. The spices are the same for the meat or veggie version – star anise, cinnamon, cloves and coriander seeds, all warming aromatics. The noodles are rice noodles, which are cooked before the broth is ladled over them and then garnished with fresh green leaves, basil, mint, beansprouts, maybe chilli and a squeeze of lime.
It's a very simple and tasty way to fill your tummy with nutrition that doesn't sit heavily at all. The feel good factor is mighty.
To make the broth begin with roasting the onion and ginger on a dry pan and then toast the spices. This all helps build up a good flavour base.
After that it's easy, just cook the broth then add noodles and garnishes.
Pho
Ingredients:
• 1 medium onion
• 2 thumb sized pieces fresh ginger
• 2 star anise
• 7 cloves
• 1 cinnamon stick
• 1 tsp coriander seeds
• 1.5 litre vegetable stock
• 30g dried shitake or porcini mushrooms
• half tsp salt
• 1 tsp palm sugar or sugar
• 1tbs tamari or soya sauce
• 100g rice stick noodles per serving
• half tsp toasted sesame oil
• Handful fresh mint
• Handful fresh basil
• Handful fresh coriander
• Handful fresh beansprouts
• Fresh greens i.e. pak choi/chard/spinach/sea beet
• 2-3 spring onions
• 1 lime
• Chilli – optional
• Tofu – optional
• Mushrooms – optional
Peel the onion and cut into quarters. Cut the ginger in half lengthwise. Heat a dry pan and put the onions and ginger on cut side down.
Keep the heat medium/high and turn the onion and ginger as it chars. Remove from the heat.
Toast the spices gently in a dry pan.
Put 1.5 litres of your best vegetable stock into a saucepan. Add the charred onion and ginger, the toasted spices and dried porcini/shitake mushrooms and salt.
Bring to the boil then simmer gently for at least half an hour. Stir in the palm sugar or sugar and tamari/soya sauce.
Taste and adjust the seasoning – it should be a little salty /sweet and spicy. Put the broth aside and strain when you are ready to use it.
Prepare the garnishes, chop the herbs (not too small) and cut the greens into mouth sized pieces. Wash the bean sprouts and shake dry.
Chop the spring onions small – white and green and chop the chilli if you are using it.
Of the optional extras, dice the tofu and cook the mushrooms with a little oil in a pan until lightly browned.
Bring a pot of water to the boil and add the rice noodles. Cook for two minutes then drain and toss with a little sesame oil.
To assemble the pho heat the strained stock and if you are using tofu add this to warm it.
Put a handful of noodles into each bowl. Arrange the greens, bean sprouts, herbs, spring onions, tofu and mushrooms around the bowl the ladle over the broth. Garnish with chopped chilli and squeeze the lime juice over.
That's it – you're ready to go!
Happy November!
Karen
Lettercollum Kitchen Project
22 Connolly Street
Clonakilty
www.lettercollum.ie
karen@lettercollum.ie