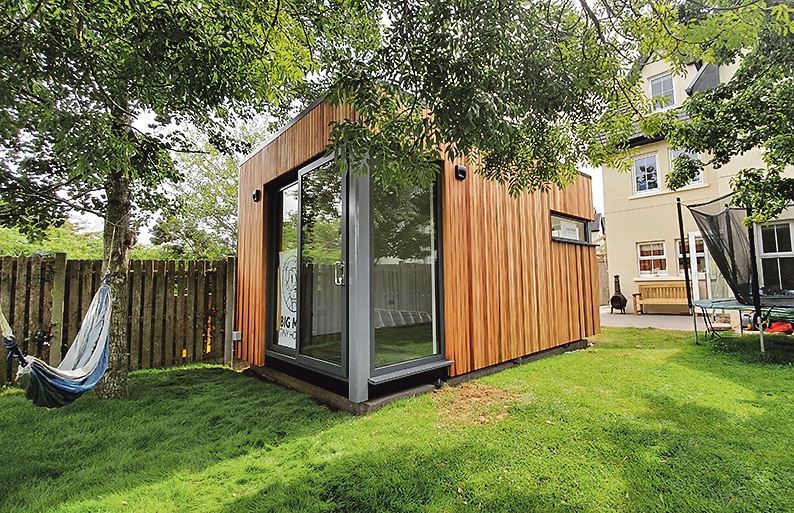 Big Man Tiny Homes is a West Cork based, sustainably driven, construction company that makes cost-effective, energy-efficient, beautiful, tiny (and not so tiny) homes, offices and studios. At the start of 2020, modular homes were the bulk of the company's order books. However, since March, it has seen demand for garden offices rocket.
Owner JP Simpson understands why: "My own partner is now working from home and although we haven't kids thrown into the mix, the computer and books are out the whole time so we're going to build one for ourselves shortly. There's something about leaving the house through a front or back door that psychologically prepares you for work."
You don't need planning permission to put a 25sqm building in your back garden but you do need to have an additional 25sqm of garden space remaining once it is in. You can then go up to 3m with a flat roof or 4m with an A-pitch or mono-pitch roof.
"It is important that your office enhances your garden space; they can be quite big buildings so they need to add to your garden, not take away from it," advises JP, who can also do all the hard landscaping required to achieve this. "A recent project that we worked on had a very steep garden with little usable space. The house was at the top of the slope so we installed the office at the bottom and connected the house to the office roof with decking, with steps then down to the office door; it tripled the size of usable garden space!
"We installed another garden office at a house with an ugly concreted back garden. Now the office is surrounded with decking, planters and a gazebo area with a fire-pit."
As for the offices themselves…Big Man Tiny Homes structures are made with insulated super strong SIP panels and are A rated energy efficient and airtight. These panels are clad in cedar, Siberian larch or metal, depending on required finish. The electrical package includes interior and exterior LED spotlights and radiant underfloor heating.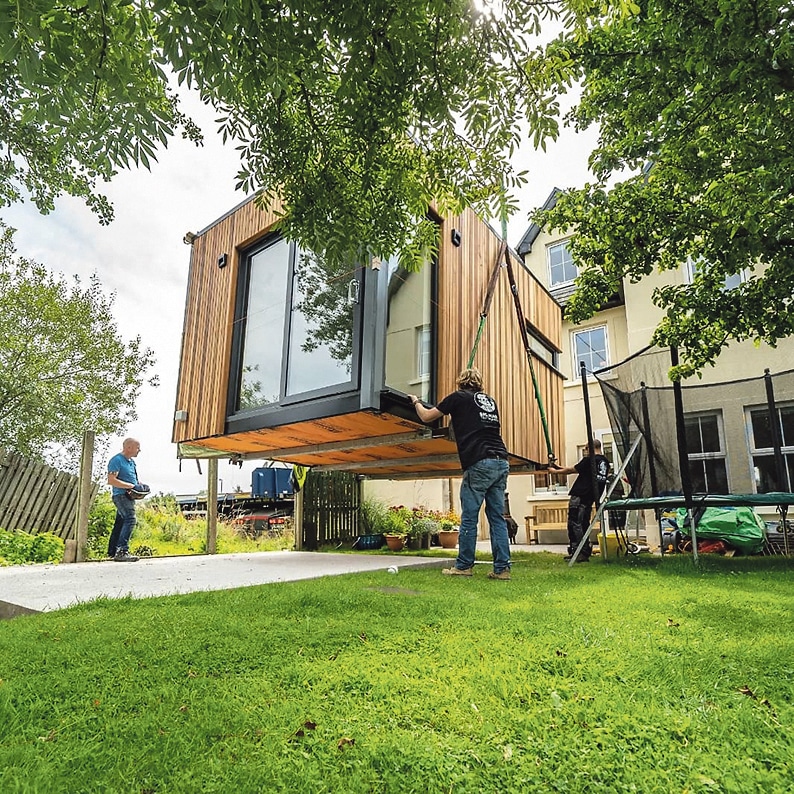 These buildings are made to last because they are built to housing codes. All structures have a 20-year guarantee, whilst the roofs and cladding have a 25 year guarantee. "They are lifetime job," JP promises.
The units are 100 per cent customised to a customer's preference for features, materials and layout; you can have a home office with a bathroom and kitchenette; with a reception area and treatment room; or with storage if you also need space for bikes or garden tools.
JP is finding that the most popular size is 17sqm because it is big enough to be multi-functional, with office space used by day and a kids chill-out sofa and TV area for the evening. This size unit starts at €27,000, including the base and electrics, and arrives in 'turnkey' condition – all you need to do is move your computer in! If you are on a tighter budget the 8sqm option starts at €12,000 and is suitable for a small office.
Unlike many companies, with Big Man Tiny Homes your entire unit is constructed in its Bandon workshop before being craned into position in your garden, which takes about two hours so you aren't disturbed by workmen for weeks on end. All in all the turnaround time is just three weeks.
If you would like to see some more floorplans for inspiration visit www.bigmantinyhomes.ie.
JP also invites enquiries from companies seeking quotes for multiple units. 087 617 6391