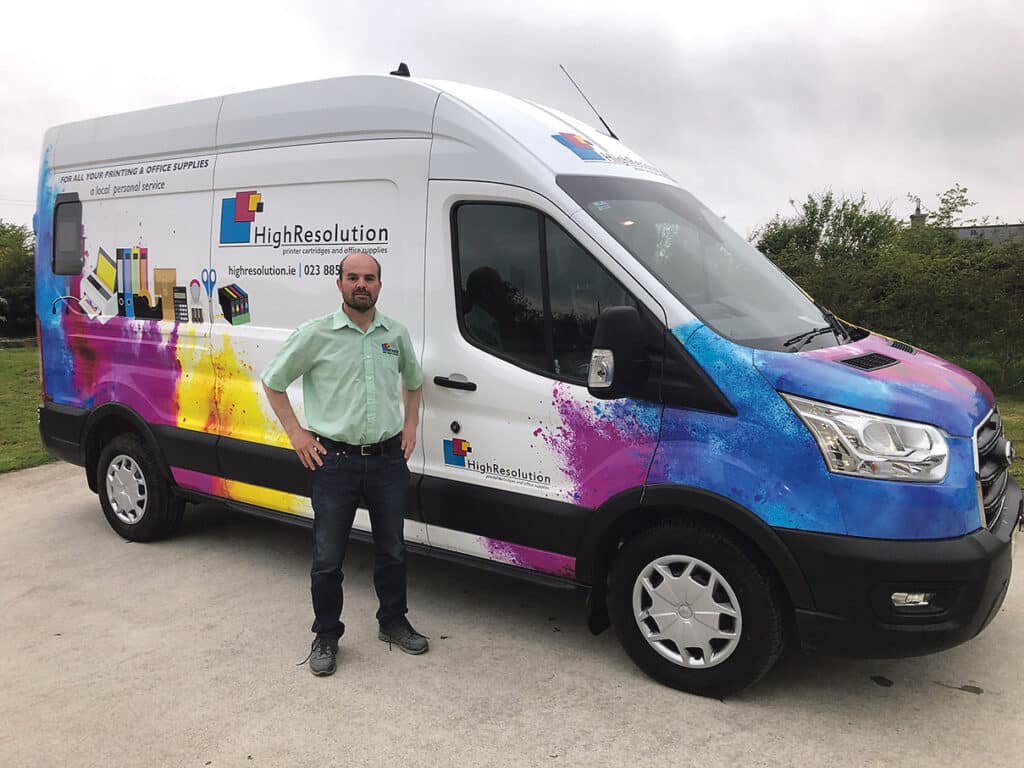 The High Resolution van has travelled every West Cork highroad and byroad over the past six months, coming to the rescue of businesses and workers who suddenly found themselves trying to set up offices at their kitchen tables. Panicked calls for printers, cartridges, office furniture and stationery supplies quickly flooded in and owner Trevor Kingston has met every request with efficiency and speed.
High Resolution has supplied companies large and small, as well as schools and colleges, for over 14 years and in that time Trevor has always known that big businesses can be found operating from small houses hidden at the end of lanes. It's no surprise to him that remote working is proving so successful to many more businesses now.
"As long as they have a good office set-up and connectivity there's nothing stopping people," Trevor says. "but people quickly found that working at their kitchen chairs and tables wasn't good for their back or family mealtimes!"
Consequently Trevor has seen the demand for good quality office furniture soaring, particularly for ergonomic office chairs and desks. High Resolution has a huge range to choose from in their online catalogue (www.highresolution.ie) and can also provide everything from keyboards and monitors to lamps and storage solutions.
"I know my catalogue inside out and what products would be most suited to what the customer needs – be it furniture, stationery or in particular, printers," Trevor confirms. "We stock all the brands but I offer impartial, clear advice to make sure it's the right printer for the person's workload. We also supply the printer consumables to match – cartridges, inks, toners, ribbons etc – All delivered to your door.
"Although I'm a smaller operation, I have the same range as the big operators, often at keener prices because of my lower overheads. I've built up strong relationships with suppliers over the years so I can avail of priority ordering. And I know my customers ordering habits so there's no waiting on hold to talk to an advisor who needs your customer and product codes."
Distance and order volume doesn't present a problem; orders can also be delivered nationwide using a courier service, whilst online ordering/payment options and a mobile card machine are available for convenience.
Trevor says most people are surprised at how many businesses remained open during Lockdown keeping the 'show on the road'. Besides the new homes offices, High Resolution also kept pharmacies, food producers and more, fully stocked with their usual supplies but also with PPE equipment such as masks, visors, gloves and disinfecting products. "That's a side of my business that has definitely grown hugely and continues to do so," says Trevor. "We also have a range of temperature checkers from simple hand held devices up to hospital grade devices, starting from just €45+VAT. This is something that gives peace of mind to businesses as they reopen."
See www.highresolution.ie to view the catalogue of products or call Trevor on 023 8858888 if you are looking for advice.