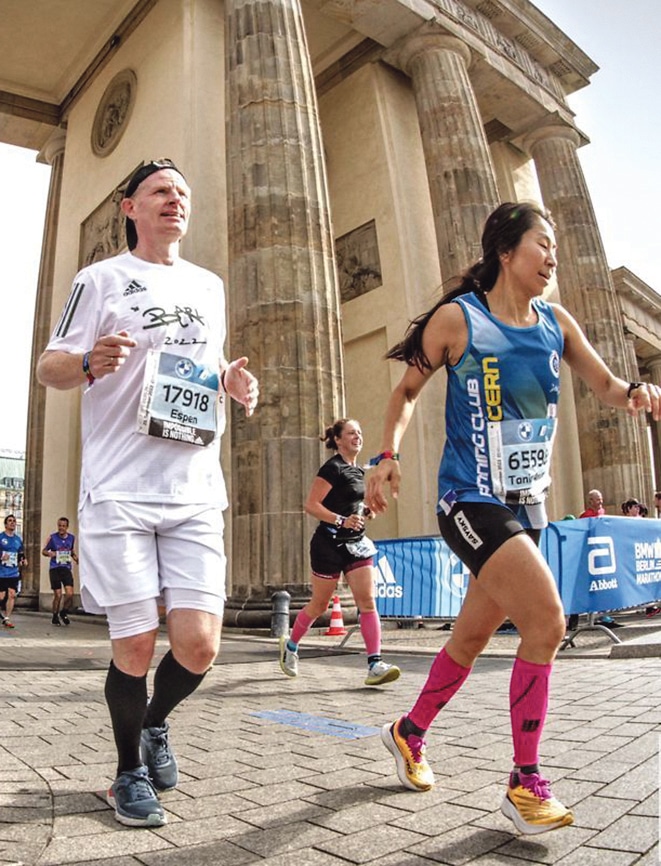 As I look forward to the year ahead, I reflect on the one just past. Not since I first stepped into a boxing ring with the intention to beat my opponent, have I had such a dedicated momentum of training as in 2022. This was the year where my three-year-old obsession with running culminated with completing both my first and second marathon. By sharing my story with you, I hope to inspire you to make your dream a reality, set goals and believe in yourself enough to fulfil those dreams in 2023.
Running a marathon wasn't my dream when I started running back in 2019. I started because it was a convenient way for me to keep fit and get fresh air. After being in a hospital room with my son for almost a year, I needed to move both body and soul. Running was the answer. Minimum investment of time, not having to depend on a trainer or a class and I got the best 'payout' in return: Increased fitness, fat burn and mental happiness. About once a week, I would go to the local track and do 10 x 100 metre sprints, followed by a couple of push ups or burpees. It was a fantastic recipe of working at high intensity for a short time, with a big benefit.
I was very content with these short track sessions and it wasn't until Liam suggested doing a 'Miler-program' with him, that I started to even consider doing longer runs.
At first, my longest run was 3 km. It didn't seem to be necessary to run any longer when the goal of the program was to run a fast mile (1.6 km). I remember stating loud and proud that I was only going to run 3 km. That was enough in the summer of 2019. Then autumn arrived and a 5K race took place not far from us. I'm not sure if it was the lure of getting a medal or just to see how I would actually do on the distance that made me sign up, but I did. It was horrible! It was hard, lonely, and my ipod broke after the first five minutes, so I was without music. I remember running the streets thinking, I had to be there soon, but instead the course just seemed to go on and on. My finish time was within the 30 minutes I had set for myself as a reasonable time, but I was destroyed.
Instead of walking away from running all together, I took part in a new race about two months later. It was a charity race hosted by some of the people who had supported us during our son's hospitalisation. It was another 5 km race and a possibility to get under 25 minutes: A new goal I had set for myself after completing and surviving the first 5K.
On accomplishing that goal, running became a part of my life and routine. Three or four days a week, I would lace up my shoes and go for a short run. I even talked a mom-friend into starting running with me and, in the winter of 2020, I found myself talking us both into joining a local half marathon.
As we trained, our longest distance was 18 km, a long way from the original 3 km I had told the world (or whoever wanted to listen), was the maximum distance I was willing to run. We ran our half marathon in a virtual race during the end of Covid lockdown in May 2021 (no limit of time or distance being spent outside).
This long prologue is to paint you an accurate picture of when and how I started my adventures with running. I was far from a natural and didn't even enjoy running far (more than 100 metres) when I first sat out. But as I kept finding a new goal, running became a consistent part of my life. And I've taken both pride and joy in lacing up, two to five days a week, through the seasons. Through rain, snow, storm and blasting sun and all the days where the weather is just perfect.
Even as life threw curve balls: sickness, sick child, holidays, family obligations and injuries and forced unplanned off-days on to the schedule, I laced up afterwards. And I am – like most humans – inherently lazy. However the freedom and time outdoors that running provides spoke louder to me than the comfort of sitting down. So, after each planned or forced break, I got up and started again.
The first seed to run a marathon got planted when I interviewed Jette Schmidt, the woman who runs 100-mile races. During our talk, I mentioned the longest distance I had run was 27 km, which was peas compared to her 160 km. She noted that if I could run the 27 km race, I could run a marathon.
The seed was planted. Could I really run 42.2 km? Running 27 km had been hard, really hard. But so was the first 5 km race. As time passed, the seed took root and I decided to give it a try. And more than a try. I'd find a plan and stick to it to finish my first marathon. Late January 2022, I began following a generic marathon plan from Garmin.
Everything went smoothly until I was hit with Covid in the beginning of March. That took a week off my schedule, then my son got sick and another week was off. I could have thrown down the towel and called it quits, backed down from the marathon and not many people would have blamed me. After all, two weeks without running was going to set my preparation back. But at this point running had become a steady part of my daily life, that as soon as we were both good, I went back on the road. And why not continue with the plan? Longer story told very short: This was how my marathon preparation went, small hick-ups on the way, but a steady, consistent effort got me to the starting line and four hours later with a big smile and a surprisingly well feeling, body over the finish line.
This is my story, from a 100 metres to 42.2 kilometres. Your dream doesn't have to be about running or even related to physical activity. The same recipe applies: Set a goal and find a plan to reach it. Follow the plan, be consistent. Don't be discouraged by changes, accept them and move on. Turn every setback into a comeback. And remember the most important thing: The journey is as much reward, as reaching the goal.
I hope you have found inspiration here to step by step set a goal, make a plan and make it happen. It is my biggest wish to share the feeling of overcoming and succeeding in the art of goals with you. And if you need someone to be accountable with, share your goal with friends and family you trust to support you. You're also welcome to send me a line, and maybe your story will be on these pages next!
I wish you a brave goal for 2023.
Stories, questions and comments are welcome at: taniaskitchenfitness@gmail.com or via Instagram:
@trainwithadane