Our garden is like a food bank, we are awash with produce. The harvest came early this year and we have been eating a month ahead of time. The heatwave in June encouraged everything along and even though we apparently had the wettest July on record it wasn't cold and the beans and courgettes were happy out. We have picked bucket after bucket full of both. We cut down on how much we grew this year, not having the shop kitchen to supply, but I think we need to scale back a little more. Even our visitors are beginning to shy away from the armfuls of produce we send them away with.
The tomatoes and beans have been in full swing since the beginning of July, and August brought us a mega harvest of aubergines. We grew a different variety this year and they are prolific. As fast as we eat them so the plants produce more, which is wonderful, but it is a lot of aubergines. Fortunately tomatoes and aubergines make a great partnership, both are technically fruits and members of the nightshade family and, as they generally grow in harmony with each other, they turn up together in a lot of recipes. but eventually even they lose their allure and you have to start thinking out of the box.
Here is a simple recipe for aubergines with tahini and honey, a sublime combo. It's very simple to prepare. Begin with salting the aubergines – this is step some people skip as aubergines are rarely bitter anymore but salting does prevent the aubergine from absorbing the oil that it's cooked in, just make sure the pan and oil are hot before adding the aubergine.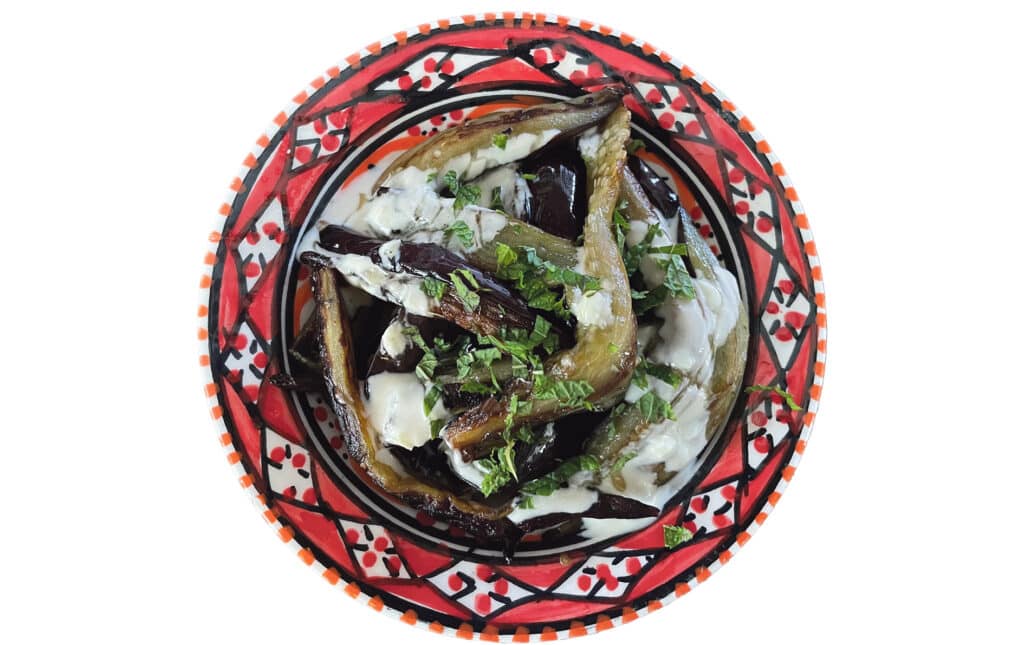 Aubergines with honey and tahini lemon dressing
Ingredients:
• 2 aubergines
• olive oil
• salt
• 3tbs light tahini
• juice of half a lemon
• 1 clove garlic
• 1-2 tbs runny honey
• a handful of fresh mint
Method:
Cut the aubergines into four thick slices lengthwise then cut them into strips across.
You should end up with strips about the size of old fashioned chips.
Sprinkle over a little salt, toss well and put into a colander. Leave aside for 15 minutes. Meanwhile make the dressing.
Peel and chop the garlic and put into a bowl with the tahini. Mix in the lemon juice – this makes the tahini into a very thick paste – then thin out with a little water until you have a thick pouring consistency. Add a pinch of salt and put aside.
When you are ready to cook the aubergines, take a handful and squeeze so the excess juices come out. Put the aubergine pieces onto a clean tea towel and pat dry. Heat a large pan, add a little olive oil, line the aubergine chips up like soldiers then gently rotate until they are golden. Fry in batches. don't overcrowd the pan. Put them on plate lined with kitchen paper as they come out of the pan. When they are all cooked pile the cooked aubergines onto a serving plate, drizzle over the tahini sauce and a little honey, sprinkle with chopped mint and serve.
Use any left over tahini sauce drizzled into salad sambos, over roasted veggies and beans.
The autumn cooking classes are ready to go. There are a few places free on some classes so if you fancy a little culinary sun snack do check them out. The first Mediterranean class is fully booked but there are places free on the Greek class, which is also in fact Mediterranean and all our yummy ingredients from the garden will make it sing. Let me know if you are interested.
Enjoy September, fingers crossed the sun will shine.
Karen
Lettercollum Kitchen Project,
Timoleague
info@lettercollum.ie
www.lettercollum.ie
0238846251