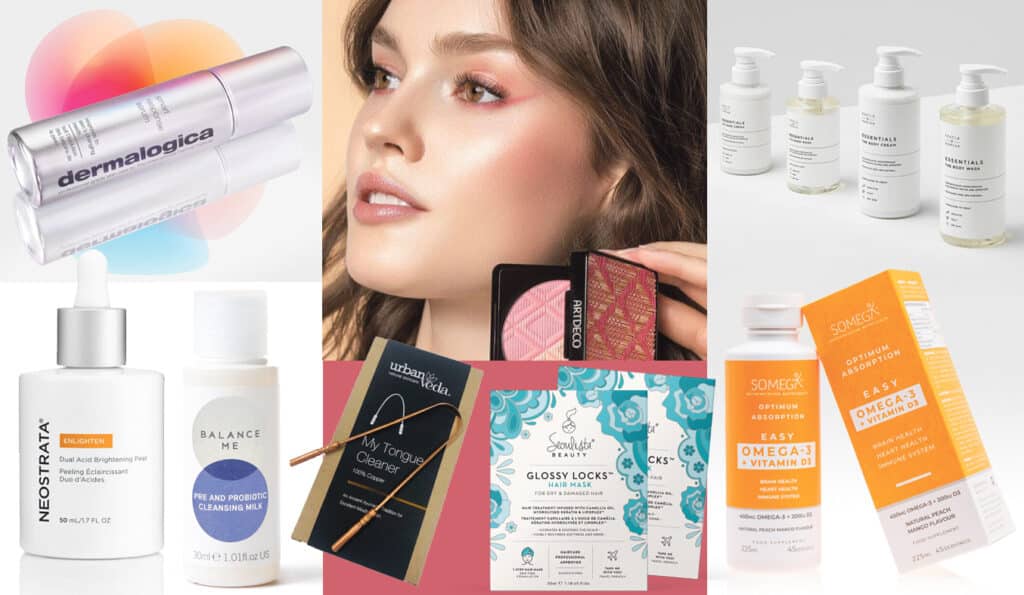 Hitting beauty shelves this month, everything from tongue scrapers to the latest serum that stops skin damage before it starts and a discount code! Read on for my roundup of what's new in skincare, haircare, healthcare and more…
Seoulista Glossy Locks: Packed full of hardworking ingredients, the latest addition to the Seoulista Beauty family is a double-layered treatment mask designed to help nourish and protect the scalp and hair, in just 15 minutes.
Lipoplex, a unique complex helps to protect and soothe the hair from root to tip with a concentrated fusion of antioxidants and rice bran, while nourishing camellia oil, argan oil and hydrolysed keratin help to condition hair, improving texture, elasticity, and shine. Hydrating hyaluronic acid locks in moisture, restoring damaged hair back to its former glory. The drip-free formulation leaves hair feeling softer and more manageable, with a silky, glossy finish – a haircare professional's dream, €12 available from selected pharmacies nationwide on online from seoulistabeauty.com
Pestle & Mortar Essentials Range: Pestle & Mortar have just launched a new range of products created for the entire family's everyday skincare needs. Made in Ireland, the Essentials Range is a collection that includes four everyday skincare products to hydrate, nourish, and protect the skin. Dermatologist and Paediatrician approved, Essentials Range is suitable for all ages and skin types, including eczema-prone skin and psoriasis skin. All products are formulated with plant oils, are fragrance free and 99 per cent natural, with a lovely lightweight texture, that's easily absorbed leaving skin feeling, soft, supple, and healthy. With prices starting from €15 to €24, there's something for everyone in this range. To celebrate the launch, when you purchase a product from the Essentials Range, Pestle & Mortar are giving a free gift with purchase, enter CODE sherna21 at checkout, and you will have a choice of gifts to choose from (valid until August 9, 2021). Available online only from pestleandmortar.com
Artdeco Bronzing Blusher: The new Artdeco Bronzing Collection 'Feel the Summer It-Piece' radiates the lightness of summer. With beautiful limited-edition packaging and summery tones, the collection is a reminder of warm balmy evenings, holiday feelings and high spirits! Bronzing Blusher is just one of the collection pieces, shade 'Good Vives' adds a touch of freshness to the skin in no time. Three soft light shimmer colours invigorate your cheeks with a healthy looking flush and youthful glow, €35 available from selected salons and pharmacies nationwide and online from stralabeauty.ie
Urban Veda My Tongue Cleaner: Did you know the ancient Ayurvedic ritual of tongue scraping has been practised for over 5,000 years? This holistic approach to mouth hygiene promotes a healthy tongue which in turn means a
happy gut. Created by the brand Urban Veda the tongue scrapper is made from 100 per cent copper, a natural cleanser. Known in Ayurveda as 'Ama', tongue scraping removes toxins from the mouth, helps eliminate bad breath, removes plaque build-up, heightens taste bud sensitivity, and helps clear skin, €13 online from trendsdistribution.ie
NeoStrata Enlighten Dual Acid Brightening Peel: New to NeoStrata's Enlighten range, specifically designed to target pigmentation concerns, this potent dual-action peel combines the skin smoothing action of a chemical peel utilising a highly concentrated complex of 10 per cent glycolic Acid and 10 per cent polyhydroxy acid (PHA) with a scientifically proven brightening peptide to target maximum radiance results. Ideal for those seeking help for visible dark spots and uneven skin tone, €55 available from selected salons and pharmacies nationwide and online from neostrata.ie
Somega Easy Omega-3 + Vitamin D3: The newest product from Cork business Somega, Easy Omega-3 + Vitamin D3 supplement is the easiest way for everyone to get their 450mg omega-3 a day on just one teaspoon. A departure from the traditional oily off the spoon formulations and large sized capsules, which may be difficult to swallow and stomach, this has a natural peach-mango flavour which kids love too! Enjoy straight from the spoon or add to smoothies, yogurt and more. Manufactured using patented emulsion technology for optimum nutrient absorption, your heart, brain, eyes, and bones will thank you. Suitable for all, from the age of two, €29.95 available from selected pharmacies and health shops nationwide and online from gosomega.com
Balance Me Pre + Pro Biotic Cleanser: Introducing Balance Me's first-ever cleansing milk that literally glides over the skin delivering a calmer, clearer and brighter complexion thanks to the signature bio-active pre and probiotic complex designed to strengthen the skin's delicate microbiome protective barrier.
Blended with salicylic acid and willow bark to gently exfoliate, and manuka honey and oat milk to calm and sooth this is suitable for all skin types, particularly blemish-prone, dry and a more sensitive and mature skin, €25 available from mybeautyedit.ie and selected stockists nationwide.
Dermalogica Smart Response Serum: Dermalogica's newest serum offers a unique personalised response to your skin, as it recognises micro-changes in the skin, intelligently addressing skin concerns before they are visible to the naked eye. Using Smart Response Technology – a revolutionary combination of four targeted active ingredients helps skin to maintain optimal hydration levels, helps with the appearance of fine lines and wrinkles, brightens skin, and soothes and helps redness, in short, it delivers what skin needs, when and where it needs it. If no changes are detected, this serum provides your skin the support it needs to keep your skin looking and feeling healthy, protected, hydrated and smooth, €150 online from dermalogica.ie and stockists nationwide.
For all the latest beauty news follow me on Instagram and Facebook @shernamalone.ie
To make a booking for one of my facial treatments or a skincare consultation head over to www.shernamalone.ie.