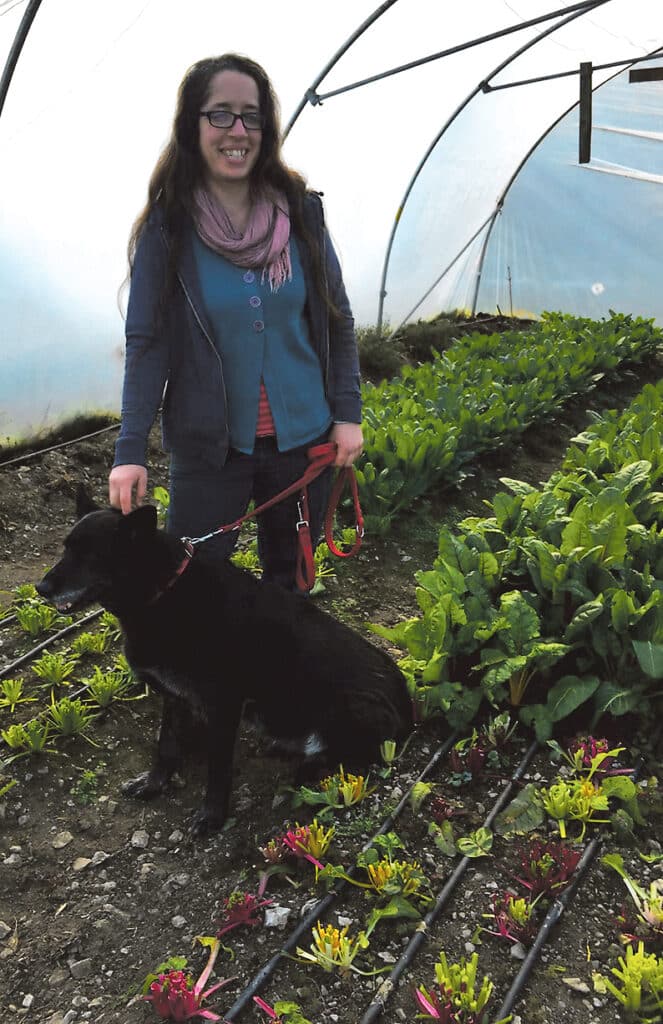 Over the last couple of weeks West Cork has been battered by storms. For anyone who grows and depends on polytunnels to make a living, every gale is a cause of  anxiety, but three in a week, well that's exhausting. Growers need to be resilient and resourceful people and I was lucky enough to meet one such grower recently.
Lea Miklody moved to Ireland 18 years ago from Hungary, initially working as a teacher of young adults with autism and other special needs, but after a few years felt she needed a change, preferably to work outside. She had been brought up on the outskirts of Szombathely, but even with the restrictions of a small suburban garden, her father kept pigs and chickens and grew some vegetables. As a child Lea enjoyed spending time outdoors and playing in the local woods. So it was no surprise that the idea of trying to make her living from growing or outside work started to take hold.
Lea signed up for the well-respected course in sustainable horticulture/permaculture at Kinsale College, and started dreaming of her own patch of ground to grow on. During her time in Kinsale she also took a short course in organic commercial growing with the legendary Jim Cronin in Co Clare. For Lea, this course proved to be very inspiring.
Around the same time she had the chance to move into a mobile home at Gort na Nain, the farm of Ultan Walsh and Lucy Stewart, well known as suppliers of high quality, sustainably-grown fruit and vegetables to restaurants in Cork and particularly Cafe Paradiso. In return for a roof over her head Lea helped on the farm, all the time gaining knowledge and experience. She stayed on the farm for about two-and-a-half years and would have stayed longer if the roof hadn't blown off her mobile home.
Looking around for somewhere else to live, Lea heard of a cabin to rent in Ballydehob. She was working in Cork City three days a week as a care worker but she was still trying to find a piece of land to start growing. After a chat about her need for some space to put up a polytunnel, her landlady suggested she put one up on her land by the cabin, and then things started to move. Not long afterwards she had a chance to take over a couple of unused tunnels not far from where she lives, then later the opportunity arose to take over a group of six tunnels in Lisheen. She now works eleven tunnels in three locations.
Growing in any location has its challenges but working in several different locations makes life even more difficult. Nevertheless Lea loves her work. She obviously works very hard but it is more than just a way of making a living. She clearly enjoys all aspects of what she does, whether it's looking after the soil, sowing the seeds or harvesting the fruits of her labour. She, like me, still gets excited each spring when those tiny dry seeds she has sown pop their heads through the soil starting the whole cycle again. For her it is definitely a way of life.
She grows a wide range of produce, based on things she likes to eat herself. Everything from salads and herbs, to all the greens and of course, tomatoes, aubergines and peppers. She loves to try new things and has recently had quite a good crop of sweet potatoes. Pushed for names of favourite varieties, she suggests an aubergine Farmers Long and Bolivian Hairy chili; you'd almost grow it just for the name.
Lea's produce can be found in a little pop-up shop in Levis's Bar Balleydehob on Wednesdays from 9.30am-12.30am, in the health food shop in Schull during the summer, she also has a stall at the end of her driveway from about mid March, she sells through Neibourhood food Balleydehob and supplies Budds and the Field Kitchen at Camus Farm For any other information she can be contacted at
coolcahagardens@gmail.com.