Depending on what he's working on at the time, Paddy McCormack will describe his occupation when asked as either artist or artisan.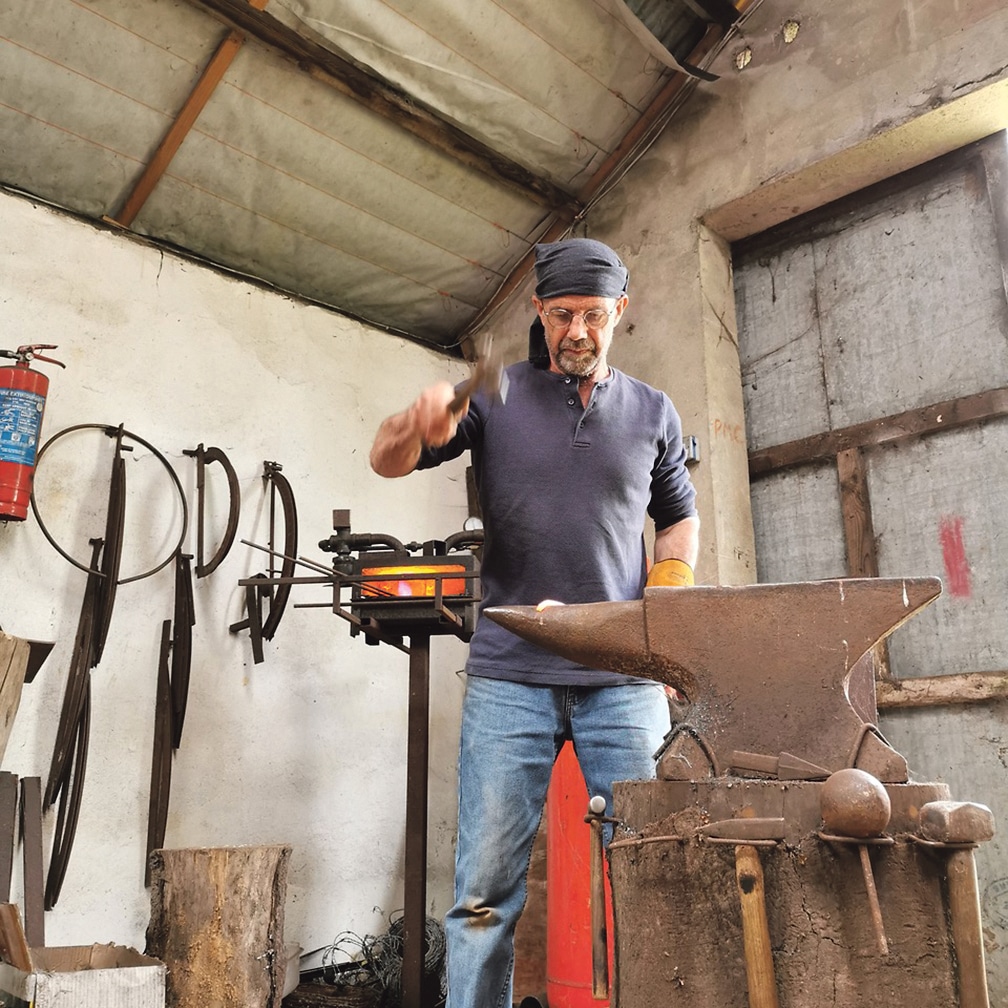 Working with metal, he uses a welding technique that is not widely practiced today. "I mostly braze my materials, copper and steel, using oxy/acetylene and silicon bronze rods," he explains. "For me it's a great way to weld copper and gives a lovely contrast to the colour and texture and forms a major part of my particular style."
Although he has no formal training in art, Paddy does boast a diploma in musical instrument technology (guitars) from the London College of Furniture. "I no longer make guitars, but it has served me well over the years as a baseline for many different workshop practices," he shares. "I think it is important to have some technical skills first, particularly working with metal, and let the art then come from there."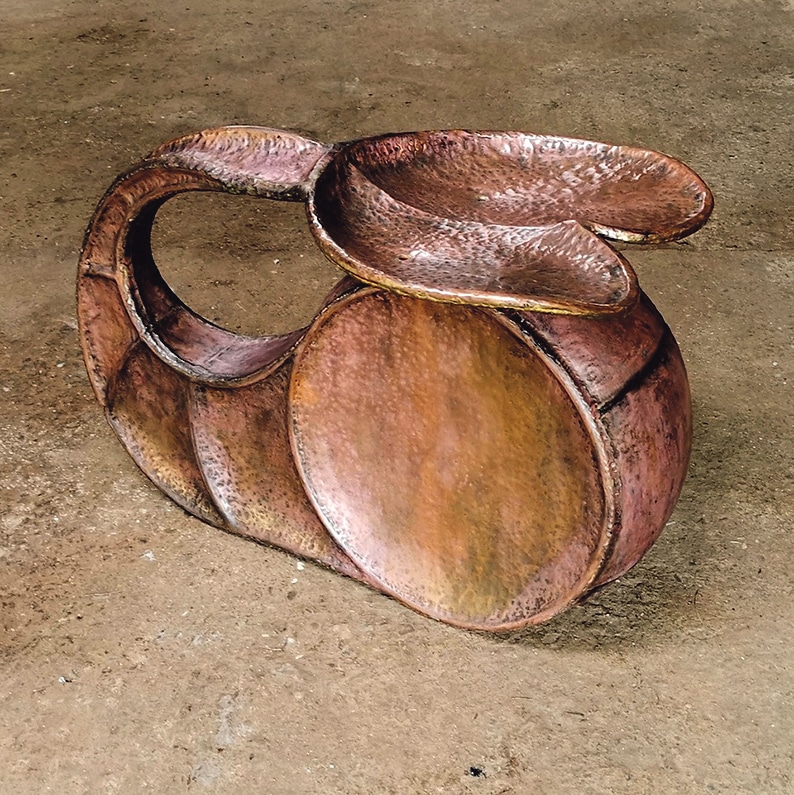 He has been a landscape gardener, carpenter and guitar maker before returning to his native New Zealand in the late 80s where he discovered a passion for metal work. Here he picked up some tricks of the trade in a friend's forge and found an outlet for his creativity. He began working with iron and copper, making interior pieces like tables, chairs and candleholders and selling these in art galleries and craft shops throughout New Zealand and then Ireland. "Some of my work may be seen as art and some as craft," he admits. "I like to blur the line between the two, as I think it gives me more scope to actually make a living out of what I do."
Paddy moved back to Ireland from New Zealand with his young family in 1997 and has been settled in West Cork since 2000. A steady demand for his functional interior pieces at trade fairs kept him occupied fulltime throughout the Celtic Tiger years. While the crash in 2008 brought work to a standstill, fortunately he was able to break into the corporate presentation and award market. This also allowed him the time to do some larger sculptural work.
Although he finds the winters to be cold is his big workshop, Paddy has found there is something about the West Cork landscape and being on the edge of the Atlantic that benefits the creative mind. This also means it can often be difficult to switch off.
"I might be out on the high seas or staring into a pint and something out of the corner of my eye, or something somebody says, might trigger an idea, and I go into my own little world," he shares. "Using and understanding your imagination is powerful but you have to remember to bring yourself back into the reality of the present moment sometimes."
What is reality is that Paddy has been lauded more than a few times for the quality and beauty of his metalwork. Most notably, he received an award at Showcase for 'Moon Bowl' and for 'Vest' at Sculpture In Context. Another highlight was exhibiting in Hangzhou China with 10 Hands.
More recently, Paddy has completed the Baltimore sea memorial, Croí na Mara, a commission from the Baltimore Rath and the Islands Community Council, and made in collaboration with Helen Walsh. The memorial, which is awaiting its installation in Baltimore stands at an impressive 3.4 metres high.
For this year's West Cork Creates 'Home Ground' exhibition, he is making three seats suitable to sit and relax in on your home ground. Made from copper and bronze, 'Whale rider' has the tail of the whale as the seat; 'Spare Tyre' has the shape or a flat tyre with the top compressed down to form the seat; and 'Pouffe' has the basic shape of the traditional leather pouffe.
Paddy's work is available to purchase locally at Bantry Craft Shop and West Cork Crafts Skibbereen. Follow Paddy on Instagram: paddy_mccormack