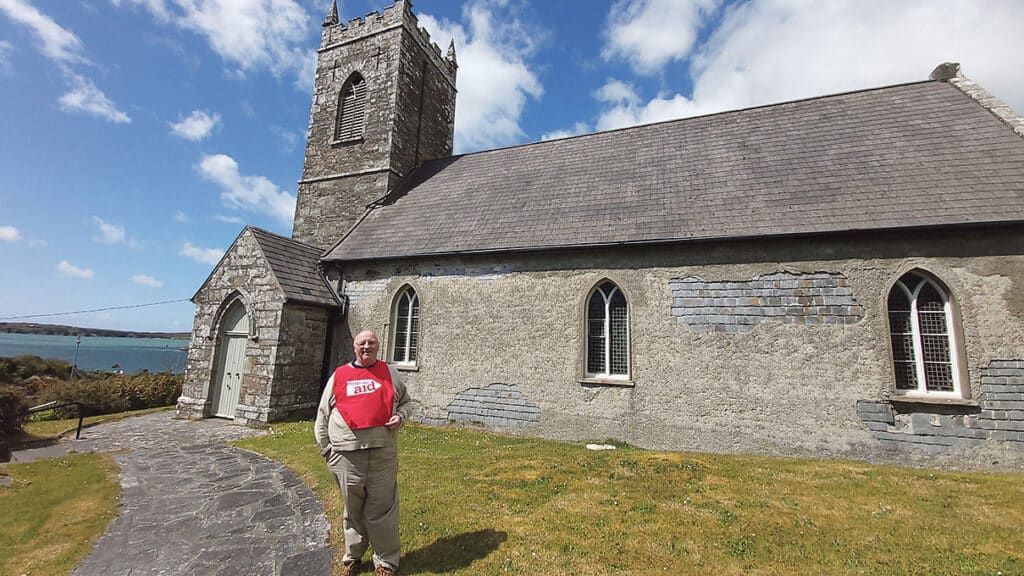 Christian Aid Ireland has thanked the people of West Cork for their support for the fundraising efforts of a Carrigaline clergyman who recently completed a sponsored walk around County Cork, raising more than €11,000 for the agency's work in Burundi, a country affected by poverty, hunger and conflict.
Rev Tony Murphy's month-long pilgrimage began in Bantry on May 1 and concluded in Youghal on May 27. He visited each of the 22 parishes in the Church of Ireland diocese of Cork, Cloyne and Ross and walked for at least 5km at each location while collecting sponsorship for Christian Aid's projects in the East African country.
Rev Tony was joined by local rectors and parishioners and supported on many of the walks by Andrew Coleman, Christian Aid Ireland's Bandon-based Church and Community Officer. On the final day of his walk, he was joined by the Mayor of Cork, independent Councillor Mary Linehan Foley who came along to congratulate him for his fundraising efforts.
The small Church of Ireland community of County Cork, comprising just 10,000 people, is the sole funder of three Christian Aid farming cooperatives in Burundi on which hundreds of poor families depend to boost their incomes, enabling them to pay school fees and medical bills.
Rev Tony, who was born in Clonmel, County Tipperary, visited Burundi in October 2019 to see for himself how the support of Cork diocese is enabling farmers in Burundi to move from subsistence farming, where they grow food to survive, to a business model where they grow food for sale, in order to thrive.
Local farmers, most of whom are women, receive training in good farming techniques and are given access to a harvest storage facility as well as a small maize processing plant. Speaking in 2019, one member of the cooperative, Esperance Kigongwe (44), a maize farmer and mother of eight children, explained the difference the cooperative had made:
"Because of the cooperative, my harvest has increased. Before we had a storage room, our harvest would spoil. Now I get high quality maize flour from the processing plant. With the extra money, I have bought goats and also land for myself. I can pay for school materials for my children."
Rev Tony's pilgrimage brings to more than €70,000 the sum raised within the diocese since 2017 to fund the project. The cooperatives were established by Christian Aid's local partner, the Anglican Church of Burundi in the south of the country and Cork diocese has committed to funding them for this year and next year. Funding levels declined due to the coronavirus pandemic while churches were closed and Rev Murphy is delighted that his pilgrimage has helped achieve the yearly target for 2021.
Christian Aid Ireland Chief Executive Rosamond Bennett paid tribute to the people of West Cork and those across the county. She said:
"West Cork's kindness is reaching all the way to East Africa, bringing hope and opportunity to people living in poverty. Where once the members of our cooperatives were merely surviving, now they're thriving. We're very grateful to Rev Tony, and to Bishop Paul Colton and all the local rectors and parishioners who supported his walk so generously."
Rev Tony Murphy recalled his visit to Burundi:
"The support of Cork diocese was hugely appreciated by the people in Burundi, a people with spirit and resilience who are working hard to move from subsistence living. The cooperatives are doing so well that the hope is that they will have become self-sustaining by the end of next year and won't require further support."
If you would like to sponsor Tony's walk, you can make an online donation here: www.justgiving.com/fundraising/walking4burundi or you can post a cheque to Rev Tony Murphy, 9 Riverside, Carrigaline, County Cork, P43 FP11 marked 'Burundi' on the reverse.