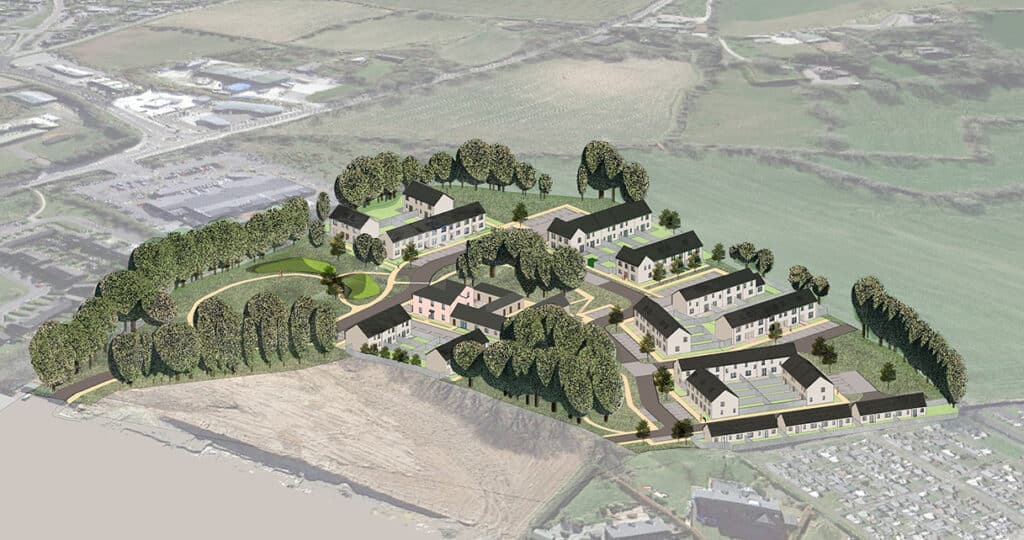 Construction work has resumed on the development of 57 homes in Clonakilty again following a temporary cessation due to Covid19 restrictions. The recommencement of work will see the estate at Beechgrove, Fernhill Road, and associated site development works, progressed to completion in 2021.
Cork County Council signed a €12.5 million building contract with MMD Construction Cork Ltd for the development of the 57 units in October 2019. Consisting of a mix of one, two, three and four bedroom homes, the development will also see a historic protected structure brought back into use.

The protected structures of the Lower Tawnies Cottage which dates to the late 1800's and is listed in the National Inventory of Architectural Heritage, has been incorporated into the housing development and is being brought back into use as residential units and store rooms with due attention paid to best conservation practice.
Mayor of the County of Cork, Cllr Mary Linehan Foley, said, "This housing project is being brought from detailed design to realisation by a multi-disciplinary team led by Cork County Council. The development will make available a large number of high-quality, energy efficient homes which will go a long way towards addressing housing needs in the Clonakilty area and I am delighted to see the further progression of this project."

Deputy Chief Executive of Cork County Council, James Fogarty, commented, "This housing development demonstrates best practice in sustainable design and the homes will achieve an A-rating on completion.  Using highly energy efficient modern air to water based heating systems provides dual benefits of a reduced carbon footprint and mitigates potential impacts of fuel poverty for future tenants. As a local authority we have responded proactively to the restrictions associated with Covid19 and have maintained our delivery of housing with due care to public health considerations. Cork County Council's continuing commitment to meeting housing needs through the Social Housing Capital Programme will see over 3,000 social houses provided in the period 2018- 2021 throughout Cork County."