Deelish Garden Centre in Skibbereen has gifted a 250-year-old specimen olive tree to the town of Skibbereen. The tree was collected on a trip to Holland earlier in the year where it had been sourced from northern Italy, so as well as being well-travelled, it may in fact now be the oldest living tree in Skibbereen town.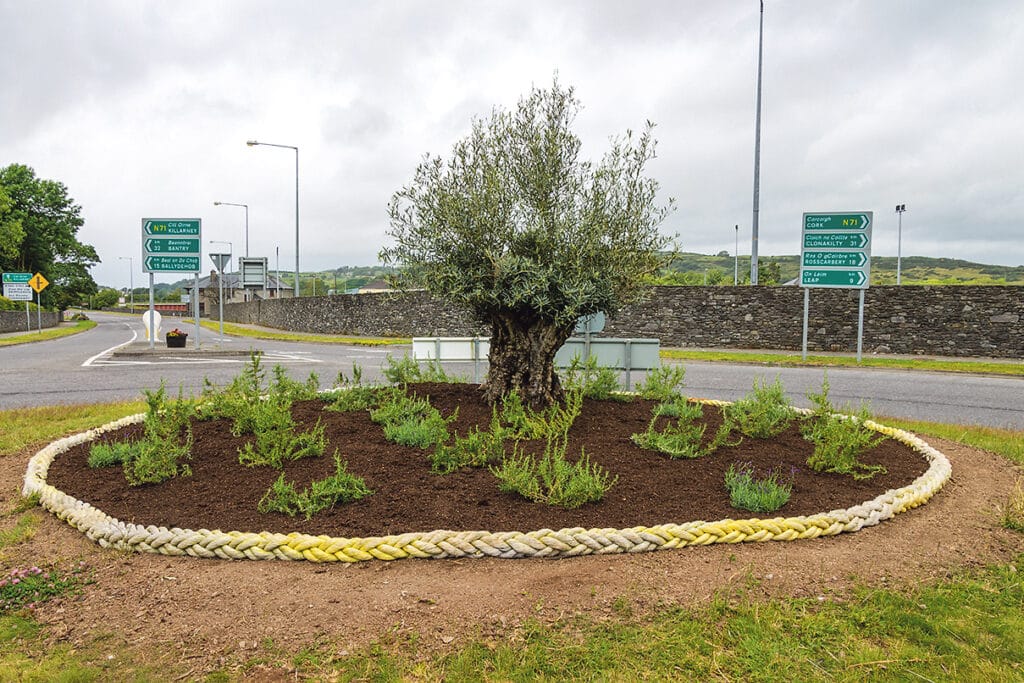 Traditionally olives are symbols of peace and friendship, so the tree is a particularly suitable choice to welcome people to Skibbereen, as they reach the roundabout on the Cork road.
"We have been supplying Olive trees of all sizes for many years here at Deelish Garden Centre," says Noah Chase "and as long as they have good drainage they can withstand cold temperatures and wind over the winter months. Indeed last year some of our trees even produced some fruits!"
The Skibbereen Roundabout planting theme is based on Mediterranean plants, olive (peace and friendship), creeping rosemary (religious legend is tied to Mary, the Mother of Jesus) and lavender (valued for its fragrance and healing properties). All the plants selected can be used in cooking and celebrate all the amazing food being grown and produced in West Cork. In the coming years thousands of people travelling to enjoy 'A Taste of West Cork' food festival will also pass this roundabout on their travels.
"The large rope around the outside of the planting is salvaged from Baltimore and represents West Cork's connection to the sea and our mild weather, which allows us to grow many plants which do not survive in other parts of Ireland," explains Noah. "With climate change our growing options have increased and the crops being grown in the future will change with the weather."
Grapes are now grown on a commercial scale in Kinsale and lavender in Courtmacsherry. Which town will have the first olive grove?
Deelish is delighted to have been given the opportunity by Skibbereen Tidy Towns and Cork County Council to provide a warm welcome to everyone arriving in Skibbereen.