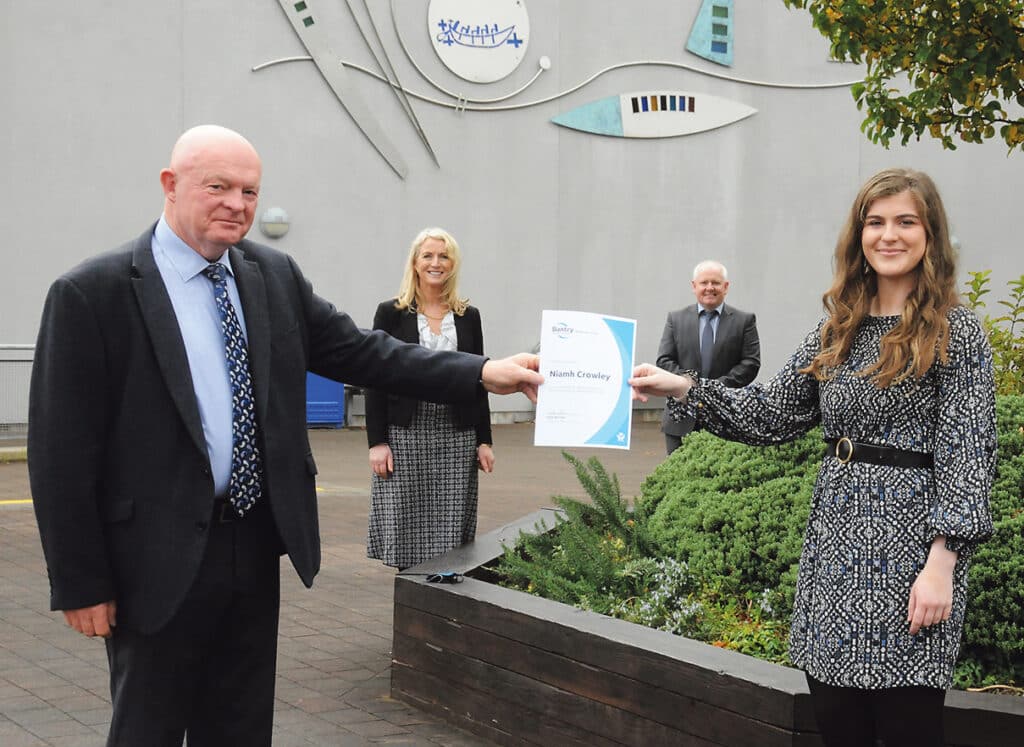 Niamh Crowley from Snave, Bantry, has been awarded the Bantry Credit Union Third-Level Education Scholarship for 2020. Daughter of Tony and Carmel Crowley, Shauna is the 18th annual winner of the scholarship, which is worth up to €6,000 over four years. 
In keeping with public health guidelines, this year a brief award ceremony took place outside Niamh's school for the past six years – Coláiste Pobail Bheanntraí.
Presenting the award, the Chairperson of Bantry Credit Union, Eddie Mullins, acknowledged and paid tribute to this year's Leaving Certificate students: "Like all her classmates and fellow students throughout Ireland, Niamh had to deal with the challenges and disruption that Covid-19 brought to the Leaving Cert class of 2020. They had to endure uncertainty, postponements, and a whole range of challenges and deprivations like no other year. But they rose to the challenges and overcame them."
Turning to the credit union's annual scholarship scheme, Mr Mullins explained that it is awarded following a rigourous process, involving a detailed application form, a written submission and an interview. The assessment and decision-making process is conducted entirely by a panel of independent adjudicators, whose decision is binding on the credit union. Eddie added: "These highly experienced judges take a holistic view, recognising the applicants' personal traits, community and voluntary involvement, and career choices as well as their academic results."
Addressing this year's winner, the Chairperson said that Niamh was a worthy recipient of the scholarship for 2020. She had done remarkably well in the Calculated Grades system that was used this year instead of the Leaving Certificate. And she had been offered a place on her first-choice course – Primary School Teaching at Mary Immaculate College, Limerick.
Mr Mullins also paid tribute to the enduring and remarkable commitment of the panel of independent adjudicators, each of whom has served on the panel almost continuously since the outset in 2003: Denis O'Sullivan (retired Deputy Principal of Maria Immaculata Community College, Dunmanway), James Kilduff (Cork Institute of Technology) and Olive McCarthy (University College Cork).
The Principal of CPB, Marian Carey, congratulated Niamh on her achievement, saying she was a most deserving winner. "It is well known that the recipient of this award is an all-rounder excelling not only academically but also in the sport and music areas while also having a great personality." And the Principal used the occasion to make a surprise announcement: "It is testament to Niamh's character and abilities that she has also been nominated on behalf of CPB as 'Student of the Year' to the Cork ETB." Ms Carey commented that the fact that these two separate and rigourous selection processes came to the same conclusion was confirmation of Niamh's evident strengths and qualities.
The Principal also took the opportunity in her first year at the school to congratulate Bantry Credit Union for its contribution to education through its annual scholarship scheme: "Personally, I think it is great to have such a long-standing tradition in the community with an award that is well recognised here in West Cork."
Accepting the award, Niamh thanked the credit union, the school and her family. Expressing her surprise at also being announced as the CPB nominee for the Cork ETB 'Student of the Year' awards, Niamh said it would be a huge honour to represent both Coláiste Pobail Bheanntraí and the Bantry Credit Union Scholarship Scheme.
When asked about her ideal career, Niamh's passion for and commitment to education was obvious: "I would like to be part of a busy, diverse primary school where children are given the chance to develop, not only their literacy and numerical skills, but to enhance their creative and artistic passions. My ultimate ambition would be to progress to a managerial role such as principal."
With people like Niamh coming into the profession, we believe that the future of teaching is in safe hands!