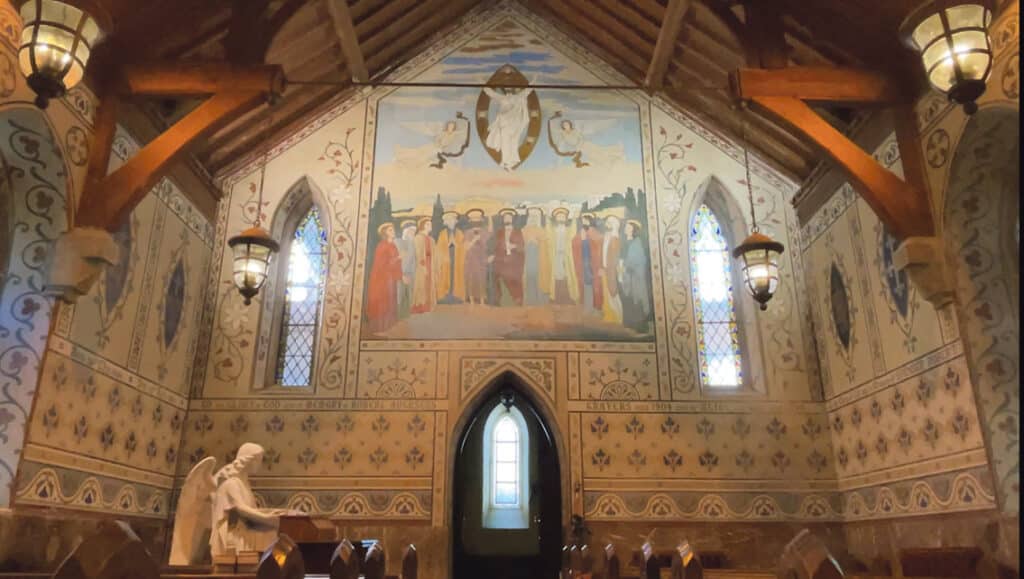 In Timoleague the legacy of Saint Molaga lives on through the Abbey but built nearby on the site of what was believed to be St Molaga's cell is perhaps the not-so-well-known Church of the Ascension. To the unassuming eye from the outside this modest church looks like most other rural churches – until you go inside. Almost every square inch of the walls has been beautifully decorated in minute and ornate mosaics. Stained-glass windows beam colourful rays of natural light throughout the building. Up high in the chancel ceiling are the recently restored paintings of angels radiating a golden presence. Named to remember the Ascension of Christ, this church has an aura of peaceful and uplifting timelessness.
While the parishioners are few in number, they are doing their best to safeguard the immense heritage of this church. Sadly, over the years water ingress has become a real problem and the mosaics are beginning to spoil. A professional conservation plan was drawn up two years ago and is now being enacted upon, as each stage can be afforded. Last year, the main roof was completely renewed and attention has now turned to the tower. Without this urgent work, the plaster that holds the mosaics in place, will fail.
There are many stories of historical interest linked to the mosaics. Perhaps the most unusual concerns the mosaic memorial on the south wall. This was paid for by the His Highness, the Maharajah of Gwalior, India; in gratitude of a locally born doctor, Aylmer Martin Crofts. Originally from the townland of Concamore, Crofts was his personal physician for twenty years and, on one occasion he helped to save his son's life. Architect Jeremy Williams who wrote in 'A Companion Guide to Architecture in Ireland 1937-1921' said that this church "transcended the sectarian divide between Irish Catholic and Protestant, the Indian Muslim and Hindu, personal friendship breaking up hereditary distinctions of caste and colour."
In the same spirit of friendship and magnanimity, it is hoped this building will continue to be a shared heritage for all people. The church will set up to comply with Covid-19 restrictions and will be open to the public to view on Ascension Day, Thursday, May 13, from 10am to 10pm. The public is urged to take this opportunity to discover and experience this gem of hidden heritage.
A considerable sum of money has yet to be raised to preserve the building. Contributions, no matter how big or small, are all greatly appreciated. Donations can be made through the GoFundMe page at www.timoleaguemosaics.ie. A new video on the church will soon be launched for Ascension Day on Facebook: Kilgarriffe Union of Parishes.