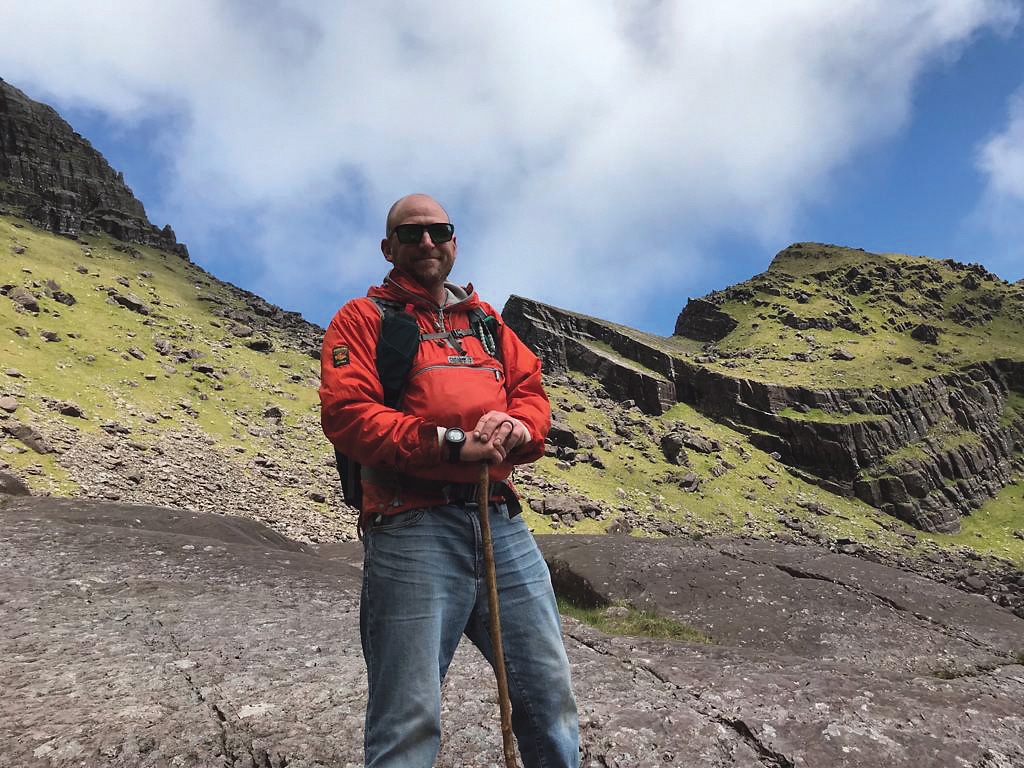 Courtmacsherry resident Jim O'Donnell, 48, is currently training for the challenge of climbing the seven highest mountains in England, Wales, Scotland and Ireland in aid of West Cork's Volunteer Emergency Services, including the RNLI and West Cork Rapid Response over a seven day period in August.
Originally from the UK, the Master of Small Commercial Vessels now lives in the village of Courtmacsherry with his wife Barbara and daughters, Lola and Saoirse, where the active family enjoy all that the great outdoors has to offer. "When I'm not working outdoors, I am usually…outdoors," says Jim laughing. Always on the move, he's regularly to be seen out surfing, kayaking, running or hiking.
Jim still travels to the UK for work and, until the pandemic hit, life simply felt too busy to take on a challenge as big as this one.
"When Covid came around last year, with it's soul-destroying 2km and 5km lockdowns, it forced me to stop and take stock," says Jim, whose ambition has always been to complete the 'Three Peaks' – the three highest mountains in the UK – Snowdon, Scarfell Pike and Ben Nevis; he just never got around to it. After moving to Ireland and hearing about 'The Four Peaks' – the highest mountains in the four provinces of Ireland – Slieve Donard, Mweelrea, Lugnaquilla and of course Carrauntoohil, these peaks joined the others on Jim's 'to-do' list!
"I could have really done any of these at any time, yet I always let something get in the way," he explains. "Lockdown prompted me into action and I made it my aim to climb all of them as soon we could get out hiking again. The three peaks in the UK and the four peaks in Ireland are often done as a charity challenge and I thought what a cool idea it would be to do all seven, back-to-back, in seven days, and while doing so perhaps try to raise some money for some worthwhile causes in West Cork."
While he has walked lots of smaller mountains and Snowdon on one occasion, the outdoor enthusiast has never before taken on such a strenuous challenge. "I love walking but in reality this is seven days of punishment," he says. 'Each peak alone will be pretty tiring – not to mention the fatigue, twists and blisters that will build up walking seven peaks in seven days and, the travel involved between them. I just hope the weather is on my side or it will be worse still!"
A volunteer with Courtmacsherry Harbour Lifeboat, Jim has seen firsthand how important the volunteer emergency services are in a rural area such as West Cork. "The RNLI is top of my fundraising list and West Cork Rapid Response, which also provides a great service essential to our rural way of life is always in need of support to keep their 4×4 vehicles on the road, to continue saving lives," says Jim. Funds raised will also go to support West Cork Animal Welfare, which Jim says "do an unbelievable job here in West Cork looking after our animal friends!"
To donate go to www.gofundme.com and search for West Cork Volunteer Emergency Services.