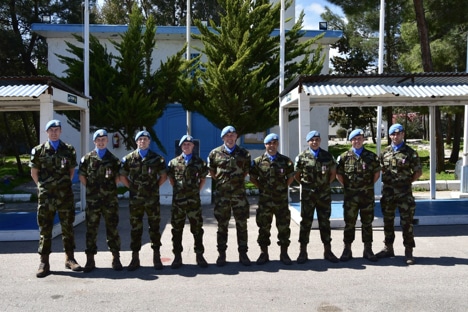 In the past week Defence Forces soldiers serving with the UNITED NATIONS DISENGAGEMENT OBSERVER FORCE (UNDOF) in Syria were presented with their service medal by Force Commander UNDOF, Brigadier General Maureen O'Brien.
The 130 personnel of the 60 Infantry Group which deployed to their base in Camp Faouar on the Golan Heights last September provide the mission with the Force Reserve Company, a highly robust, mobile and mechanised element which constitutes a Quick Reaction Force (QRF) capable of responding to any incident throughout the UNDOF area of operations. The unit will rotate in early April following a successful tour of duty.
Among those receiving their awards were a number of Cork personnel including Gnr James McSweeny from Bandon.
L-R Tpr Killian McNally (Ballincollig), Gnr James McSweeny (Bandon), Cpl Paul Quigley (Blarney), Pte Gavin Hegarty (Mayfield), Lt Col Oliver Dwyer (Officer Commanding, Athlone), Pte Ian Manning (Togher), Gnr Jordan Lowther (Knocknaheeney), Sgt Keith Forde (Passage West), Pte Mark Fitzpatrick (Glanmire)