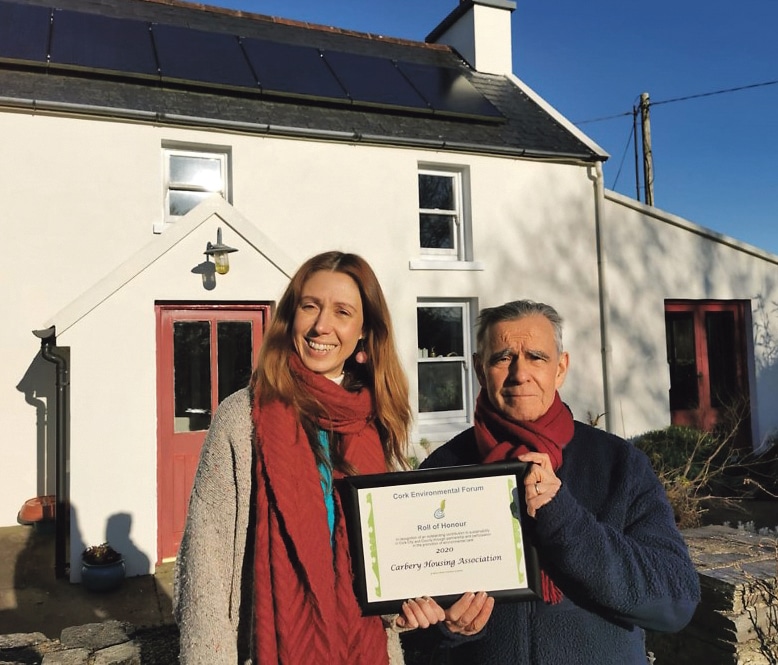 Skibbereen-based CLG, Carbery Housing Association (CHA), was awarded a commendation for its work in sustainability by Cork Environmental Forum at an online ceremony on December 10. The Mayors of Cork City and County paid tribute to the work CHA has done over the past 15 years and the award was accepted by José Ospina, Chairperson and Founder member. Carbery Housing Association was set up in 2001 as a non-profit approved housing body with charitable status, by a group of residents in Skibbereen and Baltimore, West Cork. 
CHA was set up to provide housing for those not able to afford the open market, but also wanted housing to be energy efficient and to integrate renewable energy.
Twenty years later, this vision is becoming a reality, step by step, CHA is purchasing existing homes where owner occupiers are unable to pay their mortgages due to loss of employment, family break-up or other reasons.
Using private loan funding and local authority loans under the Mortgages to Rent Programme, CHA has to date bought 12 properties where families were in danger of repossessions and is conveyancing a further 28. These properties usually have very low energy ratings. A study carried out with NCE Insulation of energy poverty among our beneficiaries showed that 94 per cent of them could be classified as Energy Poor.
Registered as Sustainable Energy Community, CHA carried out a Masterplan for taking its properties to Near Zero Energy. They have begun to move forwards toward this target in partnership NCE Insulation, carrying out full fabric retrofits and installed heat pumps in two properties, modernising installations, and installing photovoltaic panels in another property. One tenant had this to say about the recent improvements to their home: "The house is certainly more comfortable and maintains/retains heat in a way it hadn't done before the retrofit…[it] is very cosy now, so many thanks." CHA has also helped six more families register for the Better Energy Warmer Homes Scheme, which is funded by the Sustainable Energy Authority of Ireland (SEAI).
CHA are partners in the Interreg North West Europe funded Project REDWoLF, and with this, is planning to install PV panels, storage, and smart meters in a further five homes. CHA will secure the balance of funding required as a loan from Clann Credo, the ethical finance body.
CHA is also partnering four new EU proposals, two under the Horizon 2020 Energy programme and two under the Green Deal, energy retrofit Call, with proposals aimed at improving energy awareness and developing smart energy management of homes.
CHA is looking forward to continuing close collaboration with Cork local authorities and other environmental and housing agencies over the coming years. You can help support CHA and help spread the word about their work by purchasing their charity Christmas cards, available to purchase now on their website: www.carberyhousing.eu/chachristmascards.
For information contact:
Ana Ospina, Operations Manager, Carbery Housing Association Tel 083 8731931 or redwolf@carberyhousing.eu.