The expression 'It takes a village' rings especially true when it comes to the success of the Courtmacsherry Community Shop. Mary O'Brien meets a few of the people who volunteer their time and energy to ensure the continued success of this inspiring social enterprise.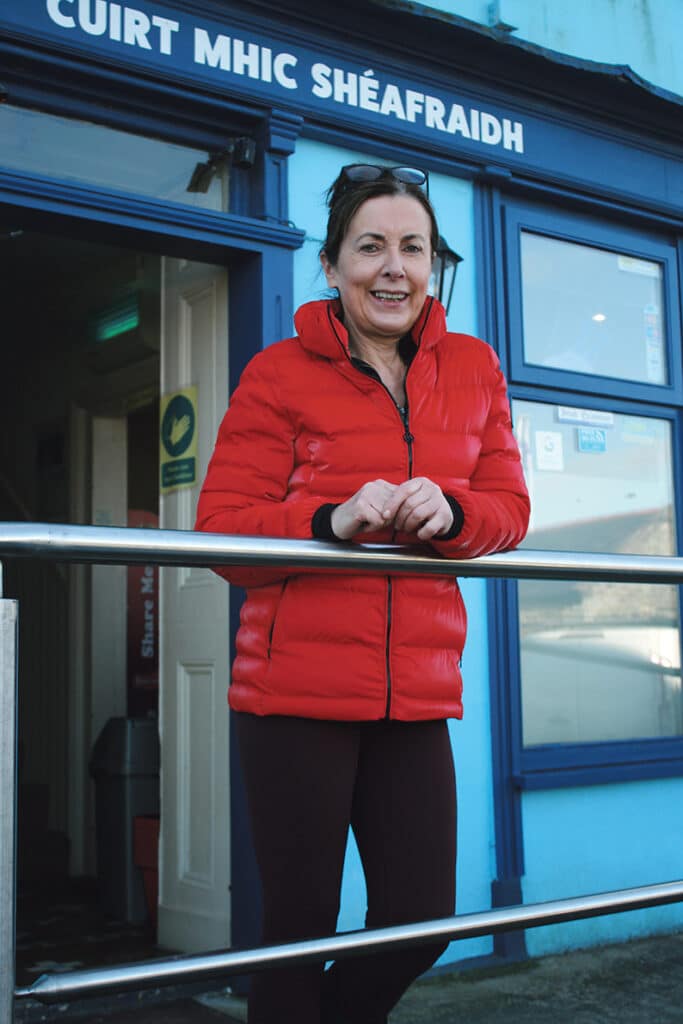 Since the mid-1870s, the small village of Courtmacsherry – whose population of 500 (give or take) swells considerably in the summer months – has boasted a number of small shops. Local Trish Gannon, 63, who runs a B&B in the village, recalls at least seven grocery shops in Courtmacsherry when she was growing up.
Over the years, this number gradually dwindled and, when the last remaining convenience shop closed its door upon its owner's retirement in 2015, the local community was galvanised into action.
"The conversation started over a cup of tea in my kitchen," shares Trish. "Most of my guests in the B&B are anglers from Europe and for all the visitors who visit Courmacsherry during the summer, as well as the locals, it was imperative we have a shop in the village."
A public meeting was called, a committee formed, research carried out, the set up of a co-operative approved, shares were sold and grant funding secured.
Six months after the co-operative got the go-ahead, with the support of the community behind it, the Community Shop opened on June 1, 2016, just in time for a busy bank holiday weekend.
As well as stocking the shelves with essential food items – fruit and veg, dry goods, dairy products, drinks, confectionary, household items and so on – the shop has always endeavoured to repay the support of its community by stocking as much local produce as possible: you'll find freshly baked bread and cakes from master baker Brendan of Travara; homemade jams and chutneys; postcards of the local area; walking maps and visitor guidebooks; RNLI merchandise; crafts, herb and veg plants and more. A tea and coffee making machine has been a welcome addition, especially for the many walkers and cyclists who frequent the area.
The secondhand bookshop upstairs with rocking chairs overlooking the bay, a lifesaver for readers during the pandemic, was set up by Diarmuid Begley and Cathy Gannon and is now kept well stocked by volunteers Bernadette and Ger with adult and children's fiction, as well as genres ranging from sports and politics to gardening and recipe books.
It's more than just a shop however – this vital community hub is the place to find out the local bus timetable, to pick up the key to the local community hall, find out the routes of local walks or the dates for the much-anticipated annual Courtmacsherry Harbour Festival, or simply stop by for a chat.
With the influx of remote workers in recent years, the committee identified a need for providing office space in the village so the shop has a good Wifi connection and upstairs space available to rent short or longterm.
The beating heart behind all this is the stalwart group of volunteers and dedicated committee, people from all walks of life who, come rain, shine or pandemic, give up their time to keep this show on the road. When so many of the older volunteers had to cocoon during the pandemic and other businesses closed, suddenly locals unable to work or remote workers new to the area were signing up to help out and the community shop was able to remain open and continued to flourish.
Today while business remains steady, the shop could always do with more support, especially from local residents during the quieter times of year.
"It would be great if locals used the shop more," says Trish. "As someone who's running a business, I really am price-conscious and I can honestly say that everything in the community shop is priced very competitively."
The same goes for volunteers: There is always room for more.
Trish volunteers for one or two shifts every week at the shop and really enjoys the camaraderie with other volunteers and the chats with customers, something that all of the volunteers can attest to.
Belfast native Anne Caher, 76, moved to Courtmacsherry with her husband three years ago.
"We weren't here very long, perhaps a few months, when Sheila nabbed me for the shop," she says. As someone new to the area, Anne found her new role was a great way to meet people.
"It's not just somewhere to come and buy your eggs and milk, it's a community hub and it's so important that people support it," she emphasises.
"One old lady who lived a few doors down from the shop needed her gas bottle changed so she came in and asked for help. I put it up on the volunteer WhatsApp group and the same day someone arrived to help her out.
"Very often people have the perception that a local shop will be more expensive but it's really not the case, especially for the basics."
Anne and her husband have settled in well to life in the village. They joined a dance class in Butlerstown and Anne enjoys being a part of 'The Broadstrand Artists' and the Courtmacsherry Ladies Group. The couple's six children regularly visit with their families. "They come to visit at every opportunity because it is such a beautiful location," says Anne.
Another Belfast native Pauline Pollard, 76, who emigrated to the US in her twenties and has now retired to Courtmacsherry, also gives regularly of her time to the Community Shop.
Pauline started volunteering in the shop five years ago and says she loves hearing the stories of the people who come into the shop.
Pauline's own story is engaging. The nurse met her future husband on a holiday to the States when she was in her early twenties. On her return home, he posted her a one-way ticket and two American football books. While she never opened the football books she did use the ticket and a year later the couple were married. They spent 40 years together in Michigan where they raised their three children.
Nine years ago, three years after her husband passed away, Pauline, age 67 at the time, made the decision to pack up and move to Courtmacsherry. "My husband and I always yearned to come back here," says the pensioner, who has a sister-in-law living in the area. "The kids were grown up, settled and busy with their own lives and I wanted to do something different.
"The hardest thing was getting rid of all my possessions, all those memories," she shares. "But I put myself out there when I arrived and made friends. I love it here."
"I am a little bit forward," she admits laughing. "I knew that if I talked to Irish people, they'd talk back to me!"
Mary O'Neill's pub in Butlerstown was a great source of local information and before long Pauline had her finger on the pulse of all the local music sessions, even driving as far as Kinsale on a Thursday night, and had joined the local ladies group and the Butlerstown and Darrara friendship groups. "I played bingo for the first time in my life here," she says.
Mass – the Catholic sermon on a Saturday evening and Protestant on a Sunday morning – also provided a great way to meet people.
"I'm a Catholic married to a Protestant, my eldest son is married to a Jewish girl, my middle son is a Hare Krishna and my daughter, who is twice divorced, has been Catholic and Presbyterian, so we're a mixed bunch of faiths," she laughs.
Pauline's energy and enthusiasm for life is inspiring. Six years ago the grandmother climbed Carrauntoohill with one of her sons. A few years later she completed 26 miles in a fundraising walk.
While she hasn't been to a music session in Mary O'Neill's since pre-Covid, Pauline is looking forward to getting back to it. "I would never have gone into a bar on my own in the States," she says.
During the pandemic Pauline had to step back from the community shop and all her other social activities. "I got chickens…they keep me company during the pandemic…and where I live, people out walking would stop to have a chat if they saw me in the garden. My neighbours are wonderful and we enjoyed many singsongs hanging out of our windows and doors during the pandemic."
Pauline loves living in an area where your post will always find you and someone always knows someone who can help. "My grandchildren love visiting. They'll say to me 'one of your neighbours stopped me and knew who I was!'. That's the kind of community it is and I love it."
Another volunteer enamoured with the Courtmacsherry way of life is Feona Daly Cairn, 57, who drives over from Ballinspittle one or two times a week to help out at the Community Shop.
A born and bred Londoner, Feona and her partner moved to Ballinspittle last year and are delighted with the warmth of the welcome they have received in West Cork.
"I feel safe here," says Feona. "In inner city London you're always on the lookout for hostile behaviour so you carry yourself differently, you're never truly at ease. To feel relaxed where you live is so nice."
She especially loves that people take the time to stop and shoot the breeze here. "Nine times out of ten people will come into the shop and stop and have a chat. People are genuinely interested in your story and what brought you here. Where I come from people are always busy and rushing to get somewhere."
A library supervisor and community development worker, Feona had never seen a completely volunteer-led community shop in action before coming here.
Attending the St Patrick's Day parade in the village last year, she discovered the wonderful bookshop upstairs and decided she'd love to help out.
"I was made to feel so welcome from my first day in the shop," she shares.
"It really is a great initiative in such a beautiful place."
Feona and her partner first fell in love with West Cork in 2009 but it was after they both took a six month career break to go on the trip of a lifetime to Costa Rica and South Africa that the couple decided they didn't want to live in the UK any more. They volunteered with a turtle nest conservation charity in Costa Rica and with literacy and LGBT charities in South Africa. It was a life-changing experience.
At home now in West Cork, Feona has joined The Tidy Towns group in Ballinspittle and the local biodiversity group and hopes to get back to running and perhaps dip into sea swimming.
A trustee for The Family Resource Centre in Bandon, she is also volunteering there.
While she would like to get back into community development work, an area she's passionate about, she's working hard at getting to know the area and her local community first.
"As a gay couple, I don't know if Ireland would have been as welcoming to us 20 years ago but Ballinspittle and Courtmacsherry have been so accepting and inclusive and we've gotten to know so many people," she says.
Vladyslv Vovk, 17, from Odessa in Ukraine is another emigrant who has felt the warmth of a Courtmacsherry welcome. The young man, who is doing a course at Cork College of Commerce to improve his english, is completing his work experience at the Courtmacsherry Community Shop. On his first day the committee gifted Vlad a second hand bike, to make life just that bit easier.
Vlad fled Ukraine with his mother, sister and her children and arrived in Ireland four months ago. His father stayed behind to fight for his country with Ukraine's armed forces.
Weekdays Vlad stays with his sister in Cork City while he attends college and at weekends he's in Courtmacsherry, where his mother is living. She's a highly trained pharmacist but because her english is limited she can't work here. "She's very homesick," shares Vlad.
In Ukraine, Vlad was studying IT Languages and Programming. Every summer he worked at a small shop by the seaside. "The shop in Courtmacsherry is bringing back a lot of memories for me," he shares.
His experience in Ireland has been good so far. "People are quicker to show kindness here, to speak with you, strangers say hello! I really like living in Ireland."
Its brightly painted blue exterior a beacon in the centre of the village, Courtmacsherry Community Shop is a friend to anyone who needs it. An enterprise at the very heart of the local community that came together to achieve this common goal; like its local rowing club, it's a shining example of what can be achieved when we pull together.
Volunteers are needed to run the shop on a daily basis and anyone who is interested in becoming involved and can spare some time should email courtmacshop@gmail.com.