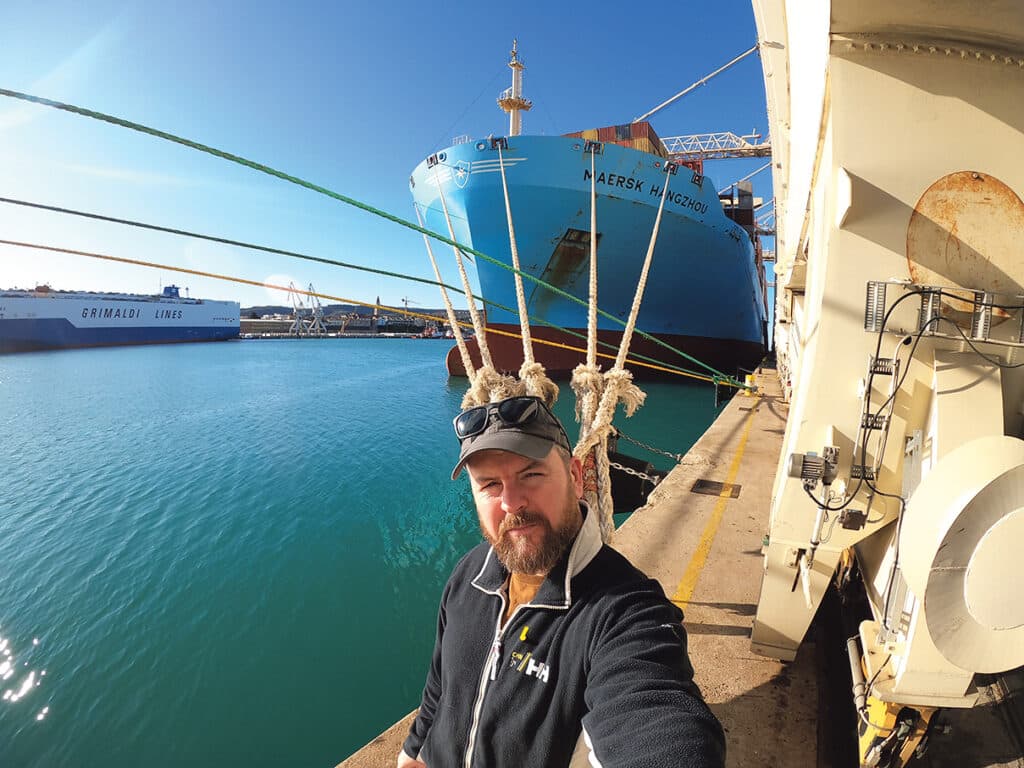 After starting a TikTok account last December, which has since attracted over 80,000 followers with its down-to-earth, no-nonsense, practical and more-often-than-not dryly humorous insight into daily life at sea on board one of the world's largest container ships, Master Mariner Mark Maguire has recently found himself the focus of media attention.
The Courtmacsherry native who spends three months on at sea and three months off when he returns home to land to his teenage son Fionn and wife Donna, has been in the seafaring business for 21 years and still has the same passion for the job, which he says can be extremely tough but very rewarding.
It took 18 years of hard grind for Mark to reach the pinnacle of his career, being awarded his first command post. The memory of that excitement mixed with a little terror and a pinch of pride he still carries with him today; now leading a crew of two dozen and responsible for a 353-metre-long vessel that weighs 200,000 tons when fully loaded with 15,000 containers.
It's a complex and demanding role, as different from a nine-to-five office job as you can get. Every day is different: From doing up budgets to ordering food and spare parts, to planning passages from port to port to crew travel arrangements. IT, admin, (a lot of admin!), inspections, maintenance planning, drills and training – this is just a snapshot of what's involved, as Mark demonstrates on his TikTok videos.
What's the attraction to this way of life?
"It's in my blood," says the Captain, whose family go back generations in the small fishing village of Courtmacsherry. "The sea became part of life: From our schoolteacher Dan Dwyer teaching us knots in national school to having friends who are fishermen to hearing about local men like Donie Hunt and Diarmuid O'Mahony going off to work on ships and watching the lifeboat go out on a shout…it all had an effect."
As a teenager, watching his own brother head off to sea of course was also a significant influencing factor in Mark's ambition to see the world from a ship.
This passion for journeying crosses over into his personal life and when he's not travelling for work, he's travelling for pleasure: So far he's notched up at least 60 countries on his belt.
One of the perks of the job is getting a quick preview of places when he comes to shore, which he puts on his list of places to come back and explore. "One of his most memorable trips on a longer port stay involved visiting the Great Wall of China. "It was virtually deserted that particular day and the weather was perfect so I ate my lunch at the top looking out over the mountains where the wall snaked off into the distance…Spectacular," shares Mark.
"Seeing different parts of the world and interacting with other people, learning about their cultures and way of life is what I enjoy most about the job," shares Mark. "It really does broaden the mind and gives you empathy towards other people."
At home, when he's not planning family holidays or solo trips, Mark enjoys the simple things; pottering around the house and looking after the couple's two dogs. His passion for cooking and entertaining means the barbecue gets fired up at every opportunity.
"The hardest part is being away from home for the big events," he shares honestly. "Birthdays, funerals, weddings, many Christmases missed. But that's part of the job…You get used to it and make up for it when on leave."
During the pandemic it was really hard on crews as there was no shore leave. "My crew do nine month trips, so nine months without stepping on land is tough," says Mark. "Now that a lot of countries have fully reopened, we make sure the guys get ashore as much as possible. Even just to stretch the legs is good for the head."
While on board the ship there is a gym, cinema, playstation, table tennis and a small pool; outside of work, life is fairly quiet and can at times be dull and lonely: the crew's food is cooked for them, alcohol is forbidden, everybody has their own en-suite cabin. A mixture of boredom and curiosity is what prompted Mark's social media journey, catapulting him into accidental internet fame!
He started off by posting a few videos about places he had been and showing different parts of the ship. "I wanted to find out more about all the hype around TikTok and was just messing about really," says Mark. Before he knew it however, his videos started to gain traction with questions flooding in. "I realised that the industry is very hidden. There are very few ways to see what it actually takes to run a ship or get goods from a to b." After posting more videos and answering more questions, things snowballed. Remarkably Mark now has 83,000 followers, his most popular video pulling in an incredible 1.5 million views.
"No one is more surprised than me!" says the Master Mariner. "The feedback has been incredibly positive…It blows my mind really."
Mark's advice to anyone thinking about a career at sea is to give it a shot.
"You will get to see places and meet people you would otherwise never get a chance to.
"But you must be comfortable in your own company, as it can get lonely deep sea because the trips are long. However there are much shorter trips that can be done if this is not your cup of tea!"
"The industry is massive, with a huge number of different types of ships doing all sorts of important work all over the world. If you go for the engineering or electrical side your skills can easily be transferred ashore should you decide to 'swallow the anchor' (work ashore).
If you don't go, you'll never know."
Whether you're interested in finding out more about a career at sea and unsure about your sea legs or simply interested in seeing the nooks and crannies and ins and outs of life aboard a massive container ship, take an informative and entertaining trip with Mark.
It's 'ShipTok'!
@the_captain_mark